Duncan Harley reflects on Life, the Universe and Everything. A sideways look at the world and its foibles.
It was snowing in Pitcaple this afternoon, and in fact it's still chucking it down big time.
The white stuff has returned with a vengeance; fortunately I am well stocked up with pies and cat food.
All day the TV news has been advising drivers to avoid non-essential trips. Mind you, they sent some reporters out in 4x4s to "see how far they could get", which sounds fairly non-essential.
That aside, it gave me time to chill out and watch a film. I chose The Man Who Wasn't There.
It's a 2001 neo-Noir film, written and directed by Joel and Ethan Coen. It's about a barber.
If you need a plot summary, there's quite a good one on Wikipedia.
Though a black and white film, The Man Who Wasn't There was shot in colour and transferred to black and white. Some prints were however accidentally released with the first couple of reels in colour. It's nicely shot and the plot is superbly flat.
Folk such as Big Dave die, other folk lie, some cut hair and near the end there are flying saucers. It's a bit like life, really.
The central theme of the film is that when you look too hard at situations, they become complicated and hard to understand. That reminds me somehow of Andy Warhol's work.
We all know, and love or hate, the Campbell's Soup prints but, in my opinion, Warhol's films are still quite challenging, despite the lack of any obvious plot.
One of his most famous films, Sleep, features poet John Giorno sleeping for six hours. The 35-minute film Blow Job is one continuous shot of the face of DeVeren Bookwalter receiving oral sex from filmmaker Willard Maas, although the camera never tilts down to see this. Another, Empire, consists of eight hours of footage of the Empire State Building in New York City at dusk. Then there is the film Eat, which consists of a man eating a mushroom for 45 minutes.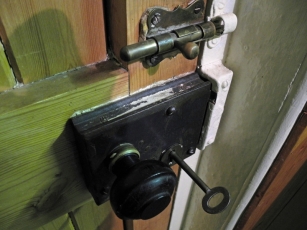 This is a shot of the lock on my back door. Simple in the extreme, although you could write a book about it. Who made it, how it was made, when it was made, who has locked and unlocked it over the last 70 years or so…
In the morning, if the blizzard persists, I intend to watch The Great Escape for the 34th time, just in case I missed anything. I first saw it at the age of 12, with my Aunty Isobel from Inverurie.
She fancied Steve McQueen something rotten.
But that's another story.
The Great Gale of 1953

As the Met Office threatens to spread even more of the white stuff across the North East of Scotland, warning bells are sounding amongst those of us who recall the Great Gale of 1953.
On 31st January and 1st February 1953 a great storm surge, accompanied by gale force winds, swept out of the north, causing widespread flooding of coastal areas in the UK and Europe. Often referred to as the 1953 North Sea flood, the storm caused massive devastation and loss of life.
The Netherlands, a country mainly located below mean sea level, suffered extensively, recording 1,836 deaths.  In England, 307 people were killed in Lincolnshire, Norfolk, Suffolk and Essex.  Nineteen Scots are also recorded as having died.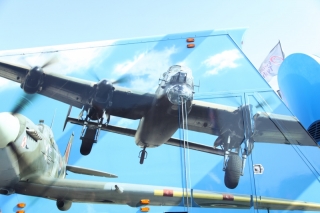 Now, in 1953 I was a babe in arms and I have no direct recollection of events.  It seems however to have been a seminal, even just eight years after the conclusion of hostilities in that second 'war to end all wars' and just ten years before the assassination of Kennedy.
The forests of Aberdeenshire had just begun to re-generate from the effects of the wars and were now flattened yet again by the gales.
Ammunition boxes, pit props and even aeroplanes such as the de Havilland Mosquito had all been end users of the forest industry.
A recent article in a local North East newspaper suggests that the Lancaster Bomber and Spitfire Fighter were also made of wood; however, I have to report that this was thankfully not the case.
If you take a walk in any local woodland you can still see the signs. Stumps, earthworks and gaps filled with birch.  Old uprooted trees and pits where trees once rooted. It's all there alongside the signs of ridge and furrow.
A few years ago, I met a man in an Inverurie pub who told me about his memories of the great gale of 1953.  As always, I took some notice of his story and stored it away for future reference.  I told a few friends over the years but some were too young to understand, and some were too old to be interested.
Anyway, the man I met in the pub all those years ago had been a gaffer in a team of foresters charged with the task of clearing the roads between Inverurie and Huntly. Hundreds of trees had been blown down and the blizzards had made things even worse.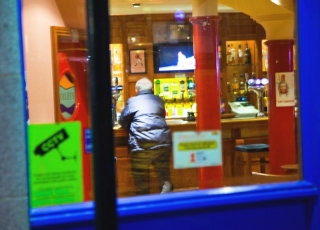 According to his account, it took them 10 days to cut their way along the roads.
These were the days of primitive chainsaws, two handed crosscut saws and hand tools, so I guess 10 days was quite reasonable in terms of time and motion.
Mind you, they went via Alford which surprised me even at the time. After all, the direct route from Inverurie to Huntly is via the A96 and Alford is a good few miles to the west.
I think he may have been a cryptic crossword puzzler, to be honest.  The mindset of the breed is quite alien to most folk and can appear beyond understanding.
The Guardian's Araucaria, one Reverend John Graham, had been setting clues for the readers of the paper for over fifty years as a creative process when he found that he was afflicted with the Emperor of All Maladies.
Instead of saying something like, "I'm not really very well and have a poor life prognosis, thank you for solving all my puzzles," he created clues which puzzle aficionados seemingly interpreted as an indication of his probable imminent demise.
One read: "'has 18 down of the 19, which is being treated with 13 15."
The folk at Bletchley Park would, in my opinion, have been hard put to crack that one.
Anyway, back to the weather.  I have now stocked up with some petrol for the generator and bird nuts for the red squirrels.
If the Met Office has got it wrong, I will be asking for compensation, of course. If they have got it right, I may be selling some snow on a collect your own basis. Bring your own truck!
I have carefully avoided any reference to the great horse burger disaster which, seemingly, wiped £300m off Tesco's share price. Should you want a laugh, however, I heartily recommend the Scottish Falsetto Sock Puppet Theatre's take on the fiasco on YouTube.
Happy snow days.
Grumpy Jack
Comments enabled – see comments box below. Note, all comments will be moderated.