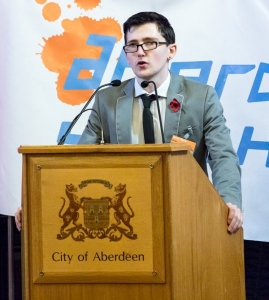 Aberdeen City Youth Council's
Safe Sex
campaign, which aims to investigate and improve condom provision in schools, has won the support of two Aberdeen MSPs.
Barry Black, Council Chair and Member of the Scottish Youth Parliament for Aberdeen Central is leading the campaign and believes this drive for better contraception availability will reduce rates of STDs and teenage pregnancies.
The Youth Council has been inspired by the C-Card scheme in Edinburgh which aims to give young people over the age of thirteen free access to contraception.
Richard Baker, NE Regional MSP said:
"It is important that young people are able to make the right choices about practising safe sex. Schools have an important part to play in informing young people on these choices and I congratulate Aberdeen's Scottish Youth Parliament Members for their campaign to raise awareness on this important issue. It is crucial because of the potential impact on young people's lives and health."
Aberdeen Central MSP Kevin Stewart agreed:
"Safe sex should always be encouraged and we need to ensure, as a society, we are consistent in that message."
Mr Black commented:
"It is widely recognised that some young people under 16 are unable to get access to condoms, even though they are sexually active. Restricting condom availability to 'underagers' does not stop them having sex, it just makes it dangerous. People of every age are 'at it', regardless of whether or not you think it is appropriate, and all need to at least have access to contraception.
"It's great to have our MSPs on board supporting our case at a national level. In Aberdeen we are going to get to the heart of the problem, investigating how young people can get access to condoms easier, and then pressuring the Council and other bodies to implement recommendations we will draw.
"We have had a really positive response from the administration, after they changed education travel policy following pressure from the group, and we are already in positive talks with councillors on how we can move forward with this campaign."
Comments enabled – see comments box below. Note, all comments will be moderated.