It has been a turbulent week in Scottish football, not least for our own Aberdeen FC, with the passing of club legend Teddy Scott, and the departure of five board members including another club legend and former captain Willie Miller. Secretary of the AFC Former Players Association and the AFC Heritage Trust, Chris Gavin, one of the five to depart, shares his thoughts with Voice readers.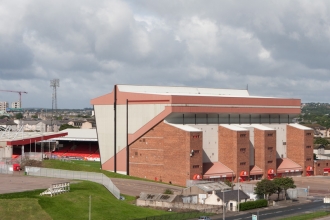 "Leaving the Aberdeen boardroom has me filled with mixed emotions. It is a huge wrench because I'm stepping down from close involvement at the very top of the club I love. 
"At the same time it will be quite nice to step out of the direct firing line for a while. 
"To outside observers the five departures from the Pittodrie board will seem to smack of the "Night of the Long Knives" but in fact it is simply the coming together of a number of events and the sole intention is to reinvigorate and strengthen the top echelons of the club.
"There was no bust-up over the Rangers Newco, nor any other dispute on the hurly-burly of Scottish football, and we must look on the change as an opportunity to be grabbed with enthusiasm.
"I can only really speak about my own departure and can tell Voice readers that it was in the works for quite some time. Indeed, my original intention had only been to stay on the board for three years, but the call of the Dons is strong and I was not inclined to step away from the constant struggle to build a stronger club, hence a tenure of almost eleven years.
"Having said that, there is always a right time to make changes and when the subject finally came up in earnest I was very comfortable with it, and having spoken with remaining directors I have stood down confident that we will see Aberdeen FC pushing on and with courage, fortitude and humour, pushing back up to the top levels of the game.
"This ex-director will remain closely involved with helping the club, most importantly helping to keep the influential Supporters' Forum going and ensuring that the recently-revived road shows continue at a good pace. I am also secretary of the AFC Former Players Association and the AFC Heritage Trust so there is plenty to do and there is always something new to deal with.
"Today came the sad news of the passing of Teddy Scott who, for me, was AFC royalty, and the storm of messages coming and going from the club as so many of us began to come to terms with his loss. We must ensure that we do right by his fantastic career and the influence that he had on so many of us, players and fans alike".
 Comments enabled – see box below. Note, all comments will be moderated.