With the personnel turnaround in football being higher than at any time in the game's history the mantle of 'club legend' is probably easier to assume than ever. Consequently, it's quite refreshing to write about a genuine club legend being with a club for around fifty years. Dave Watt writes.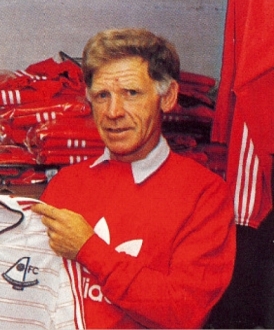 Teddy Scott's official connection with Aberdeen FC began when he was signed by Dons Manager Davie Halliday from Scottish Junior Cup winners Sunnybank in 1954 and finished when he retired in 2003 – a period which covers around half of the club's existence.
During his career as coach and kitman he served under twelve managers and endured the club's occasional struggles with relegation and participated in the heights of numerous domestic triumphs as well  as the ultimate joy of two European trophies in the 1980s.
Teddy's coaching duties were mainly with the youth and reserve sides and his philosophy was encapsulated in his much quoted "You try to teach the youngsters good habits as well as skills and hope they will still be around when the club can reap the benefit"
In the harsh and largely unsympathetic world of professional football it speaks volumes for Teddy Scott that generations of Aberdeen players regarded him as a father figure and mentor long after they themselves had retired from playing. The club recognised this in 1998 where it took the unprecedented step of awarding a reserve coach a testimonial against Manchester United at Pittodrie.
It's probably a trite statement to say that 'We shall not see his like again' but it's just as probably true. In a game which to my cynical old eyes (mostly watching footy on the tv these days) seems to be worryingly infested with pampered and increasingly precious 19 year old multi-millionaire drama queens, I can't imagine a new Teddy Scott arising or being appreciated if he did arise.
A friend of mine remembers seeing Teddy in Ellon a few days after the Cup Winners' Cup Final back in 1983. It was a bright May morning and the city of Aberdeen was recovering from the notion that it's very own provincial club was up there with the 'big guys' at last. Players, managers and fans had been in a five day media circus and there was another big cup final with Rangers coming up with still more media hype on the horizon.
While all this was going on each morning saw Teddy in his usual snorkel parka carrying his 'piece bug', getting on to the Ellon – Aberdeen bus and basically looking every inch the picture of  'jist a mannie gan awa tae his work'. I'm sure this deserved some sort of Turner prize for sheer bloody lack of pretension.
Having said that about pretension I'll pretentiously quote Shakepeare's Henry V as my summing up for Teddy Scott and the rest of the ordinary, working, common sense humanity everywhere.
'We are but warriors for the working-day;
Our gayness and our gilt are all besmirch'd
With rainy marching in the painful field;
There's not a piece of feather in our host–
Good argument, I hope, we will not fly–
And time hath worn us into slovenry:
But, by the mass, our hearts are in the trim'
Image Credit: Thanks to Aberdeen FC