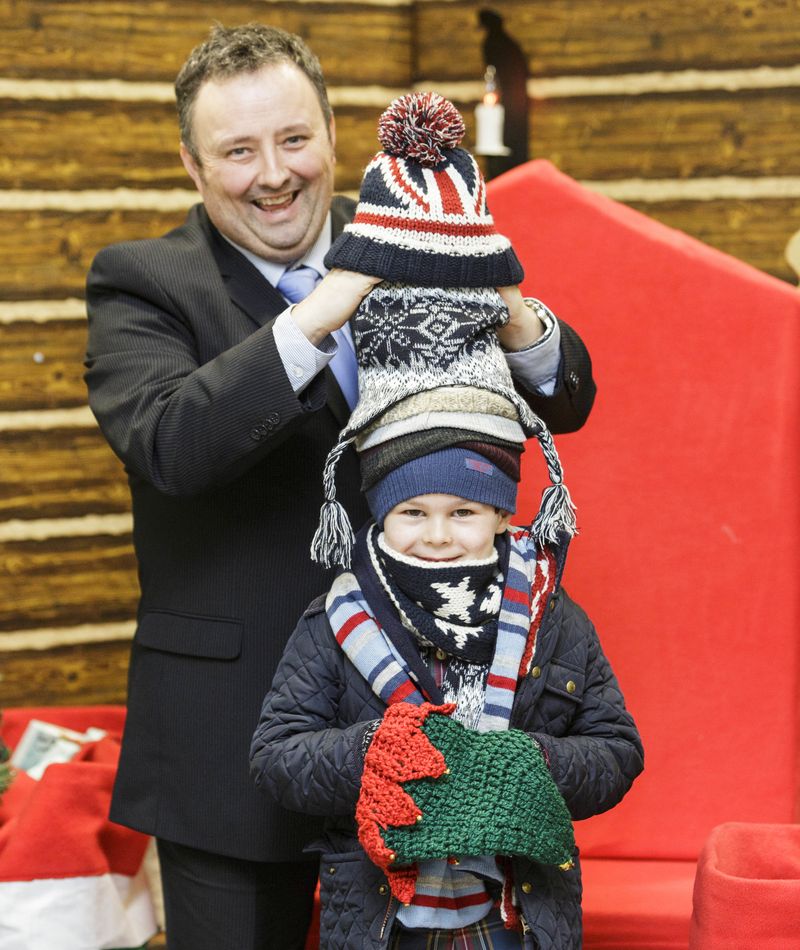 With thanks to Beverly Tricker.
A Cosier Christmas is to be delivered to even more children living in poverty, with the Coats for Kids appeal receiving a second sizeable slice of funding from Aberdeen Asset Management's Charitable Foundation.
AAM's latest donation of £7,500 sees its support for the winter campaign rise to £37,500 and means that hundreds of boys and girls in need will beat the cold with new warm outfits.
But in order to match a surge of late requests for assistance that have come flooding in from agencies and professionals working with families in need, there remains a £4,400 shortfall.
If that sum can be raised, then a total of 612 children living across the North-east will benefit this winter.
Emma Kemp of Cash For Kids is appealing to other businesses to show some seasonal spirit by donating to the cause.
Emma says:
"We've been a victim of our own success. After people heard about Coats for Kids in the media, after the very generous donation of £30,000 made by Aberdeen Asset Management Charitable Foundation last month, we had a flood of enquiries from support workers, groups and organisations working with families that are struggling financially.
"We did not foresee this demand, and we're really pleased to receive a second award of £7,500 from the AAM Charitable Foundation which is enabling us to help more families.
"If there is any other business out there that could help us reach our target, it would be a great gesture to make at this time of year.
"If you'd like to be the business that helps us fulfil our remaining applications then please get in touch."
Cash for Kids has seen a huge increase in applications for essential clothing for children living in poverty in the Aberdeen area. Many local families have to choose between buying food, heating their home and purchasing essential clothing.
Every penny donated to the cause is spent wisely with a deal being struck with a national retailer to ensure that the money stretches as far as possible. Sturdy boots, a cosy coat and socks are among the essential items provided and this means that children don't have to go to school in cold weather without having suitable clothing.
All children helped are identified via support workers, groups and organisations who work closely with families that are struggling with money.
The feedback from those working with the families that have already received new clothing highlights the big difference the support makes. Not only does it mean parents don't have to choose between clothing their child and other essentials, but the children have a sense of pride in having a new outfit to wear.
Dominic Kite ( pictured above with 5 year old Ben McCartney), representing Aberdeen Asset Management Charitable Foundation says,
"Our donation totalling £37,500 is the largest single amount to be given from our Charitable Foundation which seeks partnerships with charities where funds can be seen to have a meaningful and measurable impact.
"Cash For Kids work with professionals, organisations and other local children's charities to make sure that the children who really need help and support can get it."
To support the Coats for Kids appeal contact Emma on 01224 337010 or email emma.kemp@northsound.co.uk
The Aberdeen Asset Charitable Foundation was established in 2012 to formalise and develop the Group's charitable giving globally. In Aberdeen, donations have been made to several local charities including sums of £10,000 each to Cash for Kids, to fund a breakfast club for 12 months, to Friends of ANCHOR for the Gene Machine appeal and £25,000 to the ARCHIE for Skype technology at Aberdeen Royal Children's Hospital.