With thanks to Martyn Smith, Marketing & Events Organiser, Grampian Transport Museum.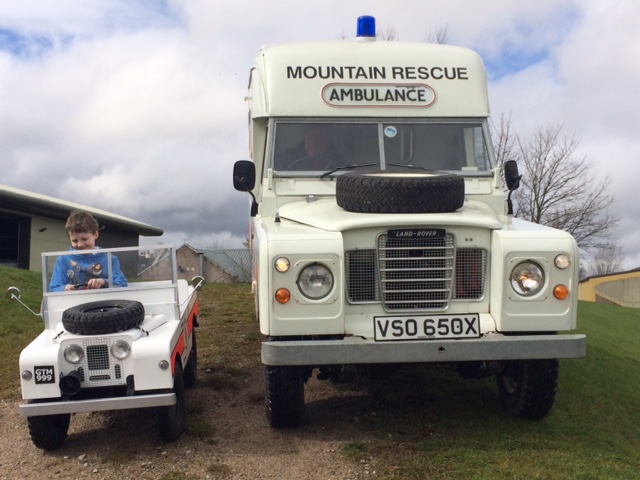 The Grampian Transport Museum is delighted to announce a new addition to the museum's popular Junior Driving School.
A fully operational scale model Land Rover – known as a Toylander – has been built by the museum's Young Engineers and will be put to use supervising youngsters on the popular Junior Driving School.
Based on a Police Land Rover, with livery derived from a 1985 Rover SD1 which is currently on display in the museum, the team received a donation of £1,000 from Peter Vardy, to assist with the purchase of the electric powered Toylander kit.
The Young Engineer team meet at the museum every Saturday morning and work on a number of projects, including the design and construction of their own electric vehicles for the annual Greenpower F24 racing series. Over the past few weekends the team, lead by a number of experts from the world of engineering, have constructed the Toylander, giving them vital hands-on experience.
A number of the team's former vehicles are now on display in the museum's new Visitor Reception, allowing visitors to see their work, which has remained largely unseen until now.
Commenting on the new addition, Museum Trustee Paul Lawson, who oversees the team, said:
"After a very successful season of racing with two cars in the top 15 in the world we decided to build the Landrover model over the Winter; the team have learned lots of new skills and we're looking out to see the car in action at the driving school"
Peter Vardy, CEO of Peter Vardy Ltd commented:
"Getting involved with the local community is one of our key values and when the Museum contacted us with their idea we were delighted to be able to assist. The Toylander looks great and I'm sure the children will get lots of enjoyment out of it. We might even have to look into getting our own version for our new Jaguar Land Rover dealership when it opens in August!"
Grampian Transport Museum is now open daily from 10am – 5pm. Further information, along with the museum's full events programme, can be found at www.gtm.org.uk.