Duncan Harley reviews Slains Castle's Secret History, a new publication by Mike Shepherd and Dacre Stoker.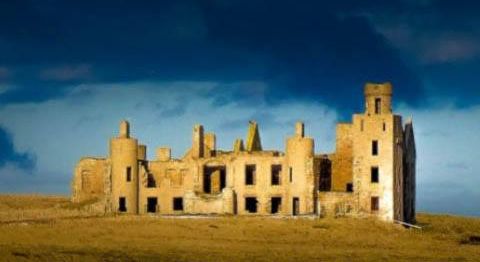 Slains Castle on the very edge of the Buchan coastline is a widely misunderstood edifice and a confusion of associations with Dracula do little to explain the history of the place.
This new book by Mike Shepherd and Dacre Stoker is a gamechanger.
Readers of Mike's previous books and followers of Dacre Stoker's work – which includes Dracul, a Dracula prequel written in collaboration with J.D. Barker of Fourth Monkey fame – will already be aware of the Cruden Bay Dracula links.
But few however, will be aware of the true history of that Slains Castle we all love to associate with the Gothic Horror genre.
An extraordinary set of stories lie within these pages. Churchill visited as did Johnson and Boswell. The cutting off of the heads of dead Danes, an epic story of religious strife and a shambolic plan to surrender Scotland to the Spanish Crown inhabit this book. And the 'tussle' for the souls of the living takes centre stage.
There are tales of a French conspiracy to Anglicise Scotland and the role of the Earl of Errol in shaping Scotland's future is explored in major detail. But no spoilers here.
This is in essence a history of Scotland as told through the lens of Slains. The castle itself dips in and out of the tale, and it's only on page 197 that we get to the essence of the Dracula connection.
I would have preferred an earlier link if truth be told. And this perhaps suggests that the authors were conflicted in purpose. In part diary, there is however much to recommend in this book.
Spanning from 1164 to the present day, this take on the untold history of Slains is an important addition to the history, and the mythology, of North East Scotland.
With a foreword by Alan Hay – archivist of Clan Hay – Slains Castle's Secret History, is published in paperback by Wild Wolf Publishing on 20th September and, if you'll excuse the pun, is a book to get your teeth into.
Highly recommended. Five Stars.
Slains Castle's Secret History by Mike Shepherd and Dacre Stoker.
ISBN: 979-8469387046