Students at Aberdeen University on Friday night draped banners around their campus and left messages of protest over the University's recent decision to increase fees for so-called rest-of-UK (RUK) students to £9,000, making a degree from Aberdeen for RUK students more expensive than from a degree from Oxford or Cambridge. NineEight Aberdeen reports.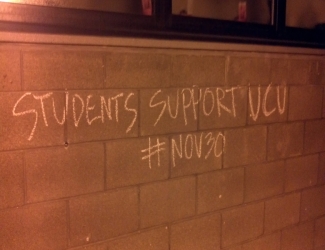 The night before thousands of new students were due to arrive for Freshers week, a banner comparing the £9,000 yearly RUK fees with the Principal's salary of £260k was dropped from the University's iconic arches and messages chalked around the campus proclaiming support for recently announced strike actions and objecting to what many see as the creeping privatisation of Higher Education in the UK.
This summer has seen Universities across Scotland hike up tuition fees for English, Welsh and Northern Irish students, ostensibly in response to the last winter's decision by the Coalition Government to increase the cap on tuition fees to £9,000 a year.
The action at AberdeenUniversity also follows students from across Scotland occupying a lecture theatre at Edinburgh University in response to the increase of RUK fees there.
A spokesperson for the group, NineEight Aberdeen said:
"These changes to Higher Education funding systems, as with the changes to public sector pensions, are absolutely not necessary and are driven by a government of millionaires, who incidentally all received free University education, intent on widening the already disgraceful chasm of social inequality."
"This is a protest against the reckless decision of the SNP Government to increase the cap for RUK fees to £9,000, but also against the wider austerity agenda the Westminster Coalition Government is pursuing. The spiraling youth unemployment statistics speak clearly for the failure of these policies and Universities should be fighting tooth and nail against them. Instead, we have University managements all too eager to administer cuts, fee increases and privatisations under the guise of having their hands forced."