In last week's Voice, we carried part one of A Change of Name, a chapter from Dr David Kennedy's forthcoming book in which he outlined how significant pressure had been applied to merge The University of Aberdeen with its perceived less-worthy educational neighbour, RGIT. In the second part of the chapter, we hear of the passionate fight to preserve RGIT and have it elevated to university status in 1992.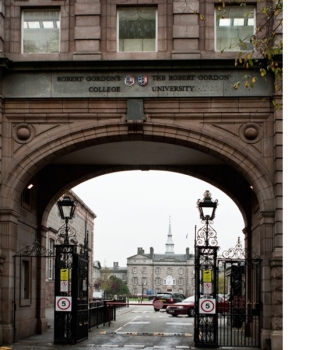 So, here we were in 1991 with the prospect of merger very much as proposed by our old friend from Napier way back in 1989. All of the older central institutions were under threat, but the greatest injustice was to those that already had delegated powers from the CNAA to award their own degrees: the technical institutions in Dundee, Paisley and Aberdeen.
Had the Secretary of State inverted the position of the five technological institutions in Scotland, leaving Napier and Glasgow at the bottom, he would have been much nearer the mark in everything but size, and size was simply due to an accident of location.
I know the advertisers tell us that size matters, but quality is even more important.  Small can be beautiful.
This massive injustice needed to be fought and the battle for the survival of the Institute was on.  I prepared a document setting out the very powerful case for the Institute and then went to see a group of members of the Aberdeen District Council.  They were impressed by what they read and the answers given to their questions.  Once they were clear about what was at stake, they readily agreed to ask their Council to support our case.
An all-party group from the District Council gave enthusiastic support and decided, if necessary, to lobby Parliament in our favour.  Money was set aside for this to happen.  The Council also sent a formal request to the local enterprise company seeking its backing for the institute.  While the board members of the company fully supported the request, its chairman (Ian Wood – a local businessman) felt the issue was too political and should therefore not be supported.  Due to the diplomacy of its chief executive, a letter of support was suitably worded and sent off to The Scottish Office.
Copies of the campaign document were sent out far and wide, including the Prime Minister and most of his senior cabinet colleagues.  The response was overwhelming. 
Although some quangos were unwilling to commit themselves because of their fear of government reprisals, ordinary people had no such qualms and responded in their hundreds and perhaps even thousands, across all walks of life and across all generations.  From across Scotland the letters poured into The Scottish Office, many being copied to me.
For the first time, I realised just how much an educational institution can mean to a community.  John Gray, who had founded the Institute in 1885, had done them a great service and they greatly valued what he had done.
Many of the letters were very eloquent, some were very moving, but I think the one I treasured most came from a very special person, a honest man who was courageous and true, and sadly, something of a rarity among politicians: Alick Buchanan-Smith.  Alick wrote on 26 August to give us his full support, just a day or two before his premature death.
There were many other letters of support, including a senior government minister, Michael Howard, who knew personally of the work of the Institute.  The Prime Minister did not reply in person, but nor did he dismiss it out of hand.  My letter eventually found its way down to The Scottish Office for reply.  The Head of the Higher Education Division wrote: 
"You now have a reply from Mr Michael Forsyth … and there is little I can usefully add.  I would, however, re-emphasise that it is not right to suggest that a decision has been taken on this matter when the intention is in fact to take decisions only after consultations and careful consideration of the arguments".
Once again, the point was being deliberately ignored.  Decisions had been taken.  Napier had been allowed to call itself a polytechnic and no reply was ever given to my queries about the criteria applied, when these criteria were determined and by whom, nor of the purpose of the exercise, remembering that it all took place in 1988.
If criteria existed for this, why were they not publicised and applied to the other Scottish institutions with degree-awarding powers?  According to Mr Forsyth's letter, "explicit and well-defined criteria" exist which justify according degree-awarding powers and university status to Napier and Glasgow polytechnics, but not to any other grant-aided college in Scotland.
I noted that the Minister had not said these were the criteria that WERE USED in the case of Napier, only that criteria NOW exist that would justify the decision taken by The Scottish Office.  This was simply tricky-micky, political evasion.
A press conference launched the Institute's campaign.  The launch was extremely well attended and the arrangements made by our Press Officer were excellent.  We got off to a brilliant start.  The problem then was, how to keep up the momentum and stop the campaign running out of steam.
At this point I told him very bluntly just what I thought of his threat to hurt students as a way of trying to coerce me.  
Our Press Officer, June Davis, better known a year or two earlier as the 'Torry quine', was superb.  She arranged interviews with a long sequence of North East notables who had responded to our request for support.  These interviews were written up and fed to the media, so that rarely a day went by without some comment of interest and support.
Then there were the visits to the Institute, not from supporters, but from The Scottish Office.  They came on the flimsiest of pretexts to see what was going on.  I received a phone call from another of The Scottish Office worthies.  He told me in a very brusque manner that if I kept on with my campaign I wouldn't get an honour.
In language only slightly more moderate than that used to me by the oil company chiefs at the time of the Piper Alpha disaster, I told him how much I longed for an honour and how worried I was at the prospect of not receiving one.
Being a civil servant, he couldn't understand my levity.  He then said that they could easily have me sacked.  I told him that I hoped to leave the job anyway and that my Governors were not too happy about my going at such an early age.  He then threatened to make the institution suffer financially.  At this point I told him very bluntly just what I thought of his threat to hurt students as a way of trying to coerce me.
The untimely death of Alick Buchanan-Smith meant a by-election in his North East constituency of Kincardine and Deeside.  This was a difficult time for the Government.
Disbanding the Gordon Highlanders; de-commissioning of the fishing fleet; and the creation in Aberdeen of the first of the hospital trusts that was widely perceived as some kind of attack on the health service caused some disaffection.  Of all these issues, the one that could be resolved with least cost was to settle the future of RGIT.
MPs kept up the pressure in the House, harrying the Minister about the criteria for degree-awarding powers.  At last, the Secretary of State and his Minister saw that they would have to concede.  The Scottish Office suggested I might invite the Minister to come to the Institute and meet with senior staff.  I readily agreed and arrangements were made for him to attend our annual management conference.
When the Minister came into the room to address the staff he ostentatiously 'left the door open'.  Although he made no unequivocal statement about degree-awarding powers, it was abundantly clear that that was the burden of his message.  It was exactly one week before the by-election for the Kincardine and Deeside seat.
The battle had clearly been won.
Although the battle was now over, this was by no means the end of the matter.  New articles and instruments of governance had to be drafted and submitted for vetting.
The acid test would be whether our university remained true to its traditions and mission
Whereas most statutory instruments are drafted by civil servants, in this case it was for each institution to propose the powers it wished to exercise and to set these out in an appropriate fashion.  This was an extremely important task, since it laid down the pattern of governance that, once settled, could not easily be amended.
After twenty years of senior management in education there were aspects in the existing arrangements that I believed could be improved upon.  I did not favour the division of staff into academic and non-academic.  All had a part to play in creating a successful organisation.
One of the problems is how to exert enough control to safeguard public funds, without becoming excessively overbearing and in effect, usurp the authority of those appointed to exercise it?  Although important, systems alone are not enough.  So these were the things I had in mind while writing the draft articles and instruments.
Although approved by the Governing Body, it was not acceptable to The Scottish Office.  I was forced to follow the existing model, which had been designed by civil servants many years before.  Being accepted by them meant that it was also acceptable to the Privy Council, and so at last the job was complete.
On Friday, 12 June 1992, the Institute formally adopted the name of The Robert Gordon University. Aberdeen, once again, had two universities.
The acid test would be whether our university remained true to its traditions and mission, or whether, like so many before, it adopted the traditions and mission of the old universities.  If it adopted their values then, without doubt, our own had been vanquished and they had won.
Who can say what the future will bring?  In order to at least make clear what I believe RGIT stood for, what the former mechanics institutes had stood for, what the old crafts and trades had stood for, we had a parchment prepared that set out our mission.
"The Robert Gordon University is pledged to produce versatile and resourceful practitioners who are relevantly qualified for their chosen professions and vocations within an educational environment that fosters innovation, enterprise and an enthusiasm for excellence".
This was formally presented to the City of Aberdeen as an earnest of our intentions.  No doubt it is mouldering somewhere in a basement of one or other civic building, but perhaps many years into the future someone will come upon it and know just what we stood for on that memorable day.