With thanks to Ian McLaren, PR account manager, Innes Associates.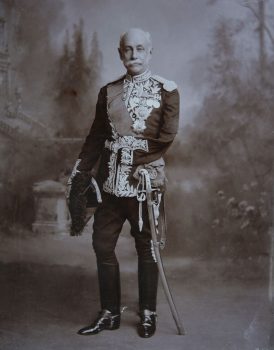 Crates of furniture, textiles and gifts are being unpacked at a Deeside castle this week, more than a century after the
owners' forebears lost similar items when they were shipwrecked in the Mediterranean.
Kincardine Castle on Royal Deeside is being transformed into an Eastern bazaar as it welcomes Scottish home furnishing, textile and gift company The Nomads Tent.
The Edinburgh-based firm is holding a 10-day pop-up shop at the castle from Friday, 28 October.
Visitors to the Victorian property, four miles east of Aboyne, will be able to purchase a range of authentic items from the Orient.
Had a boat journey nearly 130 years ago turned out differently, those attending would have been able to see the modern objects for sale against a backdrop of Indian antiques.
On April, 17 1887, Sir Edward Bradford, the great-grandfather of the current owner of Kincardine Castle, Andrew Bradford, was onboard SS Tasmania along with his wife Elizabeth. The pair were returning to Britain with their possessions after two decades in India.
As SS Tasmania passed Corsica in the early hours it was caught in a fierce storm and struck a rock. The P&O steamship with 144 passengers and 161 crew onboard became stranded.
In the hours that followed, 35 passengers and crew, including the captain, would lose their lives. The vessel's cargo and shipment of mail were also lost to the sea. The Bradfords escaped the wrecked steamer with their lives, but all their worldly goods amassed in India were consumed by the swell.
Sir Edward had served in the Indian Army before becoming the general superintendent of the Viceroy's Secret Police in 1874. In 1878, he was appointed governor-general's agent for Rajputana and chief commissioner of Ajmer, with special responsibility for relations with the Rajput Princes. Prior to their departure, the Bradfords were presented with many elaborate gifts by the Indian Princes, but within days all of these mementos would be gone.
Nicky Bradford of Kincardine Castle said:
"Sir Edward and Lady Elizabeth's return from India is a remarkable tale. They were extremely lucky to escape from the wreckage of SS Tasmania with their lives, but there must have been great pain knowing that all of their possessions were gone. Many of these pieces would have been very ornate and a real testament to the craftsmen and women of the country at that time."
Although the Indian furniture, textiles and souvenirs amassed by the Bradford family in the mid-19th century failed to reach Kincardine Castle, the Deeside residence will welcome modern day treasures from the Orient into its rooms until Sunday, 06 November.
As The Nomads Tent pitches up at Kincardine with an authentic range of Indian, Turkish, Vietnamese and Moroccan goods for sale, visitors will get the chance to see inside this private family residence free of charge. Sourced from markets and bazaars, the items include carpets, rugs, furniture, pottery, lanterns, Christmas decorations, scarves and jewellery.
Nicky Bradford added:
"The Nomads Tent is bringing a real taste of the Orient to Deeside with its fantastic array of textiles, pottery, homewares and gifts. For 10 days this autumn, Kincardine will be awash with vibrant colours both inside and out. It will be wonderful to see the interior bedecked in Middle and Far Eastern objects and bring part of the Bradford family's story full circle.
"Throughout the decades, Kincardine has come to life when it has been full of guests. Today is no different, and we're really looking forward to opening our doors and welcoming guests into our home and sharing some of its fascinating history."
Alongside the pop-up Eastern bazaar, tea, coffee and light lunches will be available in the castle each day during the event, while Kincardine's monthly pop-up café with its more extensive lunch menu will take place on Friday, 04 November. Two half-day cookery classes, run by Kincardine Cookery, will also be held at the castle on Saturday, 05 and Sunday, 06 November.
The Nomads Tent Roadshow will take place at Kincardine Castle from Friday, 28 October until Sunday, 06 November, opening daily between 10:00am and 5:00pm, except on Sundays when it will open from 11:30am.
Kincardine Castle is the centrepiece of the 3,000-acre Kincardine Estate, which is owned and managed by Andrew and Nicky Bradford. The estate was bought in the 1880s by Andrew's great-grandmother and the castle remains a private family residence.
Built in 1894, the castle was designed by architects David Niven and Herbert Wigglesworth.
The building incorporates elements of five centuries of castle architecture in its design, starting with the 14th century style square keep tower. Kincardine Castle is available for hire for a range of events, including meetings, conferences, dinners and weddings. Sixteen bedrooms in the castle provide overnight accommodation for groups of six or more. For further information Kincardine Castle, visit www.kincardinecastle.com or telephone 01339 884225.
More about Sir Edward Bradford:
Born in 1836, Sir Edward Bradford saw active service with the Indian Army before becoming political assistant in West Malwa.
In 1863, he was mauled by a tiger whilst hunting, which led to a roadside operation in which a surgeon removed his left arm at the shoulder. He continued to ride and whilst hunting he controlled his horse by holding its reins with his teeth. In 1866, he married Elizabeth Knight, the grand-niece of Jane Austen.
On returning to Britain in 1887, Sir Edward Bradford was appointed secretary of the Political and Secret Department of the India Office. He revisited India in 1889 to conduct a tour by Prince Albert Victor, the eldest son of the future King Edward VII. The following year he became chief commissioner of London's Metropolitan Police, and during his 13 years in the role oversaw a reduction in crime levels in the capital and the introduction of the city's first motor taxi.
Upon his retirement in 1903, and until 1910, he served as an extra equerry to King Edward VII and King George V. Sir Edward died in 1911.
Comments enabled – see comments box below. Note, all comments will be moderated.