For the third time in less than a year, Dons fans and players of a certain age will be wearing mourning clothes, literally or figuratively. David Innes reminisces on Jens Petersen, a man whose dedication to the Dons in the 1960s makes him truly worthy of legendary status among Reds followers.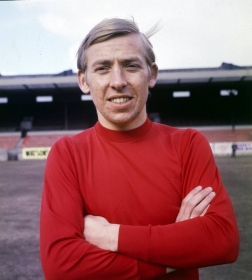 It was with heavy hearts that we learned of the death of Jens Petersen, a stalwart servant of the mid and late 1960s whose brave battle against death ended in noble defeat on 8 March 2012.
This follows far too closely the deaths of Eddie Turnbull in April 2011 and Francis Munro in August last year.
Another one of the Reds family has gone, and it hurts.
For the many friends Jens made during his time at Pittodrie, the hurt is because they knew him, they appreciated his determination to succeed and the inspiring leadership that he offered, but most of all, the lasting friendship that they formed with someone who is unanimously regarded as one of the genuine good guys.
Among the fans who remember Jens, it hurts because we too have lost someone we looked up to, someone who played the game in its proper spirit and a man who took delight in meeting fans, taking an interest in them and making them feel that they, as much as the players, were all part of the same whole.
We have lost a hero.
Jens arrived in Aberdeen with fellow Danes, Jorgen Ravn and Leif Mortensen, all signed by Tommy Pearson in 1965, when Scottish clubs realised that Scandinavia was a new hunting ground for players of good quality who fitted into the Scottish style of play. Whilst Ravn and Mortensen left Pittodrie after a short while, Eddie Turnbull spotted that Jens had something special that would fit with the Turnbull football vision and not only kept him on at Pittodrie, but made him a key member of the first team.
In 1966, the jewel in the Reds' crown was Dave Smith. His performances in midfield and in the curious "sweeper" role that Eddie Turnbull introduced meant that he was an attraction for bigger, more predatory teams. I recall, to a background of Yellow Submarine, the news coming through in August 1966 that our star had signed for Rangers and that the Dons were £45000 better off.
The money was unimportant; we had lost our most influential player. How, the devastated 9 year old me worried, could we go on without Dave Smith? Eddie Turnbull had a cunning plan: Jens Petersen.
What the Boss had seen in Jens was someone who could naturally play the role that Smith had made his own, a man possessed of an unflappable temperament, comfortable with the ball at his feet in defence or midfield, an athlete, excellent in the air and with an ability to break from defence with the ball, striking panic into the opposition, a sight to behold.
US sports fans were amazed that the players did not wear body armour
The statistics tell us that Jens Petersen made 203 appearances for Aberdeen and scored 11 goals.
These are merely numbers. Influence and dynamism cannot be enumerated.
It's a long time ago, but I can still remember his late spectacular goal against Morton to put us into the League Cup semi-final in 1966, my uncle's surprised comment, "Look, the Dane's wearin' san'sheen", when Jens decided that a frosty pitch later that season needed alternative footwear, and his ill-luck in the 1967 Cup final where his shot into an open goal was miraculously saved by Celtic's Ronnie Simpson's sliding clearance from the goal line.
When Jens left the Dons in 1970, his number 6 shirt was bequeathed to Martin Buchan. That illustrates the level of talent at which he operated.
My own contact with Jens was limited to a couple of phone conversations about the 1967 Washington Whips. Chalky Whyte gave me Jens's number and encouraged me to call him in Denmark. He answered in Danish. I said, "Hello, I've been given your number by Jim Whyte". Jens's response (and that of his wife Dora when I called on another occasion) was that he was delighted to speak to me, but before he spoke about the USA in 1967, how were his friends at Pittodrie?
My lasting memory of the discussion was that he was asked by a US interviewer, "Petersen, have you ever burst a ball with your head?" and that US sports fans were amazed that the players did not wear body armour. His English, and Dora's, was better than mine and he was a joy to interview.
Chalky, Ally Shewan and Ian Taylor have often spoken to me about the friendship they maintained with their great pal Jens and their memories and anecdotes will help ease some of the hurt that these guys and their colleagues are feeling.
Jens was only just 70 when he died, which is no age at all these days, and he was an outstanding athlete, still running marathons into his 60s.
The Northern Lights are significantly dimmer with his departure.
Image Credit: Aberdeen Voice is grateful to Aberdeen Football Club for use of Photographs.