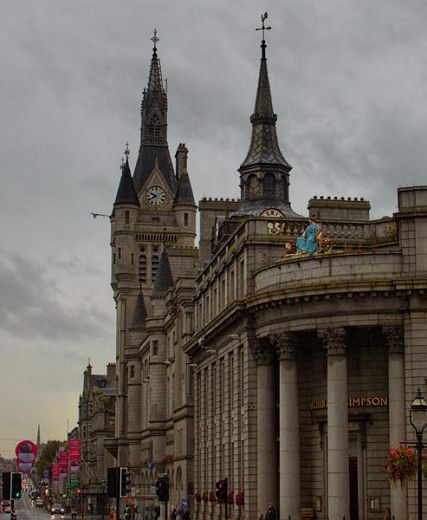 What are friends for? Aberdeen City Council gives Aberdeen Journals Ltd three years rent free at Marischal Square. Suzanne Kelly reports.
A Freedom of Information request by Aberdeen Voice has revealed that Aberdeen City Council gave Aberdeen Journals Ltd the equivalent of three years free rent for Marischal Square.
The Information Commissioner's office is investigating the city's refusal to provide details, and in October it was revealed that the brand-new, taxpayer-supported project gifted AJL space for c 200 staff (with 19 free parking spaces) at virtually no cost whatsoever for the first three years.
The document reads in part:
"The tenant will benefit from an incentive package as follows: Equivalent to a rent free period 36 months."
Aberdeen Journals Ltd is allowed to choose how it will use this benefit:
"… taken as rent free, surrender payment for the lease at Land [sic] Stracht or a capital payment or a combination of all three."
The 19,000 square feet are charged (if AJL were paying that is) at £30 per annum or £570,210 per year. Over three years this comes to £1,710,630.
Other details to emerge from recent FOI requests by Aberdeen Voice include:
* ACC said:
"Marischal Square is managed by CBRE on behalf of ACC. This means that all invoices for rent are raised by CBRE and are payable to CBRE who then pay over rental income to ACC as it is received. We are therefore unable to provide any information on amounts billed and whether or not these have been paid in full."
* The total rental income received via CBRE for Marischal Square to 30 September 2019 is £849,936.61.
* The Headline rent for Marischal Square is £30 per square foot.
* The city claimed at one point it had no idea about details of which entity paid how much rent. The City said:
"We are unable to provide you with information on rent ACC has collected from occupants, renters of Marischal Square including amount billed to occupants/ renters, and whether or not the sum invoiced for has been paid in full as it is not held by ACC.
"In order to comply with our obligations under the terms of Section 17 of the FOISA, we hereby gives notice that this information is not held by us."
When the Information Commissioner concludes its report, Aberdeen Voice will update this story.