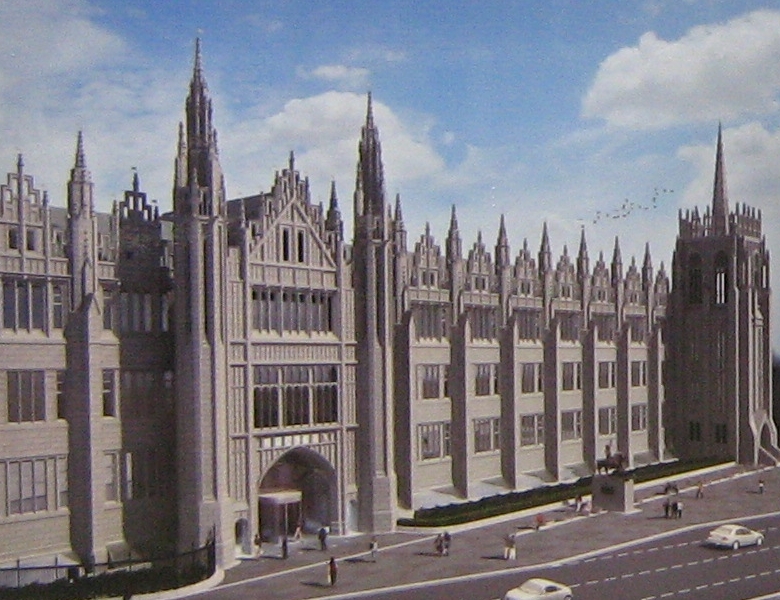 By Suzanne Kelly.
While pondering whether to offer Aberdeen Press & Journal and the Evening Express a free base for one year in the controversial Marischal College office building, Aberdeen City Council has certainly been helping the paper financially as it spends £200,000 per annum on advertisements in the papers.
A recent Freedom of Information request shows that the city council has advertised in Aberdeen Journals Ltd's local papers to the tune of £626,500 over the last three years.
This is a mean of £205,500 per year.
The breakdown is as follows:
2016 – £199,818.78 (up to 25 October 2016)
2015 – £219,123.87
2014 – £197,513.68
The City explained:
"Unfortunately, we are unable to provide a breakdown of each expense. The types of expense that ACC would use Aberdeen Journals for would be, for example, Public Notices and Job Advertisements."
The city also claims it would be too expensive to get a breakdown of what these ads are.
Aberdeenshire Council on the other hand spend a grand total of £6,998 on advertising with the two newspapers over the same three year period. When asked to check the figures, the Shire spokesperson confirmed this figure was all-inclusive.
The city declined to give a breakdown, stating there were a staggering 3,000 invoices for the time period, and the cost to them of collating the information was over £3,000.
There IS such a thing as free rent.
The City Council declines to answer whether it is planning to give free rent to the P&J or other future Marischal Square residents.
"The discussions in relation to the proposals for the AJL terms have involved the advice of external property agents, the Council's development partner and a number of Council officers. The Council officers involved were Head of Finance, Head of Land and Property Assets, and Asset Management Manager."
The P&J editor Damian Bates seems unsurprisingly keen to move to the building his papers previously called 'controversial'.
He commented in a recent article:
"It's in no-one's interests for it to sit empty and this is a once-in-a-lifetime opportunity for us to head back home; back into the city centre where we belong and where The Press and Journal started its amazing journey more than 270 years ago.
"We are now a multi-media business and this prospective move will provide a bright future for the Evening Express, P&J, Energy Voice and all our other products and sites. The council has been our landlord since approximately 1970 so nothing is going to change."
Some Free Advice on Free Rent, Expensive Advertising and Ethics.
Some notices must be published in newspapers for legal requirements. Job advertisements appear on the City Council's website, which is free to access by anyone with a computer, and anyone with a library card can access computers for free. There is no excuse for cutting services while spending this kind of money on advertising.
Considering that jobs can be easily, freely posted on the city council's website, and citizens are told that services and that citizens were told budget cuts have to be made, cutting down on advertising should have been a priority. In January Finance Committee Convener, Cllr Willie Young told the council's advertising vehicle the Evening Express:
"It's possible third sector organisations could see funding cut…We have to look at everything."
Perhaps before any other services are cut, Aberdeen City Council might want to think twice about its advertising spend and giving new office space away for free, with the taxpayer picking up the tab.
According to the P&J, office space in Aberdeen commands a high price – or at least should do:
"…Aberdeen continues to lead the way for prime office rents, with Ryden reporting a current price of £32 per sq ft – higher than Glasgow's £30 figure, with sites in Edinburgh and Dundee generating £28 and £15 respectively."
If the city could and should be making money out of the massive eyesore which could have been that civic square everyone in a position of power once Jonesed for (oh Sir Ian, where art thou? Why didn't you want the civic square there? And I note that 'Opportunity North East Limited' has extended its accounting period so it won't have to report at the end of this month now and has until the end of March 2017 – your comment welcome Sir Ian), and if the city has to 'look at everything' to find money – why should Aberdeen Journals Ltd. enjoy this largess?
Then again there is a small moral issue. For most of the rest of the UK, a newspaper has a duty to investigate with impartiality, serving as a check on government and a check on the powerful. As it stands, the P&J's alliance to the editor's wife's boss Donald Trump is a dark stain.
Can the P&J really morally afford to be indebted to the city council it should be investigating, or has any pretence of journalism now left the building. We should be told.
Comments enabled – see comments box below. Note, all comments will be moderated.