By Suzanne Kelly.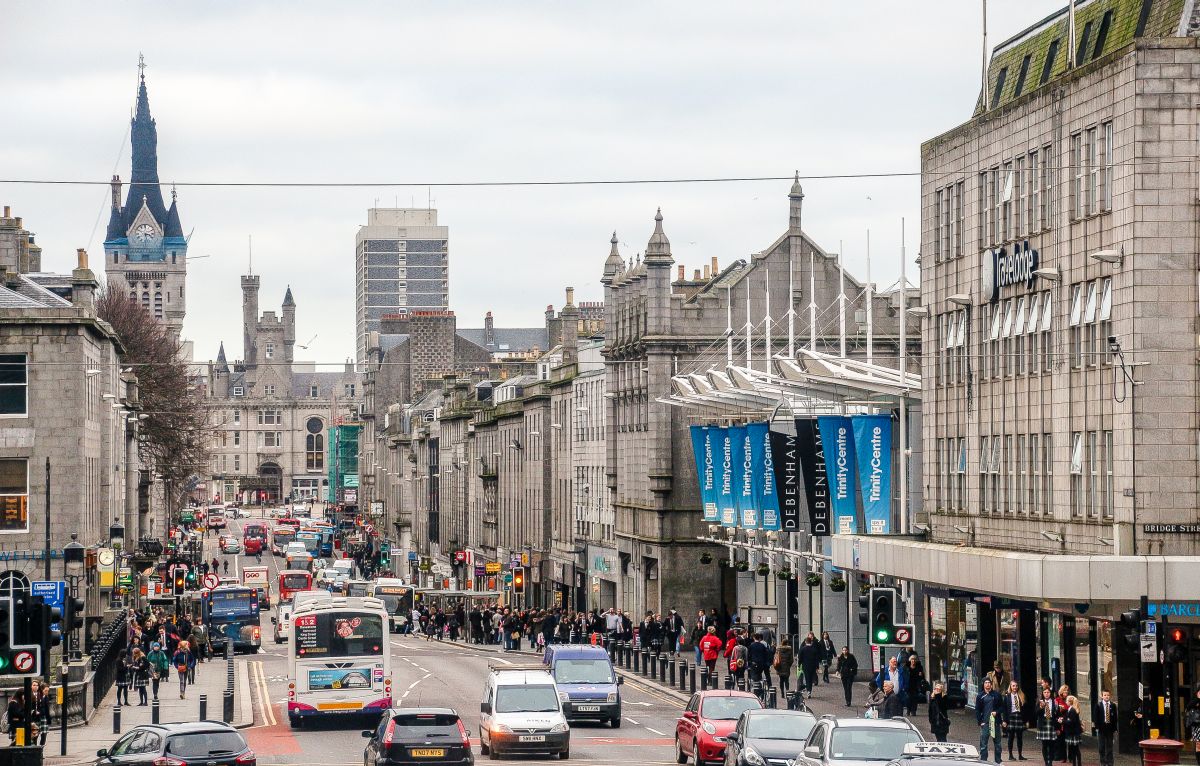 Sustrans, a pro walking and cycling charity with a multi-million pound budget might not seem an obvious choice for doling out millions in funds "to improve social distancing and slow the spread of Covid-19", but here we are: Aberdeen will get benches and artwork, delivered in partnership with Sustrans, for £1.76 million of taxpayer money.
Sustrans' website claims:
"The work we're doing is creating healthier places and happier people."
Not so much in Aberdeen where a second lockdown took place while Sustrans and the city were spending money.
Aberdonians familiar with the 'Wallgate' scandal may recall Sustrans' involvement.
Former city councillor Willie Young's father owned a stone wall that collapsed; through some maneuvering the city got Sustrans to spend a quarter of a million pounds to fix it. Neither Sustrans nor the city seem to have done any due diligence to find out the public did not own the wall; questions remain over the massive expenditure and where all the money went.
As an aside there was a vote to claw back this money from the Young family. It failed by one vote, with disgraced sex-offender Alan Donnelly voting in favour of letting Young off.
But that is a tale best told on Facebook by the Stop the Desecration of Marischal College page.
Many are still scratching their heads at the central government decision to give SUSTRANS the cash and remit to deal with social distancing in city centres. It exists to get us out of cars and buses and onto bikes or to walk instead – is this really the moment for doing so?
The city has just informed Aberdeen Voice where some of the money is going, and that all these wooden structures are temporary: All that wood will eventually be removed, possibly scrapped.
Parklets life:
These are not just any wooden benches with planters and decking; these are 'parklets'. To date (21/7/20) ACC spent approximately:
"…£105,000 on the completed parklets, which has been carried out by in-house operational teams, with Hall & Tawse Ltd providing specialist joinery workshop fabrication and delivery to site… we were only able to locate one supplier that could meet the demand.
"The installer has a link to ACC by having an existing contract to manufacture and supply doors and fire doors from their workshop."
Sustrans says Aberdonians will get 136 parklets. A Sustrans spokesperson said:
"It is hoped the parklets will be an attractive addition to the city centre and provide an alternative to the use of plastic bollards"
How it was determined that plastic bollards were essential in fighting Covid-19 is unclear.
Sustrans' and Aberdeen City's parklets jut into Union Street and other areas; many businesses are irked that they had not been consulted on road closures. Sustrans distanced itself from any road closure issues, but did not explain how it could be working with the city to build the parklets without being involved in putting them on city streets.
Businesses have been hurt by one-way traffic systems and road closures, with several small businesses closing.
The Covid-19 virus can live for quite some time on wood, but fear not. Sustrans said:
"…like all public infrastructure, it would be up to the user to assess the risk of catching the virus, before touching a surface."
In other words, rather than spending funds on awareness posters, stickers on the pavement telling people to social distance, stickers showing any one-way pedestrian areas, added hand sanitizer stations, partnerships with retailers and hospitality businesses to ensure better social distancing, you will get 136 temporary benches, providing 136 brand new surfaces where the virus can exist, creating a risk (even if small) where none previously existed.
Two weeks ago a photo was posted to social media showing a vandalized parklet, where wooden strip had been dangerously bent to a vertical position.
Aberdeen Voice asked the city whether it had done any cost projection for the cost of maintaining, cleaning, restoring the decking. We were told no cost projection has been undertaken yet.
The city's FOI response also said:
"To date the decking materials expenditure is £31,167.45 total (to 21/7/20) for decking, anti slip inserts, bolts, nuts, shims, adhesive, sealant, non-slip tape.
"The suppliers used to date are Keith Builders Merchants, Jewson, MGM Timber, Premier, John Smith Ltd, Cordiners Timber, General & Technical Flooring, Hall & Tawse. Quotation enquiries have been sent to suppliers by email and telephone, in line with the ACC procurement regulations.
The process is still ongoing as the units are still being manufactured, and there is limited stock due to factory and cargo shutdowns… all suppliers except for Keith Builders had existing links as suppliers with ACC, and had supplied ACC in the past."
Simultaneously, there are insufficient resources to facilitate blended and/or on line learning and children are returning to schools – many of which do not have their risk assessments finished.
These will not be published in any event, despite UK government recommendations to do so, and other unions and schools happily publishing their assessments.
While acknowledging that not a single other Scottish city which got some of the £38 million-pound Spaces for People pot opted for decking, we are assured that:
"The decking is grooved and is sold in Scotland commercially as decking. The trip and slip potential for footwear has been considered and non-slip strips have been provided on the decking."
Convinced that no one will slip and fall / cut themselves on the edges of these parklets, the city confirmed:
"We are not considering procuring specific insurance for the decking. The Council has public liability insurance for all its activities should a claim be received from a member of the public."
Whether that insurance has been updated to include 136 parklets is unknown, but seems unlikely in light of the city's comment. By the way, the decking is not fireproof – because it doesn't have to be.
Precisely how wooden decking, notorious for slippery nature and for its uneven surface hostile to those in heels or with mobility issues, artwork and security guards from Leicester will make Aberdonians happier and safer remains to be seen.
Icing on the cake:
In order to 'make people feel confident', the Sustrans money for Covid-19 distancing will see £100k spent on three artworks. Sustrans demanded the right to help approve how this is allocated, according to local press 'to help Aberdeen stay within the rules'.
The same newspaper article quotes someone on the project saying:
"This will make people feel confident."
Complaint:
Nearly 30 people sent a formal complaint about the Sustrans/Aberdeen City plans, asking for a review involving central government of just how these projects meet the initial remit, noting there has been a new spike – possibly because people were feeing a little too confident and not sufficiently cautious.
Moves like allowing marquees and crowded pavements may well have contributed to the transmission of new cases. Anyone wishing to add their name to the complaint can email sgvk27@aol.com.
Sustrans is very keen to distance itself from any responsibility for overcrowding that took place at a nightclub, saying it had no remit to deal with private businesses.
It was reminded that the crowd was on the public pavement and road.
More people are welcome to add their name to the complaint; it was felt best to get it out as soon as was possible due to the urgency of the situation. It replied to Aberdeen Voice quoting a portion of its remit; we replied quoting their website:
"The Spaces for People programme is funded by the Scottish Government and managed by Sustrans Scotland.
"It aims to enable statutory bodies to implement measures focused on protecting public health, supporting physical distancing and preventing a second wave of the outbreak."
With £1.76 million going on benches, artwork and goodness knows whatever else, public health protection was a fail, physical distancing was a fail, and a second wave of the outbreak hit Aberdeen. That artwork had better be spectacular.
With millions flowing through Sustrans staff according to last year's Companies House documents, the pro-walking/cycling quango will be just fine. As yet only a small portion of the £1.76 million has been spent or committed as yet: Aberdeen Voice will watch where the rest of the money goes.
Aberdeen Voice is happy to hear in strictest confidence from anyone with information on the spread of Covid-19 and/or related issues. Please contact Suzanne Kelly via sgvk27@aol.com
Comments enabled – see comments box below. Note, all comments will be moderated.