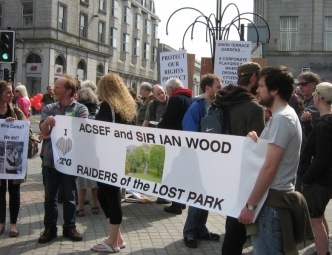 By

John Aberdein.
The Council leadership has got itself into a fankle. Schemes for the future of Aberdeen city centre have now got more sticky holes than a spider's web. It is time the Council leadership either extricated itself – or demitted office.
The task of a council is to regulate the city on behalf of the public good, the good of all its citizens.
If it spurns that duty, and thinks it exists to promote the projects of the big business minority, then it has to be replaced.
If the bleakest, most expensive, utterly illogical, and environmentally crass scheme were to be implemented for, say, the top of the Broad Hill, for the width of the Castlegate, or for the area between Denburn Viaduct and Union Bridge, then the construction industry would stand to make a hefty profit. And if it had all to be restored –  assuming it was still possible to be restored – then the reconstruction industry would stand to make another whopping killing. It can be seen immediately that big business has no interest in things remaining the same: there is no profit in that. So big business – and its tame political followers – have to create the conditions for constant change: by decrying the status quo.
Big business says the city centre is a disgrace, that they cannot take visitors there. And to an extent that is true: the state of Aberdeen's main street is a disgrace, with many a shabby shopfront and with weeds hanging off ledges. But it is not actually Union Street that big business and its political servants want to change: it is the beautiful bit, the secluded haven, the sunken Victorian garden with its intense vivacity and charm.
When a council leader can allow himself to be quoted as saying that Union Terrace Gardens is only grass and a few trees, we would remind him that by such definition a human being is only some chemicals and a few gallons of water.
When a council deputy leader says that Peacock could not go ahead because there was a funding gap (of around £3.5 million), yet is prepared to give a fair wind to an enormous project with a gargantuan funding gap (£70 million and seriously upwards), then we suggest he check his sums.
Big business has no business case – that's how much of a bad joke this scheme has become.
When a Lord Provost says that the Council is obliged to take a £50 million-with-strings offer because he is afraid of being laughed at in the world outside, then he deserves to be pitied. That is not true civic leadership, not in a thousand years.
The reason that so many people are entirely wary of the City Square project as it now stands, is that it is a very unusual beast: a chameleon with three wooden legs. Is there to be a double-storey car park? We hear changing stories about that. Why? Is there to be a retail presence? No. Yes. If yes, why? How would that help an already retail-denuded Union Street? Is there to be an underground art gallery, an entombed conference centre? Point: we already have an art gallery and a conference centre, above ground, in the light.
And the three wooden legs?
1. The misleading description.
2.  The duff funding method.
3. The failure of vision.
The description first of all: The existing gardens are to be raised. No, very largely they will be razed to the bare earth, and anything placed atop the new decking will have to be shallow-rooted. Strangely, 140-year-old elms cannot be grown in pots.
The funding-method: The funding gap will be met by TIF. TIF is for brownfield sites. Union Terrace Gardens is not a brownfield site. No business case has been presented. Big business has no business case – that's how much of a bad joke this scheme has become. The real risk is that the massive funding requirement – unless it can be laid on some magic new volume of city centre trade – will absolutely hammer ordinary ratepayers and council taxpayers.
The failure of vision: Union Terrace Gardens, as noted above, is a secluded haven, a sunken Victorian garden of intense vivacity and charm. Most flat or flattish cities would give a lot to have one. Plazas and piazzas are two-a-penny worldwide in comparison.
There are countless appreciative minds and hearts, and rich imaginations, in the city
Melbourne's Federation Square was the exemplar held up by ACSEF in their presentation at Cults Academy on 12th May last year. Well, no, actually, ACSEF, I don't really think so. Melbourne's Federation Square (built over old railway yards, not over an elegant garden) is 8 acres, whereas the proposed Aberdeen City Square is 6.
But metropolitan Melbourne has a population of 4 million. So the city of Aberdeen – with a population a little over 5% of Melbourne's – suddenly needs a City Square 75% as big? The casual numerical incompetence of the thinking here almost beggars belief.
As we know, there are many achievable schemes to improve Union Terrace Gardens and the Denburn Valley. They are schemes which start by looking at what already exists, appreciating what is there, and pondering how it can be enhanced. There are countless appreciative minds and hearts, and rich imaginations, in the city.
Taking the area as a whole, I have seen drafts and sketches for pleasurable fountains and waterways, for smooth cylindrical lifts, for tubular pedestrian connection to the station, for an airy bridge to Belmont Street  – yea, and for restored toilets and giant draughts, for sculpture and a bandstand! No doubt many more joyful and stately ideas can be brought to the democratic table. Joyful and stately both: for Union Terrace Gardens is Aberdeen's Xanadu.
So, improve the Gardens and their wider setting and their facilities and their accessibility and their connectivity – by such affordable and imaginative means as the people collectively will.
An international design competition – to one man's parameters? Destroy what exists with money you do not have? The Council leadership may have lost the plot, but the people, it is extremely likely to find, have not lost their senses.