With thanks to Jessica Murphy, Senior Account Executive, Citrus:Mix.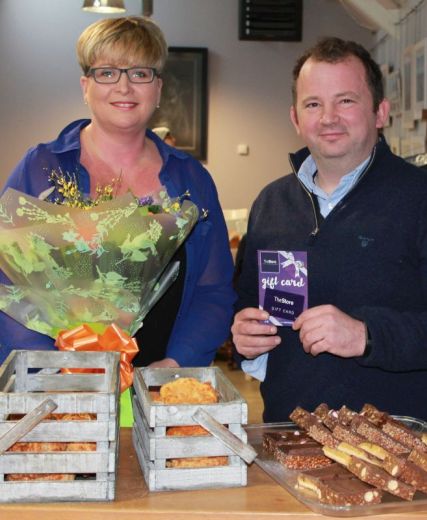 An Aberdeenshire business has announced the winner of its campaign to find the North-east's most hardworking community hero.
The Store, a farm shop, deli and coffee shop based in Foveran, near Ellon, launched the campaign in December as a way of rewarding one inspiring individual who went above and beyond for their community in 2016.
Caroline Anderson, 43, from Potterton, was announced as the winner after impressing judges with her contributions to her local community.
Fellow Potterton resident, Sammy MacDonald, nominated her to win £100 of vouchers to spend at The Store, as she felt that Caroline deserved recognition for donating her spare time to improving their village.
The NHS support manager has lived in Potterton for 11 years and helped to found the Potterton Community Group at the end of 2015. Since then, the group has grown from a group of mums to one that involves residents of all ages focusing on the community. The group now regularly organises events, promoting the use of local businesses and the surrounding area, as a way to inject more community spirit into the village and make Potterton more sociable for its residents.
Monthly pop-up cafes, a picnic in the park, seasonal fairs, fitness classes, an adults arts and craft group, as well as a 'zombie apocalypse' – a fun game that involved local children trying to find the antidote to a zombie outbreak – were all successful in bringing together residents and raising money to fund community projects.
Last year, the funds raised by the group helped to upgrade a path in the area, so that more people could enjoy the countryside surrounding Potterton. This project also received funding from Paths for All, a charity that aims to significantly increase the number of people who choose to walk in Scotland.
Andrew Booth, owner of The Store, was so overwhelmed with the number of campaign nominations that he turned to his family to help him decide on a winner.
He said:
"It was an incredibly difficult decision to make, as we received a lot of really inspirational nominations from across the North-east. I eventually read out the shortlist of nominations to my kids and mother-in-law and they helped me decide on the overall winner.
"One of the main reasons we chose Caroline was because I wanted to give her an incentive to carry on the Potterton Community Group well into the future, as it's still in the early stages.
"After reading Caroline's nomination and meeting her in person, it's very clear that she does a great deal for her local community, which is what this campaign was all about. As well as working full-time and looking after two children, she has brought together an entire community through a number of initiatives that will truly benefit both residents and the area in the long-term."
Mrs Anderson said:
"I couldn't believe it when I found out that I had won, I almost burst into tears. I had absolutely no idea that I had been nominated and I was completely overwhelmed that Sammy had thought to put me forward. I've never thought that I do anything particularly special, as there are so many people out there doing inspirational things.
"Whilst I'm the main driver behind the group, it's entirely a team effort. We have an amazing bunch of people who volunteer their time to the group and we wouldn't have been able to achieve what we have done over the past year without them all.
"I receive so many positive comments about the group, that's what inspires me to keep going and pushes me to do even more for the Potterton community. This year we want to focus on organising more social events, community projects and getting residents involved as much as possible. It's hard work, but it's so worth it when you see the strong bond that the village has formed over the past year. It's amazing what a community can achieve when you work together."
Comments enabled – see comments box below. Note, all comments will be moderated.