With thanks to Esther Green, Senior Account Executive, Tricker PR.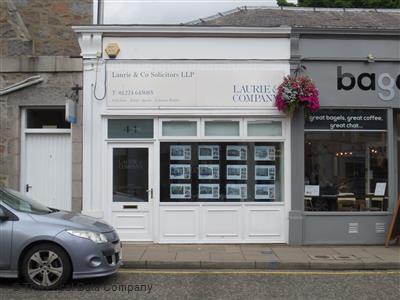 An Aberdeenshire solicitor's office affected by flooding is set to reopen next week and has expanded its workforce in the process.
The Ballater branch of Laurie & Co was badly hit by floods in the aftermath of Storm Frank last December, but the newly renovated office is on track to open next week, with only the carpets and furniture left to be fitted.
Laurie & Co has used the opportunity to welcome a new associate solicitor to its team at the Ballater office, expanding its workforce to three full-time and one part-time member of staff.
The recent repair work on the office has also allowed the firm to create an additional office for its new member of staff.
The Aberdeen-based solicitors first opened a branch in Ballater five years ago, after taking over from Gray and Kellas. Since then, the Bridge Street office has built up a strong client base in the village by offering a wide range of legal advice and services. The team has been operating out of its Aberdeen headquarters for the past five months and regularly stay in touch with clients via phone calls and emails.
Directly after the floods, Alan Nicoll, a partner at Laurie & Co, held workshops providing legal advice for residents who were facing difficulties claiming insurance. Laurie & Co also provided insurance information for those affected by the floods on its website. The webpage is still active and offers practical advice and a step-by-step guide on what to do after you've been affected by flooding in regards to insurance.
Speaking about the insurance workshops, Alan says,
"The floods were obviously a really distressing time for everyone involved, but the outpouring of support from all over really helped to lift everyone's spirits. All of us at Laurie & Co wanted to do something to help. I'd heard that some people were struggling with their insurance claims, so that's when I decided I was going to give residents advice on how to handle their insurance issues.
"Most people didn't know where to start when it came to insurance, which is understandable as it would've been the last thing on everyone's minds. It was a good feeling to be able to help out by offering legal advice, Ballater residents had been through enough without having to worry about their insurance not paying out. My colleagues also helped out by compiling the advice page on the Laurie & Co website, which people are still using to this day.
"The support the village received was absolutely incredible and it certainly helped get us all back on our feet. I'm so proud that the office is reopening next week, alongside a few of our neighbours. The entire community has achieved so much this year and hopefully Ballater will come back stronger than ever."
The firm's staff are now looking forward to seeing their new office and getting back to work in Ballater. Since the beginning of the year, the village has gone from strength to strength and Laurie & Co is one in a long line of businesses which are due to reopen this month or have already reopened.
Richard Watts, of Ballater Business Association, says,
"I am thrilled to hear that Laurie & Co is going to be reopening next week. The expansion of both its workforce and office shows that the firm is looking towards the future.
"It's great that so many local businesses are taking the opportunity to make improvements which will provide a better experience for staff, visitors and clients. This is another extremely positive step for Ballater and also marks the start of a new beginning for the village."