Aberdeen beat Partick Thistle, but probably were a bit lax letting them back into the game, ponders Voice reporter Andrew Watson.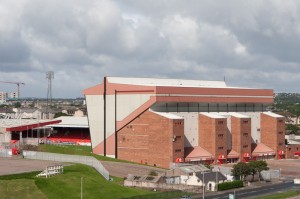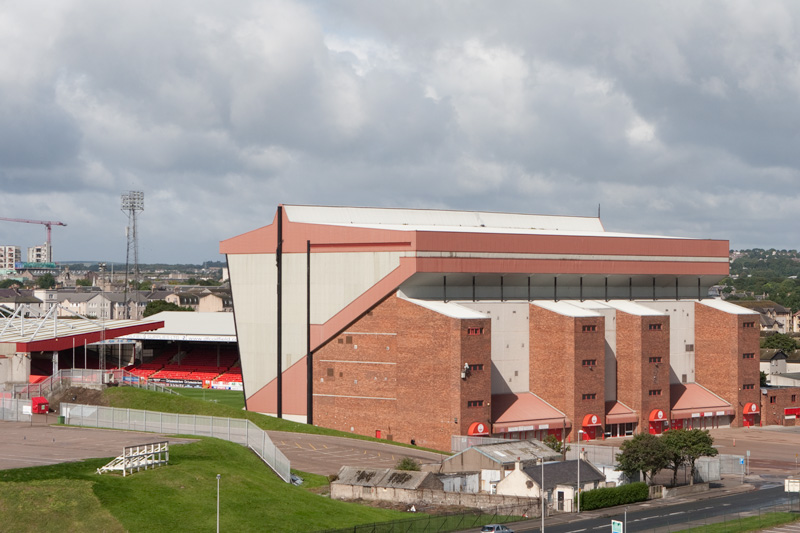 The sun was shining and the pitch looked damn near perfect. A tad of a breeze blowing, but no more no less.
Just prior to the whistle was the beat of the drum in the Merkland Stand. After the whistle, the ball glanced across the box for Aberdeen, but no one there to connect to it.
Down the other end, Partick nearly broke through with some good link up play.
Dons' keeper, Joe Lewis, then mopped up a Partick cross. Subsequently, somehow the Reds avoided further skelping after conceding a corner, too.
A cross for Aberdeen was also nullified, as the keeper grabbed the ball and killed play.
The latter, Tomas Cerny, palmed out another one, via a superb free kick outside box.
Aberdeen forced Partick into conceding a throw, almost forcing a corner.
Miles Storey, later, put the last of the backline, Cerny and the last remaining defender, under pressure for a goal opportunity. Another good chance followed not long after.
Adam Rooney went for a header, winning both it and a free kick for his team. This free kick was then headed over the bar.
There were claims for penalty as Peter Pawlett closed in on keeper and goal. He really should've scored.
Kenny McLean conceded a free kick in the Partick box, really lucky not to be booked. Rather late.
Aberdeen, again, escaped with Lewis, thankfully, getting his hands to the ball.
In the other box, there was a flurry of chances, starting with Cerny dropping the ball, and finishing with a free kick for Aberdeen.
1-0 Aberdeen – after 28 minutes into the game! Niall McGinn scored from that very kick, nestling in the top corner.
Rooney then outfoxed his opponent to put the ball into the box, but nobody was there.
Anthony O'Connor fared with a poor pass to the midfield, from the back.
Rooney was then involved in a scramble for goal. Amidst a melee he won a corner for the Dons. His teammates really should've capitalised and put the ball in the net during this confusion, to be honest.
His jousting with Cerny continued, winning Aberdeen a corner.
It wasn't all Aberdeen, though. Thistle had what looked like a sure goal swatted away, somehow, out of danger.
They also won a corner, one which was headed over the bar.
Halftime 1-0.
Aberdeen opened with a darting run into the Partick box, alarming their opponents. They were dealt with in a manner as best as possible.
McLean then weighed in with another late challenge, still yet to be booked.
Partick crossed and connected with the ball, but didn't convert it. Unlucky, really, and very fortunate for the dopey Dons.
The ball, again, found its way into the Aberdeen box. Thankfully, nobody exploited this.
To put any anxiety on the part of Aberdeen to rest, Storey capitalised on some sloppy play from a poor Partick defence after 58 minutes.
2-0 Aberdeen!
McGinn then waded in with a ball into the box, a ball which went out for a corner.
Wes Burns then came on, replacing Pawlett coming at 63 minutes. A minute later, goal hero, Storey, came off, replaced by Ashton Taylor.
Around this time, advantageous play for Aberdeen stopped with a Thistle player lying near the middle of the pitch. No doubt this would increase stoppage time after normal duration.
Shaleum Logan slipped, losing possession. Partick later won a free kick, one of no consequence.
McLean came with a fine piece of skill to beat his man, the ball through the legs, racing round to receive the ball from the other side. Not your typical nutmeg, as seemingly facing away from the player. His surge forward had potential, but Thistle frustrated the ball out of play.
Cerny, later, jumped to grasp a Taylor long ball.
The opposition came with a last gasp ball into the Aberdeen box, but hoofed it out of danger.
Lewis then broke up some fine link up play by Partick with an authoritative save.
Down the other end, on the other hand, the ball bounced precariously in the opposition's box, Partick somehow avoiding the concession of a third goal.
Come 87 minutes in, the Jags lost Sean Welsh to a second yellow card.
Jayden Stockley replaced Rooney on 88 minutes. Four minutes additional play was announced.
Lewis then ran across the goal line, just to make sure the ball didn't somehow find the net. Safe enough.
Then substitute Chris Erskine brought his team back into the game after 91 minutes, rocketing it into the top corner. Sections of the Main Stand appeared to applaud this effort; and quite rightly, too.
2-1.
They pursued a leveller, coming close with a series of corners.
Even their keeper, Cerny, came down into the box in pursuit of that levelling goal. Logan appeared to be fouled as this happened, but Aberdeen managed eventually to scrape a victory.
Final score:  2-1.