Suzanne Kelly responds to Sarah Malone's claim: "I would categorically dispute any claims that we have purposely made life difficult for the neighbors or done things that were wrong," she told NPR earlier this year. "We simply haven't."
Kelly concludes there are only two possible explanations for Malone issuing that quote: either Malone is ignorant of what happens on her watch and what she herself has said and done – or she is a liar.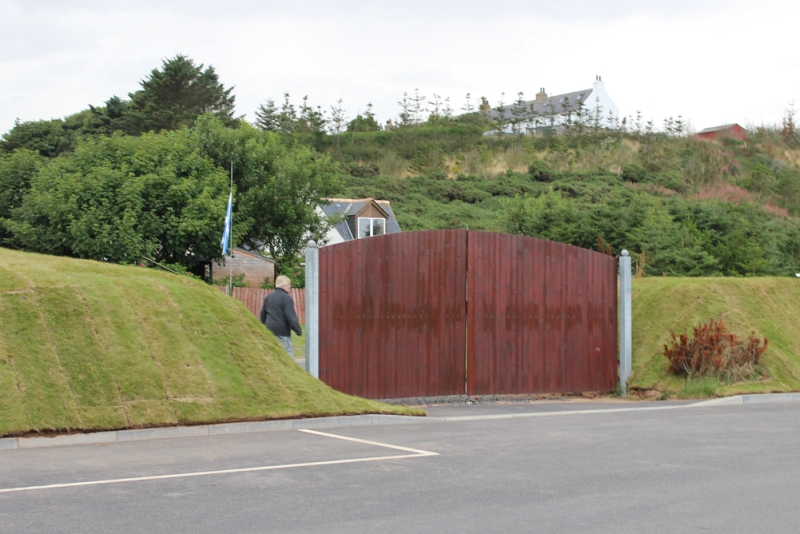 Sarah Malone Bates is under siege; I almost start to pity the Trump spokesperson – then I recall what has happened at Menie.
Plucked from the relative obscurity of a post in a small Aberdeen museum and placed in charge of what was meant to be a multi-million pound golf/hotel/housing complex, she had no relevant training or experience.
She had however won a beauty contest and she had married the editor of the local newspaper.
Over the past 6 years she's stuck to the Trump line on all of the issues arising from Trump's presence: that Trump is welcome in the area, only a few people object to Trump's activities, The Donald is 'pumping hundreds of millions of pounds in the area' and the club is a huge success. All around her are the signs that all is not well.
And yet she continues to issue statements which lack factual basis. Claims such as the 'hundreds of millions of pounds' spent in Scotland have been largely unchallenged in the press; I've written to the club for proof, but like all my recent emails to TIGLS, it remains unanswered. This latest pronouncement though – the 'categorical' denial of anything being wrong with how residents and others are treated – is clearly untrue – and she knows it.
You will find all the back up to the following bullet points in sources including the documentary 'You've been Trumped', in Andy Wightman's report on the Menie Estate and in the Aberdeen Voice archives. Here is a partial selection which demonstrates Malone's denial must either mean she is not telling the truth – or does not know what she has said and done, and what goes on at the course she manages.
Malone's got off relatively Scot-free with her quotes in the past. Here are just a few reasons why Ms Malone should not get away with it this time. But first, a look at what her word is worth…
"I can't work for someone I don't believe in"
Malone started working for Trump in 2009. She told the Herald Scotland she believes in him:
"We have a world-class developer whose brand is associated with luxury and excellence. I think he is a visionary, a very positive man. I can't work for someone I don't believe in."
She's still working at TIGLS, so we can conclude she still believes in Trump. Despite the racism, the sexism, the nationalism: she believes in him still, or she would have quit. She stands by her bigoted man. Either she shares his views and believes in him – or she isn't a bigot, but has already made herself dishonest by this Herald Scotland post. Now she says that nothing amiss has happened. The question is – do you believe in her?
Amnesia? Being Economical with the Truth? Or just plain lying?
Maybe you will agree with Executive Vice President Sarah that there's nothing amiss in how she has and is treating residents, journalists and visitors. Here is a bullet point list to recap some of the incidents that happened under her watch, in no particular order.
Trump private security guard threatens established photo journalist Alicia Bruce "I'll smash your camera". Bruce wants to press charges but the police (which have a 'special policy' for the Menie Estate) dissuade her from doing so.
Accessing without permission David and Moira Milne's lands, removing a fence, damaging property, accidentally cutting a telephone line in the process of this unauthorised work – and sending an exorbitant bill to the Milnes for the fence.
Trying to charge Michael Forbes with theft after he removed marker flags from his land/disputed land which had shown up without any explanation. The police were instructed – by whom I wonder – to charge him with theft of goods worth £11, although he had made no attempt to retain these flags.
A local area resident was taken against his will to the clubhouse to explain where he was walking and why – in complete contravention of his rights. He had been on his way to Michael Forbes' farm, and the security guards prevented him doing so before grilling him.
Construction workers 'accidentally' cut off the water supply to Michael Forbes' property, forcing the family, including 80 something year old Molly, to go to a stream to collect water by hand. Over a week passed before anything happened. The water supply is still not satisfactorily restored.
Anthony Baxter and Richard Phinney went to the site office while filming, and asked the manager when water would be restored to the Forbes Farm. Someone – I wonder who – then called the police and reported the two journalists for a 'breach of the peace'. They were stopped by a patrol car at Susan Munro's cottage, and with one police officer growing increasingly aggressive, the two reporters were bundled into the police car, held, their cameras and recordings temporarily held. They never got their day in court, as charges were dropped. The National Union of Journalists condemned this unprecedented act.  If Sarah had no idea this happened, she can't be paying attention.
Blocking Michael Forbes' access to the beach, preventing him from further salmon fishing.
Someone – I wonder who – called the police to say protestors were at the Forbes House and police responded to find no protestors – but rather surveyors from Trump's camp on Forbes' land, causing damage. Forbes told the police that this was a boundary dispute and the surveyors had no right to be on the disputed land – and as should not be the case, the police made Forbes stand by and watch as the Trump operatives accessed his land, damaging his boat and other property. Who possibly could have called to report protestors at a sparsely populated farm when there were no protestors?
Continuous, ongoing deviations from the approved plan – from the giant flagpole to building a huge wall of earth between Leyton Farm Cottage and the cottage's former views of the sea and its light. Sand and dirt from this mound got into the cottage, killed plants in the garden, and damaged vehicle engines.
Allowing Leyton Farm Road to deteriorate making it veritably impossible for residents to use the road; it was eventually patched up after outcry.
MEMAG was an environmental group set up to monitor how TIGLS was operating; per its minutes, representatives from Trump simply did not go to the meetings and therefore did not co-operate.
Scottish Outdoor Access Code: a giant gate is put at the point Leyton Farm Road meets the new Trump parking lot; it is locked shut. Plants on either side of it prevent anyone with mobility issues accessing the course from that direction – despite requests to open the gates and reminders.
Ostensibly so none of the golfers would be upset by offshore windfarms, Trump has fought an offshore experimental windfarm project which would have meant local jobs. The costs for the legal action to the taxpayer are not at present known.
Security guards often parked close to Leyton Farm cottage and shone their headlights into resident's windows late at night.
The Trump parking lot, itself not to the agreed planning spec, had very high, bright overhead lights. These shone into the nearby cottage's windows and were often left on all night. One night the lights were not on was… the night Aberdeenshire council, journalists and the public attended to measure how bright the lights were.
Security guards would stop people on foot and in vehicles demanding their identification.
There are more instances.
Kelly calls Malone out
Thinking both of Malone's 'belief' in Donald Trump, and her protestations that the Trump team never "…purposely made life difficult for the neighbors or done things that were wrong," it is not hard to reach some conclusions. Either Malone is herself a bigot and can thereby support Trump, or she is not a bigot and then 'misstated' that she can't work for someone she doesn't believe in.
As to the more important, wilder claim she makes, either all the journalists, residents and visitors, and all the local, national and international films and news reports are wrong, but Malone and Trump are right – or Malone either is ignorant of what her employees and indeed she herself does – or she is a liar.
I am ready to publicly debate these issues with Malone-Bates anytime.
Comments enabled – see comments box below. Note, all comments will be moderated.