The producers of the documentary You've Been Trumped today welcomed the announcement that Michael Forbes, the Aberdeenshire farmer depicted in their film, has been named Top Scot in a poll of the Scottish public, Aberdeen Voice reports.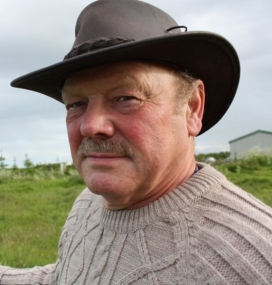 Mr Forbes had been the subject of a vicious international public relations campaign by Donald Trump, who said that the farmer and fisherman who refused to sell his land to the billionaire
"lives like a pig"
and is a
"disgrace to Scotland".
Previous winners of the Top Scot award have included the writers JK Rowling, Alexander McCall Smith and Ian Rankin, as well as six-time Olympic Gold medallist Sir Chris Hoy and international singing sensation Susan Boyle.
Mr Forbes was present at the glittering ceremony at Prestonfield House in Edinburgh to receive the award from Kirsty Wark in front of more than 200 guests. It was the first time in 38 years that the 60-year-old farmer had visited Scotland's capital.
"We are absolutely delighted for Michael, who has conducted himself with such dignity during these trying years. Perhaps the award will lay to rest once and for all the claims of both Mr Trump and First Minister Alex Salmond that there is widespread public support for tearing up a protected conservation area to build a luxury golf course for jet-setting American golfers," said 'You've Been Trumped' Director Anthony Baxter.
The event is sponsored by the Scotsman newspaper and the Glenfiddich distillery. The organisers say this is the first time the award has been won by a "non-celebrity". Other award winners included tennis star Andy Murray, but Forbes pipped them all to win the top honour.
A campaign to name Michael Forbes 'Top Scot' gained momentum after the broadcast of You've Been Trumped on BBC television on October 21. Donald Trump's legal team had tried to block the broadcast but more than a million people viewed the film.
Following the broadcast, First Minister Salmond was forced to break his two-year silence on the intimidation of residents and journalists at the site of the Trump golf course development, asking Grampian Police for an explanation of the police intimidation depicted in the film. Mr Salmond has since been accused of misleading those who have complained about the treatment of local residents, and the filmmakers behind You've Been Trumped.
The film, which was released theatrically to rave reviews in the New York in August, remains on limited release in the United States and Canada, and will soon play in cinemas in Australia and New Zealand. To date, it has won ten international awards.
Comments enabled - see comments box below. Note: all comments will be moderated.