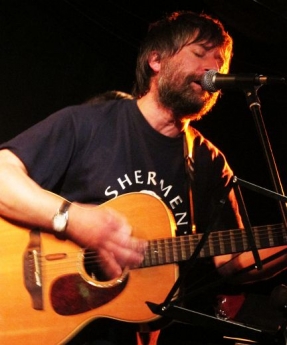 Interesting Music Promotions celebrates its 250th gig with a stellar cast featuring King Creosote and Edinburgh noiseniks FOUND. Aberdeen Voice's
Pete Thomson
grabs a seat in the front row.
As an outfit that's been bringing classy if often obscure acts to Aberdeen as long as Interesting Music Promotions, we might have known they would conjure up something just a little bit special on reaching so notable a milestone. We are not disappointed. Tonight, legendary Anstruther troubadour King Creosote teams up with FOUND to bring their aptly-named Bits of Strange tour to the Blue Lamp.
With only 100 tickets on offer, queues outside 1-Up and crashed websites were the order of the day when they went on sale, but your correspondent's cunning plan actually works for once and Parker rolls up in the limo nice and early on the night.
Once in the Lamp, we grab the best seats in the house and join a queue where we're handed commemorative tote bags containing (don't laugh) specially printed tea towels and a cd from KC's extensive back catalogue. All included in the £25 ticket price.
King Creosote – Kenny Anderson to his mum – eventually wanders onstage, gives us a quick run through the evening's schedule then picks up his acoustic guitar. We're treated to a 4-song solo performance including a robust yet somehow delicate cover of Lone Pigeon's I've Woken Up Love, the short set crowned with My Favourite Girl, one of Anderson's finest moments.
The evening's format is unusual in these piratic times. Following a concept first tried out by Anderson in 2009, the audience has been invited to record proceedings on mobile equipment.
The bar is closed for the duration of recording, the troubadour joined onstage by FOUND and he asks us to kindly refrain from applauding for the sake of the forest of microphones, laptops and other digital equipment that's suddenly appeared.
Last time I saw FOUND, they were busy producing a maelstrom of noise at the science festival's End of the World gig, and while I'm pretty sure mainman Ziggy Campbell is wearing those shoes for a laugh tonight, he's never less than serious when he picks up his beloved semi-acoustic Rickenbacker.
The guitar features strongly as the ensemble rattles through a percussive Collector Of Mundane, then Anderson steps up and delivers Trigger Happy, I Am with a clear-eyed intensity that towers above the arrangement's poppier leanings. This is Anderson at his most potent, drawing an audience in even if they're not entirely sure what he's singing at times.
Highlight of the first set is a fabulous electro-jaunt through Bats In The Attic. Far from the gently ambient version on Diamond Mine, Anderson's Mercury-nominated collaboration with Jon Hopkins, it is tonight set against a seething backdrop of blips, bleeps and magnificent beats courtesy of sampler Kev Sim and Fence Records house drummer Captain Geeko.
At half time, each member of the audience is given a special nip glass to mark the occasion. Glasses for each of the four dates were individually designed and Aberdeen's features a magnificent engraving of a Bon Accord lemonade lorry. How good is that? Even better, it comes filled with whisky for those who want it, a limited edition coming in at £150 a bottle, no less.
Thirsts suitably slaked, set two opens with Shallow Dive before eventually arriving at the wonderfully named Tits Up, a delicious confection of Byrds-style guitar and Kraftwerk-inspired electro – eight miles low, anyone?
Quiet and unassuming as he is, Anderson's star shines bright. The rich Fife brogue in which he delivers his dry but always witty observations on the foibles of life and love is Scottish to the core, yet defies categorisation. His unique phrasing comes from that same well, and to these gifts you can add a soaring falsetto that elevates Anderson's wry tales of betrayal and alienation to an altogether happier place.
The main event closes with The Be All And End All Of That to a huge reception, but the ensemble returns and meanders through a short but intriguing set including a Cait Le Bon cover and a driving version of She Means Nothing.
We can't not mention bass player Tommy Perman who, with Geeko on drums, is sometimes all that's holding things together, but Anderson chooses to close on his own with a spine-tingling medley of Spy Stick and Not One Bit Ashamed.
In such electrifying moments do we realise it's in the performance itself Anderson meets his demons head-on, and one senses it might not be fanciful to suggest this is where he finds the strength to face the travails of which he sings with such passion.
Such is the ensuing uproar he's not allowed to leave the stage, persuading his colleagues to return once more for a brisk two-chord run through Sinead O'Connor's Emperor's New Clothes.
It's a bright ending to what has been a bit of a strange evening, unique and unforgettable. Many thanks to Interesting Music Promotions for setting it up – oh, and roll on the next 250!
Comments enabled - see comments box below. Note: all comments will be moderated.