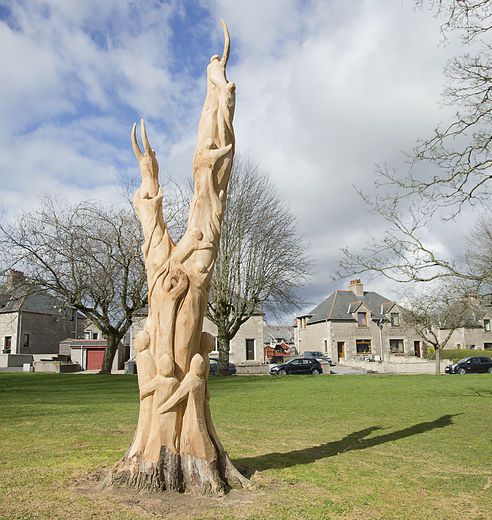 By Duncan Harley.
Inverurie has a new and exciting piece of artwork courtesy of north east based chainsaw sculptor Gary Shand.
When Aberdeenshire Council Landscape Services Officer Ken Regan realised that he had a dead elm tree on his hands he decided to approach Gary in the hope of persuading him to transform the 25ft high stump into a piece of public art.
"I had seen carved tree stumps in the parks of Barcelona … the notion that folk could almost randomly stumble upon them appealed and when this opportunity arose it seemed appropriate to create one for Inverurie" said Ken.
Sited in parkland on George Square outside Inverurie's St Andrew's School, the sculpting process immediately drew comments from local residents. Carving a tree trunk with a power-saw is after all a very public process.
Says Gary,
"It was really interesting overhearing the comments. At the beginning folk were mainly asking what it was for and what did it mean. Towards the end of the week I detected a sense of ownership. Folk had literally adopted the piece as a part of their local environment."
The design stage involved consultation with St Andrew's School pupils. Drawings were produced and, as Gary puts it "the ideas were put into the blender." The image of the children with arms around each other, lifting each other up and reaching for the sky was the result and "Aspire" was born.
With a background in forestry and a lifelong interest in the creative arts, Gary was an obvious choice for the project. "In fact we were fortunate that he was able to commit to the work" said Ken Regan.
Alongside his "Stump Sculptures" Gary creates bespoke pieces, often from elm, suited to the average size home.
"Dutch Elm disease has been a mixed blessing" he says.
"it's not quite so good for forests but is useful if you are a carver … Elm is an ideal timber for outdoor sculpture and providing you keep it moist, which is easy in Scotland, it will last forever."
Given that the Romans utilized elm for water-pipes, Gary is not far wrong.
Samples of Gary's work can be seen at www/garryshand.co.uk/
Images and text © Duncan Harley
First published in the June 2016 edition of Leopard Magazine
Comments enabled – see comments box below. Note, all comments will be moderated.