The presence of the nude in art: a tradition from prehistory to the present. The Venus of Willendorf (c. 25,000 bc); the Classical Laocoon and his Sons marble; Michelangelo's David; Manet's Le Dejeunner sur l'herbe – all instantly recognisable artwork featuring nude figures, male and female. Most higher art institutions offer life drawing classes and understand and encourage the use of the nude in contemporary art practice. But, alas, Bibo Keeley is studying ART AND DESIGN in Aberdeen IN THE ART AND DESIGN DEPARTMENT of North East Scotland College – where the female nipple will not be tolerated. By Suzanne Kelly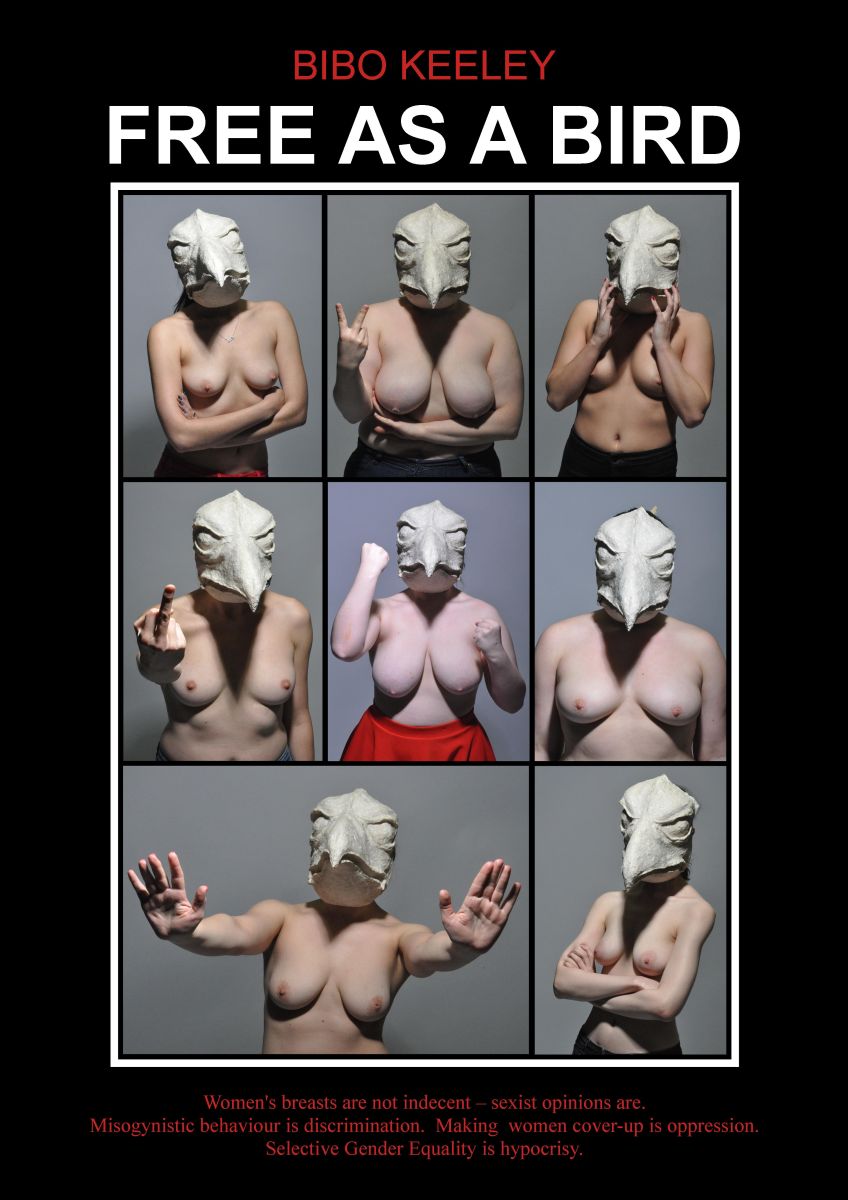 A starlet's nipple 'accidentally' spills out of their ball gown on the red carpet spells headline news in print and online. A singer flashes onstage; no one bats an eyeball.
A singer uses her sex to swing into the top twenty astride a wrecking ball, nude – some might call that clever marketing. Others might call it exploitation.
When visual artist Bibo Keeley chose to use the female chest to draw attention to sexual discrimination, hypocrisy, inequality, and sexual choice issues, initially her art college instructor was supportive.
When her work was put forward for the END-OF-YEAR exhibition, it was rejected, and she was told to 'HANG something else'. No further explanation was given.
Was it hand gestures used by some of the models, whose faces were obscured by bird-like masks? Was it the nipples? Apparently the nipples proved to be too much, BUT EVEN a suggested alternative with nipples marked out by CENSOR STRIPS was suggested – BUT THIS OPTION WAS REJECTED ALSO.
Although the banning order came from HIGH UP IN THE COLLEGE, two women MEMBERS OF STAFF delivered the censorship decree to her, AND WHEN ASKED refused to back her right to show the female torso. Bibo says:
"I could not believe that anyone would consider banning this artwork because the work is very clearly designed to promote gender equality.
"However, somebody obviously decided that my artwork could be offensive to somebody somewhere. The same one-man-censorship-committee completely failed to see how offensive this ban is to me as an artist and to the participants who collaborated with me on the piece; and it is surely deeply offensive to every woman who believes in equal rights.
"I think banning artwork with such an empowering message shows a total lack of respect for the college's own students and it also undermines the teaching staff in the Art and Design department who support their students' creativity."
The college operates under the Scottish Government's 'Curriculum For Excellence' which aims to produce Successful Learners, Confident Individuals, Responsible Citizens and Effective Contributors. It does not aim to produce artists who avoid anything which upsets people who promote gender discrimination.
"I am an artist. I take inspiration from issues which are important to me. And I have no interest in presenting work just to please other people."
The last time that I saw an attempt at banning the nude in an art context was in 1996. Edinburgh College of Art had a book of Robert Mapplethorpe male nudes.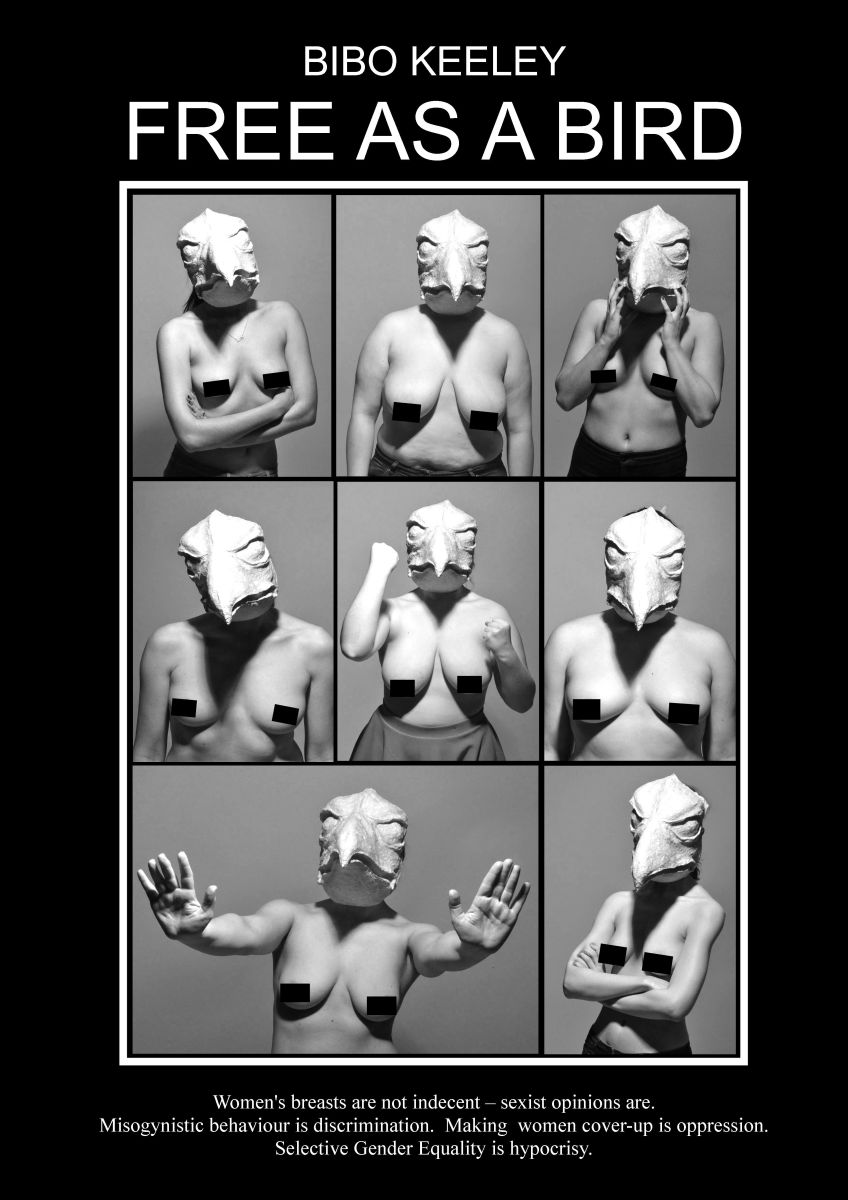 For reasons known only to themselves, the police decided the book should be confiscated and banned.
The students banded together; the staff were supportive, and the clumsy attempt at supressing one of the great photographers of the human form was roundly and resolutely seen off.
If those responsible for arts education have taken on censorship roles in Aberdeen in defiance of free expression, and millennium-spanning  artistic tradition, especially in light of contemporary media practice, then are they fit guardians for arts education? Arguably not.
If Aberdeen didn't get shortlisted as a city of culture candidate in the last round of the cultural beauty contest, perhaps it is these myopic, conservative, ill-informed, repressed, sexist and prudish sensibilities that are at least in part to blame.
On finding out the work is to be banned by the COLLEGE, several arts practitioners, education professionals, and venues have expressed support and solidarity.  A show of Bibo's work locally is under discussion.   One acclaimed local figurative artist said of the decision:
"The bare naked truth Suzanne, is the powers that be, who took this decision are protecting their own bare arses. They don't want to be associated with a possible Daily Mail style backlash. So much for free expression."
More on the COLLEGE, the artist and the banned nipples will follow.
About Bibo Keeley:
" I am a HNC (Higher National Certificate) mature student of Art and Design at NESCOL, starting at Gray's School of Art in September.
I am also an Artist in my own right:
In recent years I have contributed to numerous exhibitions, including Aberdeen Artists Society (2014), Paisley Art Institute 124th Annual Exhibition (2012), Fabric of the Land Aberdeen (2014), Perth Museum and Art Gallery (2013), and Clydebank Art Gallery & Museum (2014 + 2015).
This year (2015) I have also had a two-artists-show at Art Village in Glasgow as part of the Glasgow Southside Fringe festival, a solo exhibition at Macduff Town Hall as part of the COAST festival, and I had some of my artwork displayed (as part of a two-artists-show) at the Scottish Parliament at MSP Anne McTaggart's launch of the organ-donation-opt-out-bill. 
My next two-artists-exhibition will be later this month (June 2015) at the Golden Jubilee National Hospital in Clydebank. "
Comments enabled – see comments box below. Note, all comments will be moderated.
[Aberdeen Voice accepts and welcomes contributions from all sides/angles pertaining to any issue. Views and opinions expressed in any article are entirely those of the writer/contributor, and inclusion in our publication does not constitute support or endorsement of these by Aberdeen Voice as an organisation or any of its team members.]