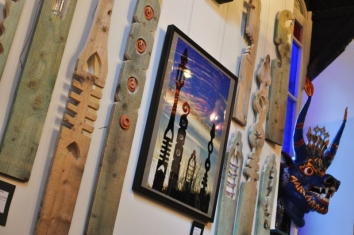 Constellations, an exhibition of work by German artist Bibo Weber will run at MUSA in Exchange Street from 15th January until  24th March, 2013.
An Aberdeen resident since 2009, Bibo creates sculptures and other artwork in a variety of media and techniques, using natural materials like driftwood and ceramic as well as non-organic materials and found objects.
Her artwork deals with our connectedness with nature and the transience of life, and is influenced by imagery of supernatural beliefs from different cultures and inspired by the forms she sees in the natural world around her.
Bibo often brings her sculptures into a natural environment in which she feels it merges with its surroundings and, by doing this, creates temporary installations.
A wide range of Bibo's recent work, including sculpture, photography and ceramics, can be seen in Constellations, her first solo exhibition, which runs at MUSA from this week.
The main elements in Constellations are the tall wooden sculptures which are loosely based on the totems of North Pacific Native Americans.  A totem can be the symbol of a tribe, clan, family or individual, and it bears testimony to a close affinity to nature.
By using symbolic shapes and texture and the use of mainly organic material, Bibo's artwork explores the spirit of people and nature, interspersed with imagery of the North East coast of Scotland as seen through the artist's eyes.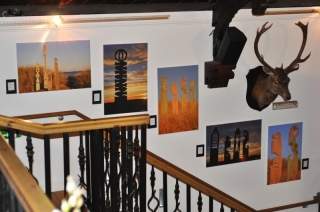 The main material from which the sculptures are made is recovered wood which, once carved and shaped, is resurrected in the form of narrative constellations.
Bibo arranges and photographs these constellations to evoke specific encounters – similar to pictures in an old family album.
Some of these photographs, which are taken along the Aberdeenshire coastline, can also be seen at the exhibition as large-format prints.
One of the works in this exhibition, Yamatanka, is a large, mixed-media, full-head mask which Bibo was inspired to create after seeing a performance in Aberdeen by a group of Tibetan monks from the Tashi Lhunpo Monastery.
Yamantaka is the Tibetan god of wrath who overcomes death by adopting the appearance of Death and whose terrifying appearance is said to protect us from external evil.
There are also some of Bibo's ceramics on display and, in keeping with the general theme of 'natural environment' these small sculptures and vases are inspired by the forms, colours and textures of kelp seaweed.
Over the last year Bibo has contributed to a number of exhibitions in London, Chichester, Edinburgh Paisley Dunkeld and Aberdeen and is planning another Constellations exhibition which will be held in the Duthie Park Winter Gardens later this year.
Constellations runs at MUSA, 33 Exchange St, Aberdeen, from 15th January until 24th March.  See www.musaaberdeen.com
Further information.
Website – http://www.outsidein.org.uk/Bibo-Weber
Email  biboartwork@yahoo.co.uk