Fire Exit presents 'International Waters', in co-production with Tron Theatre. With thanks to Liz Smith.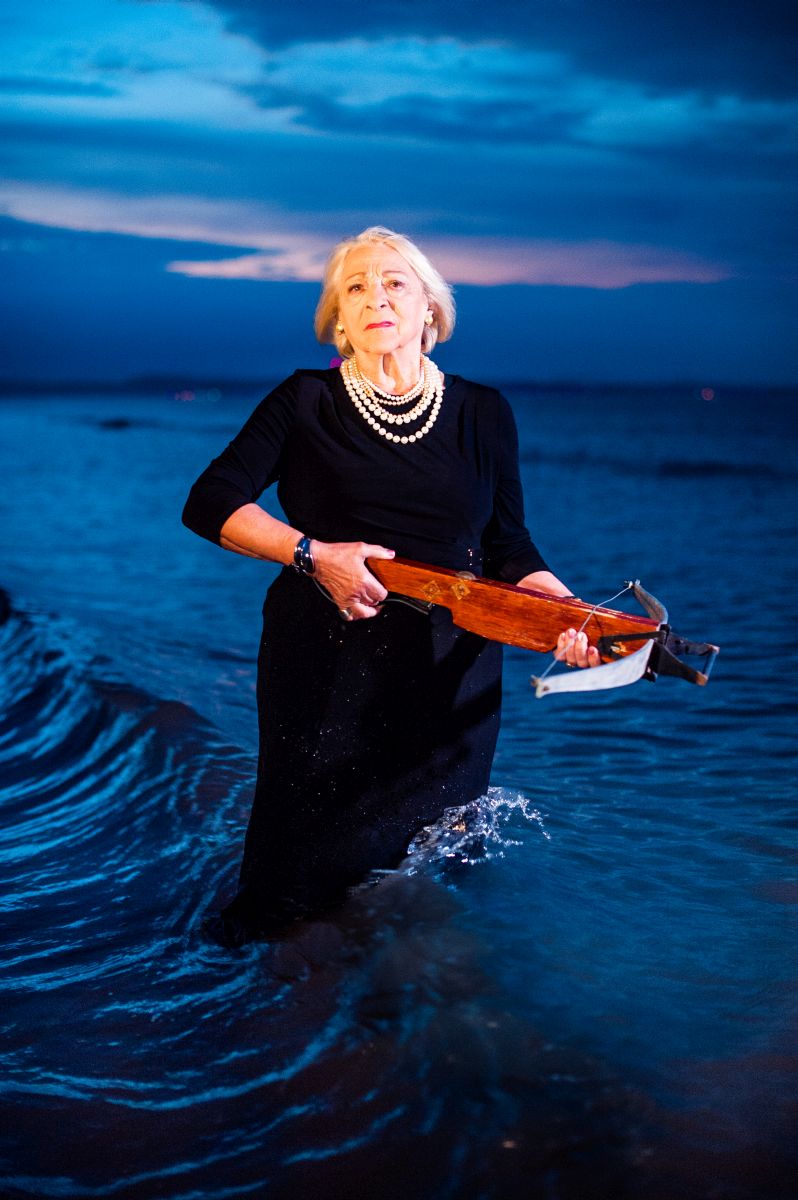 The social fabric has finally torn. Airports are closed, roads are blocked. Now even the 1% need to seek asylum. Four obscenely rich members of the elite pay through the nose to join an exclusive party on the last ship leaving London.
They stay alive using the only things they know – money, sex and madness. But the ship is sailing in the wrong direction.
They realise they don't know each other. They don't know the Captain. They don't know what the hell is going on.
Like a perverse Aesop's fable for the apocalypse, the twisting plot explores how progress can sometimes turn out to be a trap.
In this case it involves elegant glamour, brutal food poisoning, cyborg finance, Mack The Knife and a delicious bull testicle meringue.
The room keeps inexplicably shaking with an ear-splitting mechanical growl. Is this exile, extradition, extraordinary rendition?  Are other passengers hidden on board? What's their dangerous cargo? There's a rumour it's animals. Pairs of animals.
An aging pop crooner, a hapless trophy wife, a foul-mouthed photojournalist and a neurotic civil servant all know much more about the outside world than they're letting on…
International Waters comes from multi-award-winning writer and director David Leddy, who has been called 'Scotland's leading theatrical innovator' (Times) a 'maverick' (Guardian), a 'genius' (Scotsman), an 'iconoclast' (List) and an 'institution' (Independent).
The show features a stellar team of award-winning designers and actors. The four actors are: Selina Boyack (Nominated Best Actress TMA Awards, The Stage Awards and CATS Awards); Claire Dargo (Nominated Best Actress at The Stage Acting Excellence Awards, Sub Rosa, The Duchess of Malfi); Lesley Hart (March of Women, The Events, Dear Scotland); Robin Laing (Band of Brothers, Filth, Mary Stuart).
Set and costume by Becky Minto (Glasgow 2014 Commonwealth Games, Prague Quadrennial 2015 World Stage Design Exhibition); lighting by Nich Smith (Lighting Design Awards Best Public Building 2008, Cryptic, Long Live the Little Knife, Sub Rosa); sound by Danny Krass (Swallow, Huff, Who Cares); Production Manager Niall Black (Complicite, Royal Court, NTS).
Fire Exit presents, in co-production with Tron Theatre,
INTERNATIONAL WATERS.                
Tues 5th April, 7.30pm.
The Lemon Tree,
5 W N Street,
Aberdeen,
AB24 5AT
Tickets: £13.20 inc bf | Students £5
http://www.aberdeenperformingarts.com/events/international-waters