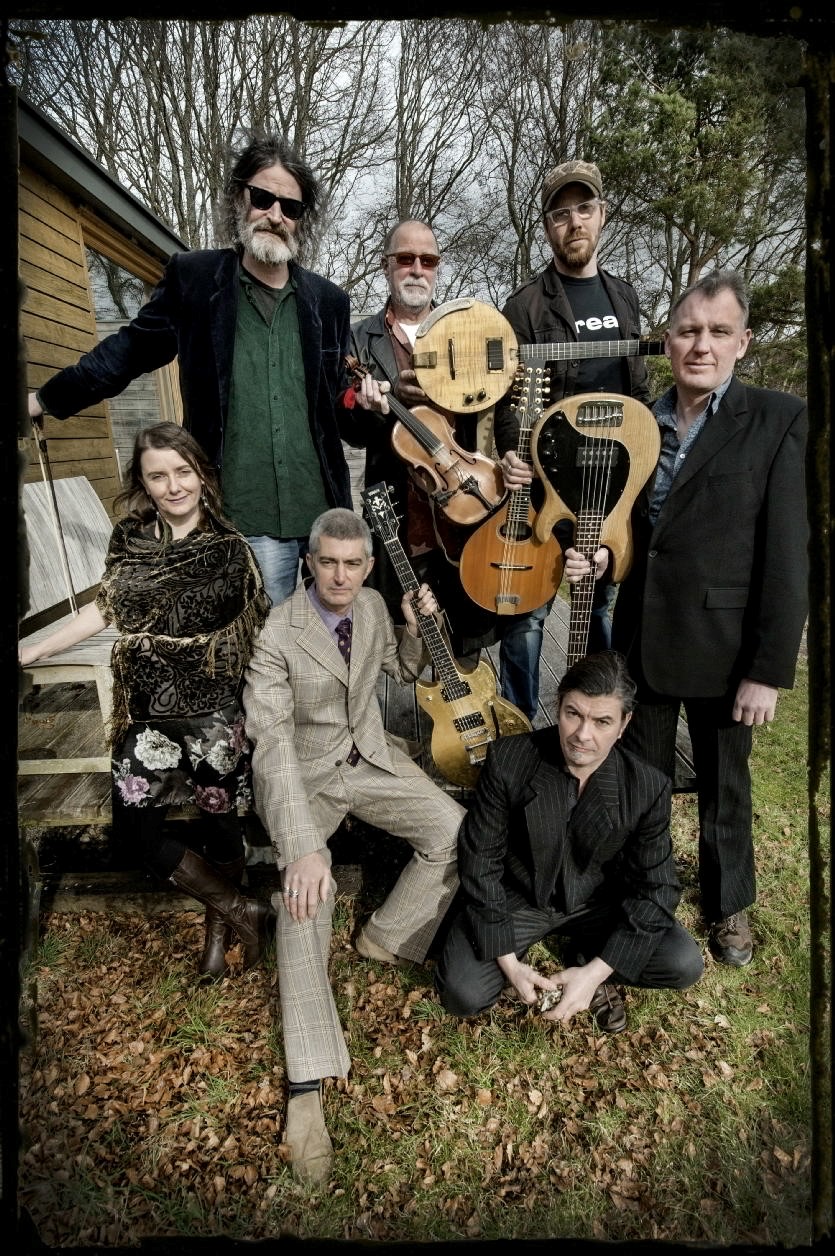 With thanks to James Soars Media Services. 
2015 has been an epic year for Shooglenifty, a band formed 25 years ago in Edinburgh.
Retaining four of their original members plus their bass player of 12 years standing, the line up has been invigorated in the past year by fiery young mandolinist Ewan MacPherson who contributes four tunes to their critically acclaimed new CD release The Untied Knot.
Also new in 2015 is 'puirt a beul' vocalist Kaela Rowan who graces the album with the first ever collection of Shoogle songs.
Shooglenifty's sound springs from traditional Scottish dance music, energised by the beats and bass line of something altogether more contemporary. It is not a sit-down kind of music, it's a join-in, and get on your feet kind of vibe.
Attempts to describe this almost uncatagorisable band include: 'dub-diddly','hypno-folkadelic-ambient-trad' and 'Acid-Croft'. Whatever it is, it has endured, evolved and, above all, entertained for quarter of a century.
The band are most at home playing live, and matching the excitement of releasing the new album, 2015 has been a year of very special gigs. They enjoyed not one, but three(!) 25th Anniversary Parties –  they sold out the city's iconic Old Fruitmarket venue at Celtic Connections in January, they blew the roof off a packed Glenuig Hall in April, and, in May, celebrated at a late night album launch at La Belle Angele, Edinburgh, scene of their first residency in the early 90s.
Summer 2015 is packed with appearances at festivals at home and abroad: they include HebCelt in the Isle of Lewis, Cambridge, Rainforest World Music Fest in Borneo and Interceltique in Brittany (with current collaborators the Dhol Drummers of Rajasthan). The year is top and tailed by hogmanay celebrations on opposite sides of the earth – Woodford, Australia for 2014/5 and Edinburgh's Hogmanay for 2015/6.
But before we hit the fireworks at midnight on 31 December, Shooglenifty is coming to a village/town/city near you. There will be dancing.
Celebrating their 25th anniversary, this is Shooglenifty's seventh studio album. The breathtaking 'puirt a beul' (mouth music) of Gaelic vocalist Kaela Rowan brings a captivating and energising new element to the band's sound, and the grittiness of the songs further confounds any attempt to categorise them.
The Untied Knot drops additional pins in the Shoogles' map of international influences, this time hitting the road from Scotland to Rajasthan. Watch out for James Mackintosh and Kaela Rowan's 'The High To Jodhpur', a tune that makes that connection explicit, whilst Burn's Tam O'Shanter is the 'closer to home' substance to the title track by Quee MacArthur.
Former band member Luke Plumb's fresh compositions – the psychedelic 'Arms of Sleep' and 'The Highway Carpark,' a 'hurry up and wait' classic – are included, whilst new mandolinist Ewan MacPherson makes his mark with three tunes. His 'Somebody's Welcome To Somewhere', a tongue-in-cheek Highland march, features the princely pipers of a guesting Ross Ainslie. Ewan also contributes a dark nautical romp 'The Devil's Breath Hornpipe', and a speedy pair of reels clearly spawned by the Shoogle dance gene, 'Samhla Reel/Scolpaig'.
A dazzling contribution by Garry 'Banjo' Finlayson 'The Scorpian' (sic) is a fascinating and enigmatic creature, whilst 'Fitzroy's Crossing', the striking Antipodean closing track by Shooglenifty front man Angus R Grant, is proof positive that there is no musical journey this band can't take.
The cover was designed by renowned John Byrne who previously created album sleeves for Gerry Rafferty, Stealers Wheel, Billy Connolly, and The Beatles, among others.
"This is a class act, truly in line for album of the year" – fROOTS.
"Remarkably exciting, and fresh *****" – Songlines.
"Top to bottom The Untied Knot is a fine piece of work awash with spectacular displays of musicianship and bewildering levels of innovation" – Folk Words.
"Gaelic vocalist Kaela Rowan fits Shooglenifty's skilfully-knitted left-field sound as snugly as a kilt"  – The Australian.
THE UNTIED KNOT TOUR:
Friday 6 November 2015 | The Up Front Gallery | Cumbria | Find the venue | Buy tickets
Saturday 7 November 2015 | Mac Arts | Galashiels | Find the venue | Tickets available soon
Thursday 12 November 2015 | The Lemon Tree | Aberdeen | Find the venue | Buy tickets
Friday 13 November 2015 | Gardyne Theatre | Dundee | Find the venue | Buy tickets
Saturday 14 November 2015 | Gordonstoun | Elgin | Find the venue | Tickets available soon
Friday 27 November 2015 | Inchyra Arts Club | Perth | Find the venue | Buy tickets
Saturday 28 November 2015 | Sabhal Mòr Ostaig | Skye | Find the venue | Buy tickets
Friday 4 December 2015 | Applecross Community Hall | Applecross | Find the venue | Buy tickets
Saturday 5 December 2015 | MacRobert Memorial Hall | Tarland | Find the venue | Buy tickets
Friday 11 December 2015 | The Canteen | Bristol | Find the venue | Tickets available soon
Saturday 12 December 2015 | The Borderline | London | Find the venue | Buy tickets
Sunday 13 December 2015 | The Crescent | York | Find the venue | Buy tickets
Friday 18 December 2015 | Stereo | Glasgow | Find the venue | Buy tickets
Saturday 19 December 2015 | Memorial Hall | Resolis | Find the venue | Buy tickets
Sunday 20 December 2015 | The Old Bridge Inn | Aviemore | Find the venue | Tickets available soon
Monday 28 December 2015 | Astley Hall | Arisaig | Find the venue | Buy tickets
Tuesday 29 December 2015 | Tolbooth | Stirling | Find the venue | Tickets available soon
For more information and the latest tour news, please visit:www.shooglenifty.com