Join Larry in The Secret Life of Suitcases as his world is turned upside down and he discovers the thrill of an adventure and the joy of coming home again. Catch it at the Lemon Tree Monday 14 April at 2pm. With Thanks to Liz Smith.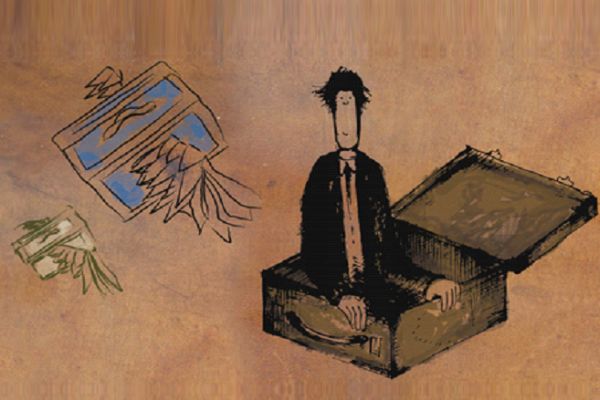 The Secret Life of Suitcases is a funny and enchanting show, a new collaboration with the Unicorn Theatre, London, by writer/director Lewis Hetherington and puppeteer/designer Ailie Cohen.
The production opens on Saturday 15 March at Platform, Glasgow, followed by a two month Scottish tour prior to a London run at the Unicorn.
This is the first ever co-production between one of Scotland's leading puppetry companies and the UK's leading theatre for young audiences.
During the tour the show will also be playing at The Lemon Tree, Aberdeen.
Larry works in an office and he likes it very much. He likes sorting and tidying and generally putting things in order. Everything in its place, a place for everything.
But one day, a suitcase suddenly appears at his door. The suitcase has a tiny label. A tiny label with Larry's name on it. And this suitcase has a mission…
It will be a playful, huge hearted piece for small people with giant imaginations that celebrates an analogue, handcrafted aesthetic in a digital world.
Lewis Hetherington, writer of  Leaving Planet Earth, Grid Iron's Edinburgh International Festival 2013 show and internationally renowned puppeteer Ailie Cohen, are two of Scotland's most admired children's theatre makers. Their previous collaboration Cloudman, was described as '…a joy to behold…' (The Herald) and has toured throughout Scotland, across the UK, including Imaginate Festival (Edinburgh) and Southbank Centre (London) and worldwide including the USA and Japan, garnering critical praise and playing to sell-out audiences.
The music for The Secret Life of Suitcases is composed by Niroshini Thambar and lighting design is by Andrew Gannon. Lewis Hetherington and Ailie Cohen have also received funding from Creative Scotland to create The Secret Life of Suitcases mobile app that will be launched later this year.
This Creative Scotland funded production is part of the Puppet Animation Festival and co-produced by the Unicorn Theatre, London. The production has been selected by The Touring Network (Highlands and Islands) and Arts nan Eilean for touring in these regions.