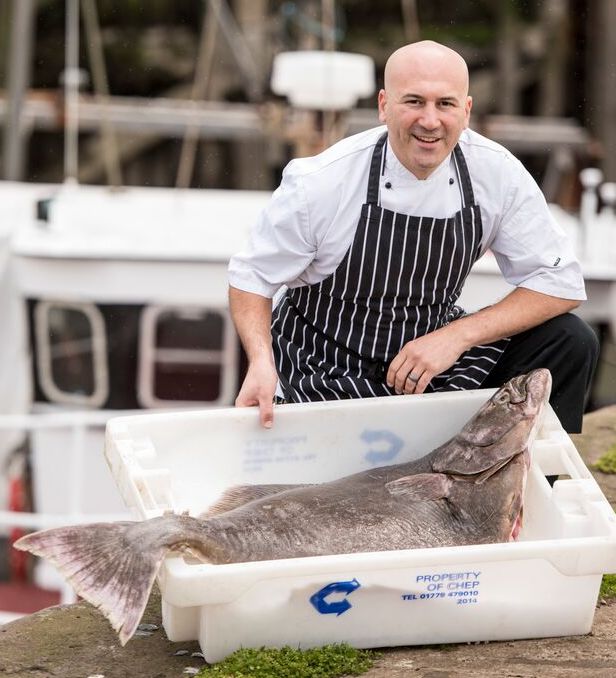 With thanks to Phil Moar, Account Manager, Citrus Mix.
A north-east chef and restaurant owner will battle it out this month to have his Cullen Skink crowned as the best in the world.
Alex Grahame, co-owner of Hornblower's seafood restaurant and takeaway in Gourdon, has been shortlisted for the final of the Cullen Skink World Championships which will take place at the Cullen Bay Hotel on Sunday, November 22.
A finalist in the Cullen Skink with a twist competition, Alex will attempt to wow judges using his own unique recipe at the event organised by the Cullen Bay Hotel and the Cullen Voluntary Tourist Initiative.
Entitled 'The Bon Accord', Alex's recipe is influenced by his French cooking training and is an ode to his wife Ruth's Aberdonian heritage. His recipe also includes a unique, French twist, which pays homage to the area of France that the pair were married in.
Six finalists will take part in the live cook-off with dishes of the Scottish soup judged on texture, flavour, colour and appearance. A traditional Cullen Skink competition will also be held at the event.
Cullen Skink is one of Scotland's most traditional starter dishes and is a thick, creamy soup regularly made with smoked haddock, potatoes and onions. As the name suggests, its origins are located in the north-east town of Cullen but its popularity has grown in recent years and is currently enjoyed in countries all across the world.
Alex Grahame, co-owner of Hornblower's seafood restaurant and takeaway, said:
"Being a seafood restaurant, Cullen Skink has made regular appearances on the Hornblower's menu for a number of years now and I'm delighted to have made the final six for the upcoming World Championship cook-off.
"Cullen Skink is one of Scotland's signature dishes and it is important to do it justice every time it is made. Every dish that we serve at Hornblower's is done so with love, care and attention to detail and our Cullen Skink is no different.
"My recipe follows aspects of the traditional Cullen Skink recipe but I've got a few things up my sleeve that will hopefully help it to stand out and make it a bit different to the norm, including haddock smoked in the traditional way here in Gourdon. Competitions like these are great for shining the spotlight on the north-east's burgeoning food and drinks industry and I'm looking forward representing Hornblower's at what is shaping up to be a fantastic event."
Hornblower's customers will be able to taste Alex's take on Cullen Skink in the run-up to the final cook-off itself, with free tasters now available from its Gourdon premises.
More information on Hornblower's
Hornblower's in Gourdon, which specialises in locally-sourced seasonal food with an emphasis on seafood, was opened in 2010 by Alex and Ruth Grahame.
Renowned for its fresh produce, the restaurant and takeaway has built up a reputation for showcasing the best that Scotland has to offer from both sea and field. Committed to 100% Scottish sourcing for all of its fish and meat, the restaurant receives daily fresh deliveries of fish from either Gourdon or Peterhead harbour.
It has also received critical acclaim, most recently scooping the 2015 Best Chippy Chips in Scotland award from the National Potato Council. It was also awarded with a VisitScotland Thistle Award for best informal dining experience in the north-east and Tayside in 2014.
The restaurant has also announced plans to take over the lease for the site of the former Jimmy Chungs and TC Fish restaurant at Aberdeen Beach.
The proposal, which has recently achieved planning permission, includes a two-storey 16,000 sq ft restaurant facing the sea front with terraces on the first floor and a heated outdoor sitting area on the ground floor. A 650 sq ft takeaway, a 2,500 sq ft ice cream parlour along with two other restaurants, including The Pier Bistro is also part of the plans.
Comments enabled – see comments box below. Note, all comments will be moderated.