With thanks to Jessica Murphy, Senior Account Executive, Citrus Mix.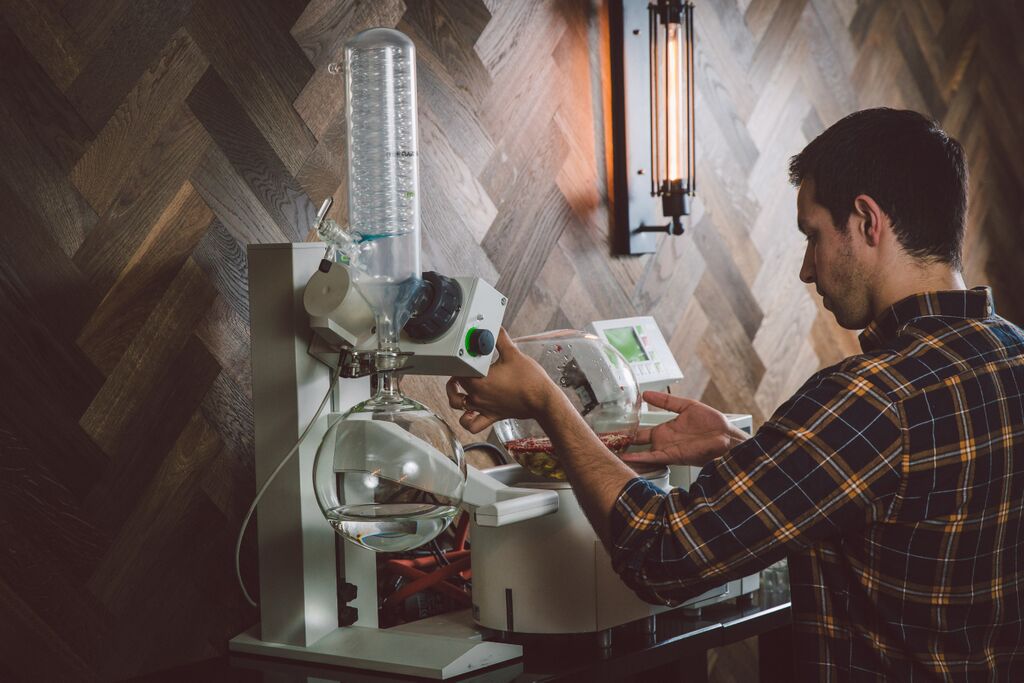 A trio of trade professionals have become the first to start distilling in Aberdeen city centre for 100 years.
Founders Ben Iravani, Josh Rennie and up and coming UK bartender Alex Lawrence, have spent the past few years fine-tuning their gin – undertaking hundreds of small scale distillations in order to perfect their method and recipe.
They have been working closely with the UK's oldest distillers G&J in a collaboration to bring a premium gin to the market this autumn.
The result is the flagship Porter's Gin, an aromatic and flavoursome spirit which the trio hope will take off in the booming UK gin scene. This quintessential British drink has enjoyed a surge in popularity in recent years, with 70% of all gin produced in the UK now coming from Scotland.
Their juniper-based spirit, which features refreshing aromatic and citrus notes, has been named after Professor Andrew Porter of Aberdeen University, who sourced cold-distillation equipment which allowed the team to extract light refreshing flavours from botanicals. This is an innovative approach to gin distillation with the vast majority of distillers favouring traditional, but less controlled, methods.
Ben, managing director at Monkey Bars Aberdeen, said:
"Gin is enjoying an incredible renaissance worldwide and is now the drink of choice for many. This is down to a number of reasons, including the role of gin in the rise of classic cocktail culture. The gin market has almost become saturated over the past few years, but the good brands are finding their way to the top.
"We are confident that we have created a unique and delicious flavour profile in our gin which will work in both classic cocktails and also stand out in the traditional GnT."
Alex Lawrence, whose cocktails and palate have won him numerous accolades both nationally and globally, said:
"It has been an amazing opportunity to be part of a team focused on creating a modern gin with classic potential. Looking at it from a bartending point of view has aided us in creating a versatile but bold product and I'm excited for the future as I genuinely believe in the liquid we have created. We want to add a fresh twist to the market with a genuine and honest product.
"It is incredibly exciting to be a part of the gin movement and to have researched, created and now produced a flavoursome, top-end product. People are now more aware of the provenance of drinks and supporting locally made products. This is something we kept firmly in mind while creating Porter's Gin, which we are delighted to now be bringing to the market."
The knowledgeable team have a rectifier's license which enables them to distil part of Porter's gin within their award winning cocktail bar Orchid, while the more traditional part is distilled in partnership with G&J distillers in Warrington, the world's oldest gin distillery. Orchid and Ninety-Nine Bar and Kitchen in Aberdeen are owned by Monkey Bars Ltd and the group plan to sell Porter's within their cocktail bars this autumn, followed by a launch in London.
While Porter's is the only gin currently being produced in the Granite City, this was not always the case. Aberdeen was once home to a number of distilleries and breweries, among them the Devanha Distillery.
More than a century later, Ben and his colleagues hope local gin fans will embrace their creation and kickstart a new era for distilling in Aberdeen.
Ben added:
"The best gins are those that have been created with a focus on exceptional flavour, and we have achieved this with Porter's. Aberdeen has a fantastic bar scene and we are looking forward to introducing our brand, before looking to expand throughout the UK."
Pre-orders for Porter's Gin will be available soon. For more information please contact info@portersgin.co.uk.
Comments enabled – see comments box below. Note, all comments will be moderated.