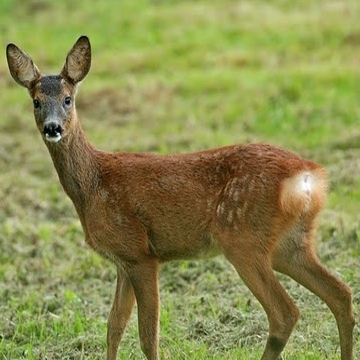 With thanks to Suzanne Kelly.
Animal welfare activists and Aberdeen citizens opposed to deer culling have welcomed a promise that no deer culling would take place at least until a count of the animals is made.
Although the council will meet to vote on culling next week, the last official count done in January 2014 found very few of the animals in the city area.
Some 46 of the animals in the south of the city were culled for a controversial tree-planting scheme.
Councillor Neil Cooney, Communities, Housing and Infrastructure Committee, wrote to campaigners; his email reads in part:
"Any other practical non-lethal measures will also be looked at… There will be no management until a population survey is completed: we must look at the issue of population densities"
Due to loss of greenbelt land, deer and other wildlife have been forced out of their habitats. One of the largest and most controversial projects sees land at Loirston Loch released for commercial development. Previous councils had decreed the land should never be built on. A large road-building project elsewhere in the city is also destroying habitat.
Campaigner Suzanne Kelly said:
"We welcome Neil Cooney's comments, but are concerned that in Aberdeen 'management' automatically seems to mean killing animals. The author of the report before the Committee is also the author of the report that led to the culling of 46 roe deer on Tullos Hill for a tree planting scheme – on a former rubbish tip which the Government says is unlikely to support a large-scale tree planting.  
"The scheme was supposed to be 'cost-neutral'; it has cost over £600,000. Over 80% of citizens opposed this according to STV, community councils objected – but still the city pressed ahead.
"As to these road accident statistics, we've asked for the raw data and are awaiting it. The last spreadsheet I saw was in April. This included accidents in Aberdeenshire, and incidents which were not involving collisions. Police Scotland had been requested to supply data; this request is overdue.
"There are non-lethal ways to curtail deer populations and help prevent road accidents; the city could do more. They seem to want to shoot first and not ask questions. However, when you look at how many road accidents we have, the involvement of deer pales into insignificance.
"The report insists the city must uphold the law on deer management. We look forward to the city showing the same enthusiasm for upholding the law on improving air pollution on our roads, which include some of the worst statistics in Scotland.
"The report's author also claims the city wants to improve biodiversity; this is a bit risible in the face of its recent planning decisions, and the threat to turn the city's Harbour area into an off-limits private industrial harbour. Still, as the city has agreed no killing at least until a proper count is done, we see this as a victory."
Comments enabled – see comments box below. Note, all comments will be moderated.
[Aberdeen Voice accepts and welcomes contributions from all sides/angles pertaining to any issue. Views and opinions expressed in any article are entirely those of the writer/contributor, and inclusion in our publication does not constitute support or endorsement of these by Aberdeen Voice as an organisation or any of its team members.]