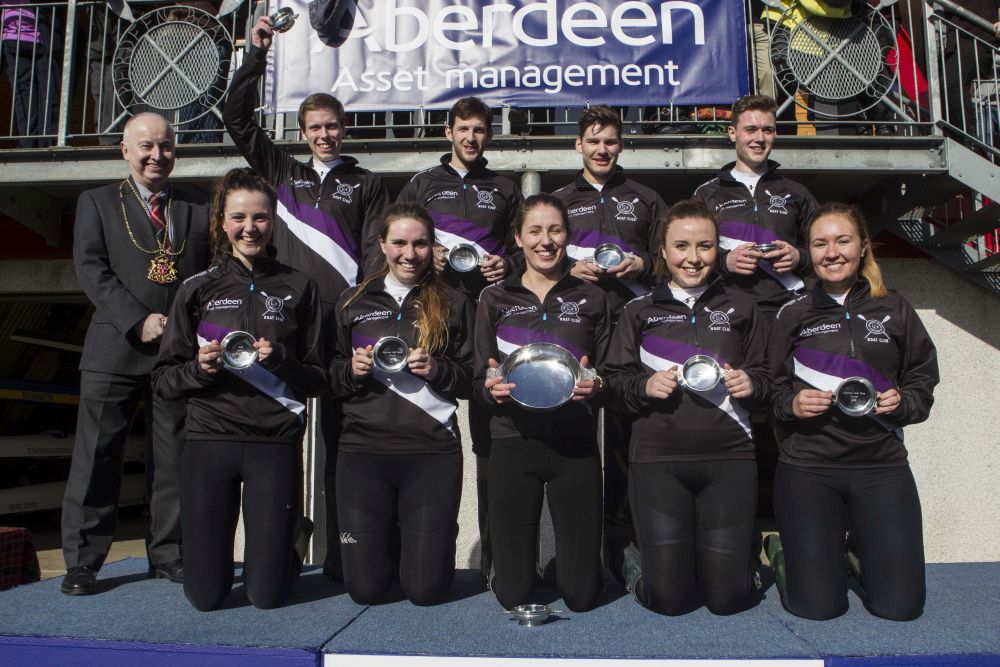 With thanks to Eoin Smith, Tricker PR.
Robert Gordon University has won the 2015 Aberdeen Asset Management Boat Race. They won with a time of eight minutes and 30 seconds, beating rivals the University of Aberdeen by one and three-quarter lengths for the fourth consecutive year.
Runners up the University of Aberdeen completed the course in a time of eight minutes and 36 seconds.
Hundreds of spectators lined the banks of the River Dee to cheer on the universities as they tested their mettle on the water.
Emily Geddes, president of Robert Gordon University Boat Club, says,
"We are all absolutely delighted to have won the boat race, especially as it enters its 20th year. I am really proud of everyone who took to the water this year – all those early mornings and late nights really paid off. Continuing our winning streak into its fourth year feels fantastic!
"We'd like to thank Aberdeen Asset Management for their continued support of the boat race, and Tom and the crew from the University of Aberdeen who gave us a run for our money, as always. We're already looking forward to next year's rematch!"
The alumni boat race was won by Robert Gordon University by one and a third lengths in a time of eight minutes and 56 seconds. The universities' second crew boat race was won by the University of Aberdeen in a time of two minutes and 32 seconds.
After a tense heat between the BBC and Original 106fm, the latter went on to compete against reigning champions the Evening Express in the media challenge. Original 106fm came out on top, winning in a time of one minute 20 seconds. They raced 300m in coxed 'tub' pairs.
Martin Gilbert, chief executive of Aberdeen Asset Management, says,
"I would like to offer the winning crew from Robert Gordon University our warmest congratulations. I would also like to commend the University of Aberdeen for their efforts on the water. Both teams gave it their all today, and the hard work they put in training showed when it mattered. At Aberdeen Asset Management, we are proud to continue supporting Scotland's oldest boat race."
Professor Ferdinand von Prondzynski, principal of Robert Gordon University, says,
"Everyone at RGU is absolutely delighted with the win today. The crew have worked incredibly hard over the last few months, and deserve every bit of their victory. I would also like to congratulate the crew from the University of Aberdeen who put up a valiant effort, and proved themselves to once again be worthy competitors."
Follow the Aberdeen Asset Management Universities' Boat Race on Facebook or on Twitter @2015boatrace