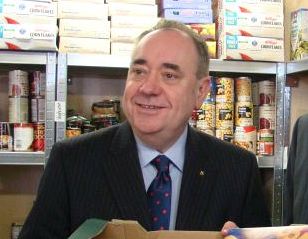 With thanks to Ann-Marie Parry, Parliamentary Assistant, Rt Hon Alex Salmond MSP.
Aberdeenshire East MSP Alex Salmond has welcomed the announcement that Scottish Government Ministers will be coming to the North East of Scotland this month where they will have the opportunity to hear first-hand from local people in a public discussion meeting.
The Cabinet will meet on Monday 16th February and anyone interested is welcome to attend the "town hall meeting" style event taking place in the Music Hall from 19:00 to 20:30 that evening.
Attendees must pre-register online or by phoning 0300 244 2138.
Welcoming the news, Alex Salmond said:
"One of the most effective ways we brought government closer to the people during my time as First Minister was to take the Scottish Cabinet to every corner of the country, to hear first-hand about issues affecting local areas.
"I'm delighted that this initiative is being continued and that the people of the North East of Scotland will have a chance to put their questions to Nicola Sturgeon and her government colleagues at the Music Hall on 16th February.
"I would encourage anyone who is able to head along for what should be a fun and interesting evening, as well as a great opportunity to make your views known on a variety of issues – local and national."
First Minister Nicola Sturgeon said:
"The government I lead intends to be open, listening, and available in a way we have not seen before – the most open and accessible government that Scotland has ever had.
"That is why we are making sure that the business of government is open to everyone who wants to be involved, and why we are taking cabinet meetings to all parts of the country. I'm hugely looking forward to meeting up with members of the public and hearing their views when we come to Aberdeen later this month – and those views will not only be head, but will also result in real action.
"Our strongest focus is on growing our economy, protecting public services, tackling inequality and empowering our communities. But we must be united in the business of making Scotland a better place to live and work. Together we can build a fairer and more prosperous country.
"If you are in Aberdeen and you want to raise an issue or have something you would like us to see then get in touch through @scotgovFM using #ABcab, our Facebook page or give us a call."
Info – pre-register for the event at https://www.eventbrite.co.uk/e/ministers-touring-scotland-tickets-15598395220.
Comments enabled – see comments box below. Note, all comments will be moderated.
[Aberdeen Voice accepts and welcomes contributions from all sides/angles pertaining to any issue. Views and opinions expressed in any article are entirely those of the writer/contributor, and inclusion in our publication does not constitute support or endorsement of these by Aberdeen Voice as an organisation or any of its team members.]