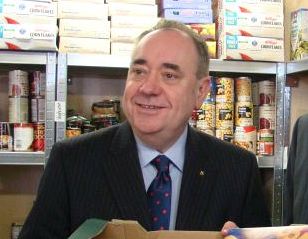 With thanks to Ann-Marie Parry, Parliamentary Assistant to Rt Hon Alex Salmond MSP
Former First Minister Alex Salmond has described the news that the Chilcot Inquiry will not be published until after the general election as a "classic establishment stitch-up".
The Aberdeenshire East MSP said:
"Neither Labour nor Tory leaderships want this report out now. The hand wringing about delay is a mere cover for a classic establishment stitch up.
"We are now in the ridiculous position where Tony Blair has seen key sections of the report but not the rest of us."
Mr Salmond who, as an MP, led a parliamentary campaign to impeach former Prime Minister Blair over the war said:
"Labour doesn't want it out because of the inevitable revelations about Blair and other cheerleaders for the war.
"The Tories don't want it out because David Cameron was pro war and the Tory leadership in 2003 under Iain Duncan Smith were as gung-ho as Labour.
"With a very few honourable exceptions most Westminster politicians would really like Chilcot to stay in the long grass for as long as possible.
"Chilcot has allowed himself to be blocked, tackled and delayed for years."
Mr Salmond also said the "Maxwellisation" process, which allows individuals due to be criticised in an official report to see the criticism and respond prior to publication, had become a "device for procrastination".
He added:
"Chilcot's long wrangle with the Whitehall mandarins over Prime Ministerial correspondence was another stalling tactic.
"How could there be any serious objection to publication of talks between Blair and George W Bush, when Blair's key wartime henchman Alistair Campbell had already published his own version in his diaries.
"There are a few decent MPs left at Westminster.
"They should make it clear that further delay is not acceptable and demand publication of at least a summary report now."
Comments enabled – see comments box below. Note, all comments will be moderated.
[Aberdeen Voice accepts and welcomes contributions from all sides/angles pertaining to any issue. Views and opinions expressed in any article are entirely those of the writer/contributor, and inclusion in our publication does not constitute support or endorsement of these by Aberdeen Voice as an organisation or any of its team members.]