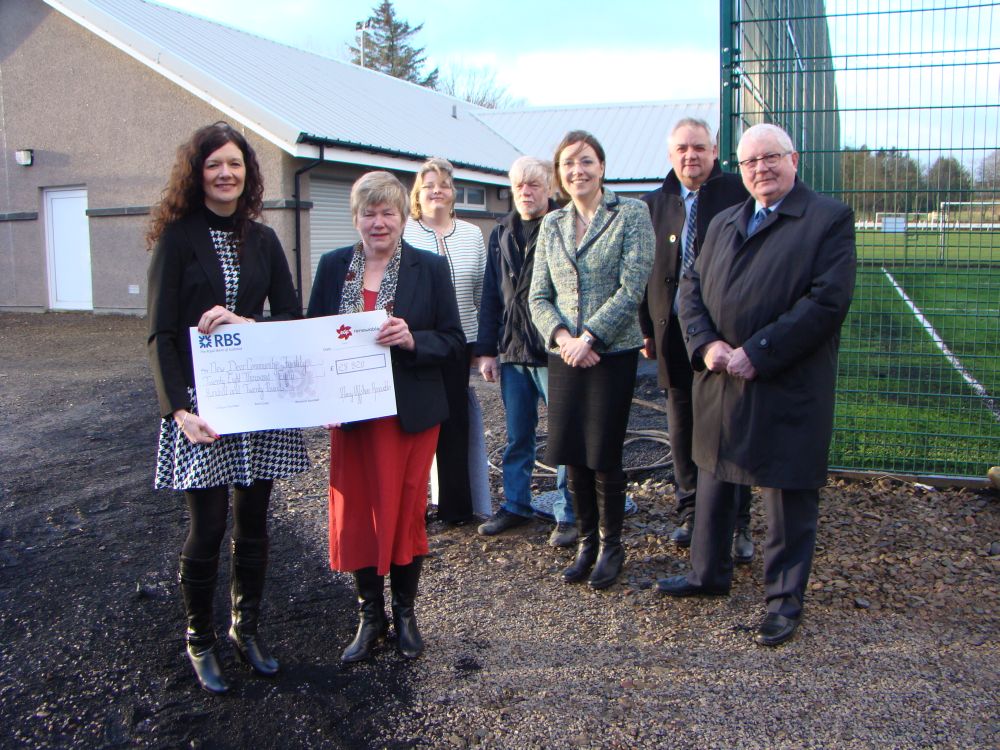 With thanks to Paul Robertson.
Volunteers at the New Deer All Weather Facility were celebrating this weekend after energy firm Moray Offshore Renewables made a £28,000 donation that will allow the project to be completed after almost nine years. The £405,000 project to build an all weather sports pitch and a new pavilion at New Deer is due to be completed by Easter.
Project co-ordinator, Helen Young, welcomed the cash boost which has closed the final funding gap faced by the project.
Helen said:
"We really are indebted to Moray Offshore Renewables for this vital funding which has helped bring a project 9 years in the making to fruition. This simply could not have been possible without the invaluable support of our MP Eilidh Whiteford. Together, they have provided the last piece in the jigsaw for a fantastic facility which will serve New Deer and the surrounding area for decades to come."
Local MP, Eilidh Whiteford, who encouraged the energy firm to support the New Deer project, welcomed the funding announcement:
"The New Deer sports project is a real community-led campaign and the leadership shown by Helen and other volunteers should be commended in bringing it to fruition. It will benefit so many sports groups in the central Buchan area and I am pleased that I could be of assistance in helping secure in this final piece of funding that will allow completion of the facility​."​
Representatives from Moray Offshore Renewables, which hopes to build a 186-wind turbine farm in the Moray Firth, presented the cheque for £28,820 to Helen Young on Friday in New Deer.
Commenting, Dan Finch, Project Director for Moray Offshore Renewables said:
"I am delighted that Moray Offshore Renewables has been able to join other companies in contributing to this excellent facility. The New Deer Community Trust has done outstanding work in delivering this much needed project and are to be congratulated on their hard work and determination​."
Comments enabled – see comments box below. Note, all comments will be moderated.