Last week BrewDog invited its shareholders – over 14,000 of us – for a day at the Ellon Brewery, DogTap & bottleshop. The hundred or so who attended enjoyed a great day out. Shareholder Suzanne Kelly reports.
BrewDog opened up the newly-expanded Ellon brewery to shareholders on 7 February; it was to tour the brewery, see the new  DogTap & bottleshop, taste beers and have fun.
The day's main event was to help create a new beer – Bounty Hunter. This will be a chocolaty, coconutty stout (lactose, coconut chip and chocolate). We were invited to take part in the 'mashing in' (mixing the grains into the heated water, the early stage of the brewing process) and to help design the stout's label.
You can't say that shareholders aren't appreciated by the company. A full programme of events saw us meet at BrewDog Aberdeen for coffee before taking a coach to the Ellon brewery (we all chipped in £5 each for the round trip).
On the way I sat with Chris who tells me he's been with the company for 6 months. In the course of talking we discussed how the spent grains are sent to local farmers for their animals; he seemed very up on the company's sustainability credentials (something I care about as well).
On arrival we were welcomed by Becky. We waited in the bar for a second busload of attendees. The inimitable artwork associated with BrewDog adorns the walls; the chandelier is made of BrewDog bottles. The artwork you'll see at the brewery and many of the bars is mainly down to Fisher, a BrewDog employee who was general manager at the Aberdeen bar, worked at the Edinburgh bar & Leeds bar, and led beer tasting sessions as well as creating this art. More on the art later.
A blackboard explains the basics of brewing. Nearby is a poster advertising a chocolate and beer evening on Friday 13 February. If you don't think chocolate and beer belong together, you might want to think again.
We were shown through to the newly-extended brewery where we talked and enjoyed a few beers. I spoke with friends Andrew and Michael (his brother-in-law had got him interested in the company) and Simon from Southampton, himself a brewer (his outfit is Rusty Prop ). Then we got down to the brewing.
Master brewers James and Bowman got the cacao nibs, grains and coconut chips together, and pretty soon the scents of malt, roasted grain, chocolate and coconut seemed everywhere. (The beer will be called 'Bounty Hunter' – no doubt the chocolate bar's taste will be evoked by the finished stout in due time).
Art & Craft Beer 
I went to the main bar to seek vegetarian fare. I ran into Fisher, and we got talking about art. He's more than happy to talk about the opportunities BrewDog has created for him. Over the entrance is a painted mural of two dogs facing each other; I note their gums seem to be in fluorescent paint. Across from them is neon lettering proclaiming 'without us, we are nothing'. When the rest of the bar is dark, the neon shows up the florescent paint in the murals.
We discuss all things paint and design. He shows me a remarkably striking Welsh red dragon he's done for the  Cardiff bar which opened late 2014; I adore it, and will be making my way to the new Welsh location when next I can. The pie is taking a long time to come – I'm expecting someone will just be reheating some pre-made pie.
Fisher had recommended the flavour; sweet potato and feta.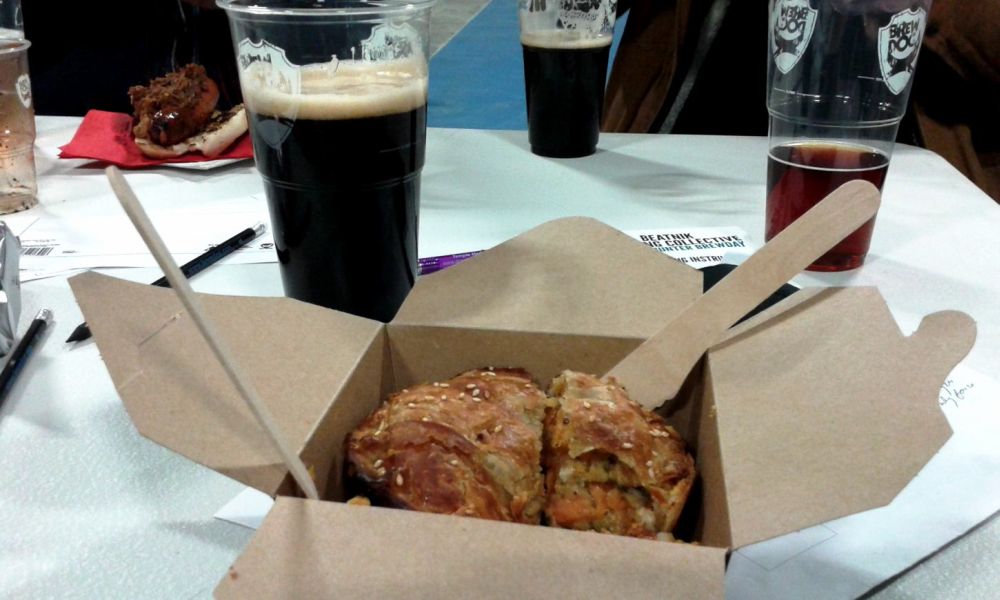 BrewDog's pies come fresh from Pieminister.
The pie eventually comes: it's well worth the wait, and must have been freshly made; I feel guilty for trying to hurry it along and for my assumption it was just going to be a case of reheating something in a microwave.
Apologies. It's also in biodegradable packaging with biodegradable cutlery.
The reason for my haste was that I didn't want to miss a thing going on in the brewery. I arrive back at my table just in time for the business end of today's events: Martin and James are about to give an overview of their company's – our company's – performance.
Share And Share I Like 
"The truth is that unless you drink in their pubs or buy a lot from their website then it it [sic] probably wouldn't count as a good 'investment'."
"Their success is entirely due to hipster popularity. Once all the "cool dudes" stop being interested in beer, BrewDog will slip back into obscurity." – forum comments from http://forums.moneysavingexpert.com/showthread.php?t=4665869
"If BrewDog continue to brew excellent beer whilst growing as they have done, then you should make your money back and more, but that is missing the point. If you believe in what BrewDog are doing, and believe that they are genuinely in it for the love of beer and not simply financial gain then you should invest. If you think the numbers don't add up and it's not a 'good investment' then you shouldn't.
"The decision is up to you, and BrewDog have been extremely open and honest about what they are offering, and what they're not." – http://www.eatingisntcheating.co.uk/2011/07/is-brewdogs-share-offer-taking-us-for.html
From market stall to first small share offering to the present, there has been absolutely no slip in BrewDog's passion or in their attention to detail.
In 2011 the company raised £2 million with a second release of shares, Equity for Punks II; they also raised £4.25m in Equity for Punks III in 2013. They then spent £6.5 million on the Ellon brewery. Their profit margins continue to escalate to dizzying levels – yet compared to the big boys like Diageo (who you may remember tried to cheat the BrewDog team out of an award), they are still comparably small.
We wondered what James Watt and Martin Dickie would tell us today. We are getting very used to hearing good news from them, and today we got more. The good news includes:
• BrewDog is a Living Wage Employer (more info here http://www.livingwage.org.uk/employers )
• BrewDog is now in 52 countries, with a Barcelona bar opening next week opens Tuesday 10th for Equity Punk launch, open to general public Wednesday 11th
• BrewDog Brighton will open in June of this year all being well, and Southampton soon.
• Idlewild will play the AGM again this year on 6 June (Martin and James promise that there will not be the long lines of people queuing for beer they had last time – over 4,000 people attended, and getting a beer was a long process it must be admitted)
• There will be a shareholder beer club featuring limited edition craft beer
• More canned beers will be produced (including personal favourite Jackhammer) – enabling export without losing quality
What do they want? To keep making great craft beer and to 'be the best employer ever'. The shareholders are with them on both points, and any staff member I've ever spoken with seems to think BrewDog already is top dog in terms of employment.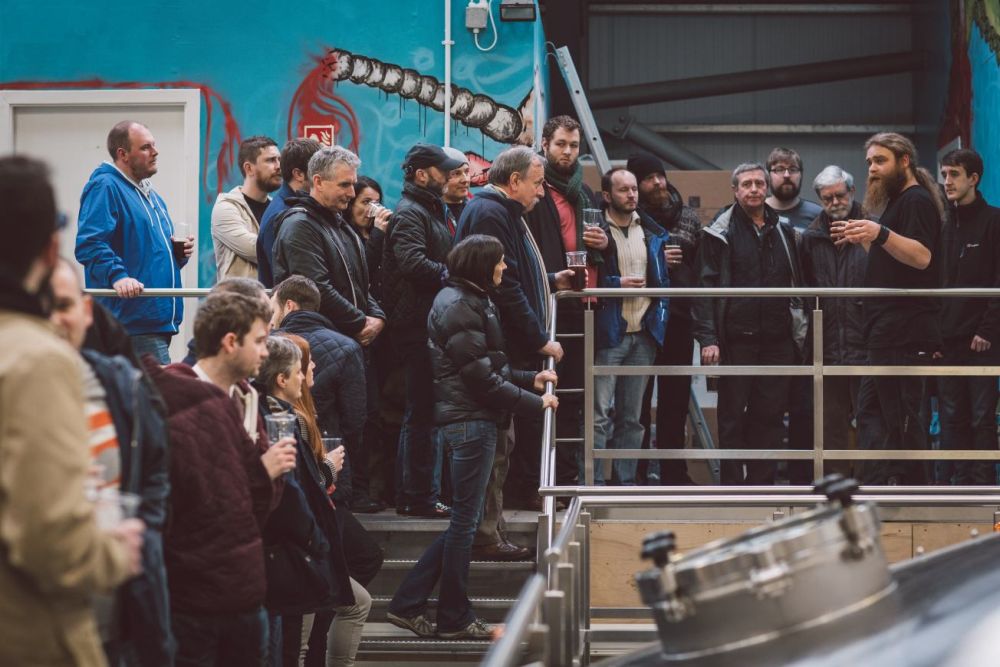 Martin's mentioned that American giant Coors cut production by 600,000 barrels in 2013/14 – this is about the amount the entire craft brewing sector gained.
The brewery here in Ellon has greatly grown, it aims to produce some 172,000 HL of beer this coming year – still making it a small player compared to the likes of the American brewers.
What makes a company too big?
There's big and there's too Big
Some of BrewDog's detractors claim the company is now 'too big'. Should the company start acting like a monopoly seeking to control production, distribution – and making political donations – I'll consider it too big. But that seems to be how at least one multinational drinks company is carrying on. News broke this week of the behaviour of brewing multinationals in Canadian politics, and if I were a shareholder, I'd be selling up. As the Globe & Mail put it:
"The Beer Store's corporate owners have funnelled more than $1.1-million to Ontario politicians in the past decade, as they successfully held on to their lucrative private monopoly.
"The company – owned by foreign brewing giants Anheuser-Busch InBev SA, Molson Coors Brewing Co. and Sapporo Breweries Ltd. – enjoys a government-protected stranglehold on beer retail, codified in a secret deal with the province." – http://www.theglobeandmail.com/news/politics/beer-stores
I wonder whether BrewDog detractors will put as much energy into complaining about brewery giants and their retail arms donating hundreds and thousands of Canadian dollars to politicians.  No doubt those who think the Watt Dickie company is 'too big' will be quick to jump on this important story.
In the early share offering days, some internet investment gurus warned that this was nothing more than 'a beer club' – some had less kind things to say. Other pundits were all in favour of their style and their business model. I ask one of the staff about the share value. She advises that when people were first allowed to trade/sell shares in October 2014, the price wound up being £125.
It also seems that many people were willing to part with one or two shares, but few if any people completely divested. Everyone here today seems to have a shared vision based on a passion for beer.
A Matter of Taste
It's time to taste some beer. We start with India Pale Weizen , made in collaboration with one of the world's oldest breweries, Weihenstephan. It's a delicious wheat concoction with the bitter elements of Jackhammer. The hops are Simcoe and Centennial. My table is happy. We've also been joined by two more craft beer lovers, and we are all literally comparing notes.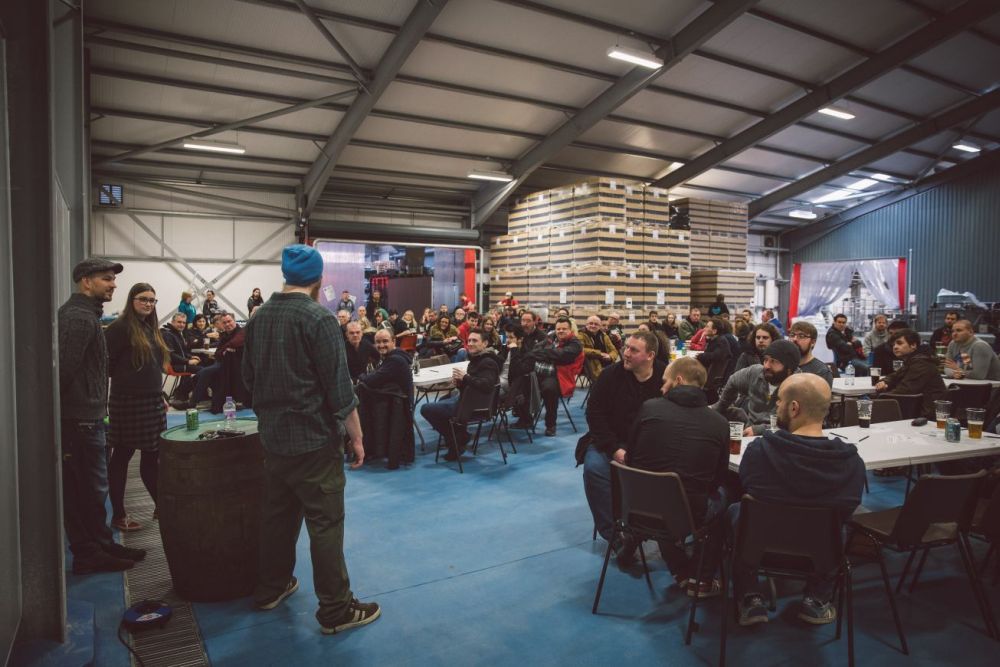 Next we get to taste how the beer we've come together to brew is progressing: we drink the wort (the wort is what you get from mashing in- so just the dark sugary liquid you get from the malts- this is before adding hops/other ingredients). It's delicious – my table asks for more.
This wort is hinting at a very great beer to come in a few weeks' time.
The third tasting comes a bit late for my table; we'd already enjoyed a pint (or so) of Bourbon Baby, a dark, oaty chocolaty strong drink aged in bourbon casks. It's another success.
Finally we taste a new version of BrewDog's Paradox Paradox Compass Box – the staff member talking us through this whimsically suggests it should be drunk by a fire place while sitting in a wing chair, with a fluffy cat nearby. I wonder whether she's been looking through my flat's window of a winter night?
Too soon it's time to go back; the traffic is awful. The heartier shareholders head to the BrewDog bar.
I am heading home for that comfy chair by the fire, my cats, and a final small drink of the night; a 'Dog B'. I think to myself, 'the boys have done it again' – then I realise, having seen their wives and beautiful babies at the today, maybe they're not 'boys' any more. I think instead – well done to James, Martin, their growing families and to all of us who're on this successful, wild, delicious ride. Same again please.
Comments enabled – see comments box below. Note, all comments will be moderated.
[Aberdeen Voice accepts and welcomes contributions from all sides/angles pertaining to any issue. Views and opinions expressed in any article are entirely those of the writer/contributor, and inclusion in our publication does not constitute support or endorsement of these by Aberdeen Voice as an organisation or any of its team members.]