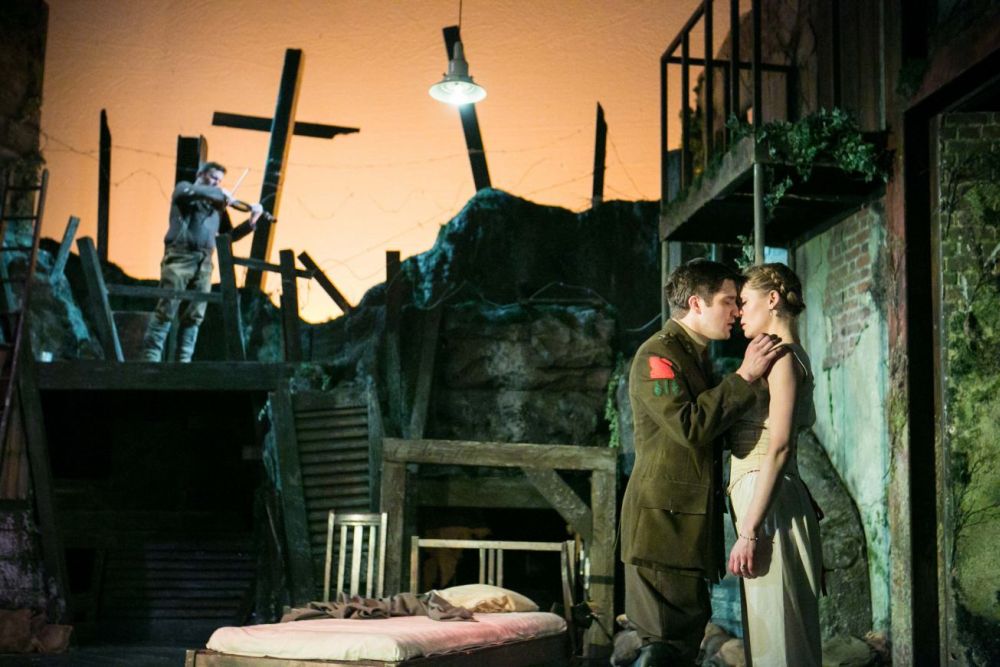 Reviewed by Duncan Harley.
Playwright R. C. Sherriff recalled in his autobiography that almost every theatre management in London had turned down his 1928 drama Journey's End.
"They said that people didn't want war plays."
This latest theatre production of Sebastian Faulk's novel Birdsong, adapted for stage by Rachel Wagstaff, proves beyond doubt that even today, some 100 years after the start of the first "War to end all wars" public appetite for war drama is as strong as ever.
Alternating between the trenches of the Somme and the Amiens Chateau of the Aizaire household the production follows young British officer Stephen Wraysford, played by Edmund Wiseman, as he progresses through a tempestuous and doomed love affair with Isabelle Azaire, played by leading lady Emily Bowker.
The plot takes us underground into the darkly surreal world of the unquestioning Jack Firebrace, played effortlessly by Peter Duncan of Blue Peter fame. Jack, a sapper, is tasked with tunnelling underneath the battleground in order to plant explosives below enemy positions. It is here, in these tunnels that Stephen is finally faced with the pointlessness of conflict and it is here that he is resurrected as a human being.
This is no Journey's End in stature and a century on from the events portrayed who could expect otherwise. Writers such as Sassoon, Graves and Remarque saturated the genre almost a century ago with ease. They were of course present as both witnesses and combatants.
The beauty of the stage version of Birdsong lies in its shocking starkness. Yes there are a good few humorous one liners and yes there are the usual clichés, albeit expressed in fresh ways. The endlessly repeated Lions led by Donkeys quote becomes a quiet reflection by Stephen on General Haig's leadership qualities.
Wire cutters are issued despite assurances from above that the bombardment has destroyed the barbed wire defences. A soldier hangs from the barb wire, his legs shot off by machine gun fire. Who can avoid such repetitions? They are after all the reality of what happened.
Of particular note were the performances of Max Bowden as the young Private Tipper and musician/folk artist James Findlay whose haunting melodies set the mood from early on in the first act.
In creating darkly lit underground scenes, grim trenches and the delightful Amiens Chateau, set designer Victoria Spearing has triumphed. Scene changes were seamless and the tunnelling galleries appeared truly frightening.
Lighting and sound left little to the imagination. Indeed it was surprising that the rumble of artillery and exploding of underground mines failed to attract the emergency services.
All in all this is a brave adaptation. Sebastian Faulks's, after all, took 503 pages to tell his story. The stage version of the story has but two hours and ten minutes to highlight the period 1910 – 1918.
Well worth seeing, this production will not disappoint.
Directed and produced by Alastair Whatley, Birdsong plays at HM Theatre Aberdeen until Saturday 14th February.
Tickets from Aberdeen Box Office: 01224 641122
Images: Jack Ladenburg.