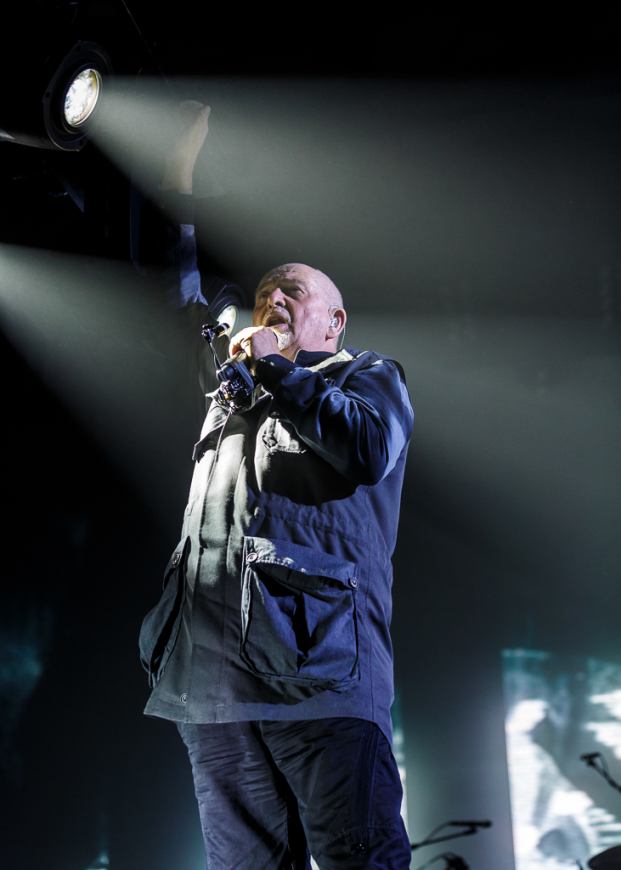 Review and photographs by Julie Thompson.
I'm sure all those of use over a certain age have memories of Peter Gabriel, either from when he was part of Genesis or maybe because of that iconic 'Sledgehammer' video. A frosty Monday evening at the AECC brought around 4,600 people along with Peter and the original 'So' tour band, reunited again as part of the 'Back to Front' tour.
Peter came on stage to loud applause and introduced Swedes, Jennie Abrahamson (vocals & xylophone) & Linnea Olsson (vocals & cello).
These two have teamed up to as show openers on the North America and European legs of the tour, and also later provide backing vocals to the main show when the original support, Ane Brun, fell ill and had to withdraw. Jennie's is the female voice we will later hear in 'Don't Give Up'.
As Peter explains, the show is served up like a meal of three courses. The starter course is an acoustic set of 4 songs, the first song, a new unfinished piece, involves just Peter on grand piano, Linnea on cello and David Levin on bass. By song four the whole band has been introduced and is on stage. The initial 3 songs are "performed with house lights up, like a rehearsal session" as explained by Peter. Part way through song 4 the lights go out and the show really kicks off.
Moving into the main course, we are treated to a monochromatic trip through the past, with various songs selected from his back catalogue.
On stage are several giant light booms, like oversized angle poise lamps, wheeled about by black clothed masked men. There are numerous small cameras – on the drum kit, on the microphones, on the boom lights, on poles extended by film crew – all beaming a very intimate and close up view of the band to the giant side screens.
The footage is cut live between cameras, with each song having a different effect applied – digitalisation, wire frame figures, slow motion superimposed on real time, psychedelic effects, white noise patterns – there is so much going on it is almost too much to watch. Totally immersive.
The boom lights join in the dance on stage, at one point Peter is interacting with one – they were used as mobile spotlights, emphasising the song 'No Self Control' and making the singer seem so alone up there, looking upwards almost as if he were pleading for help.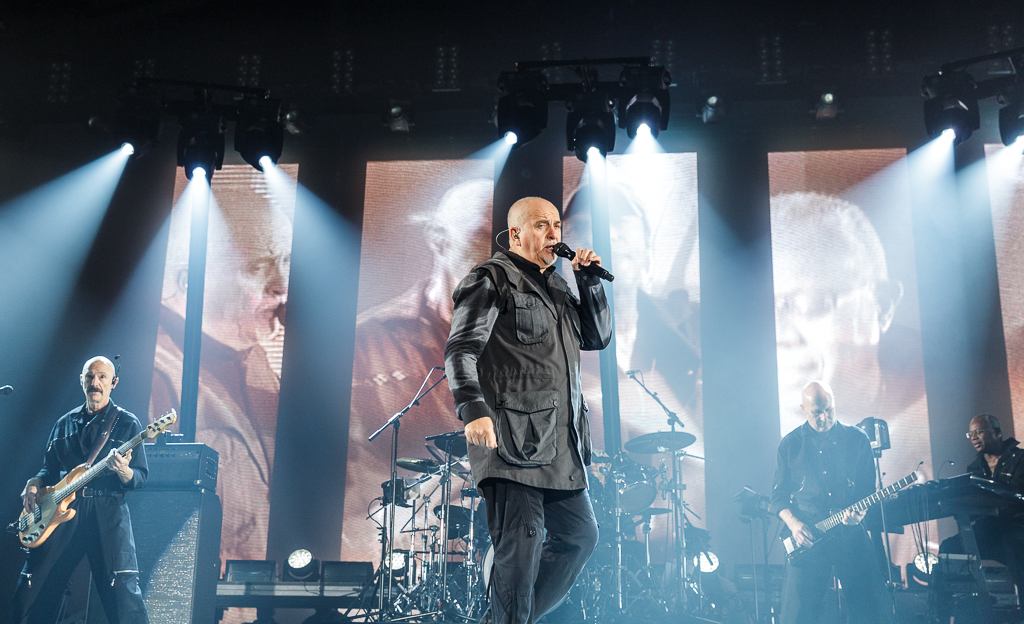 There were lighter moments though, with 'Solsbury Hill' bringing out the playful side – which led to skipping with his playmates, Tony Levin & David Rhodes.
Part three of the show, the dessert, was what the tour was about – his best-selling album 'So'.
We have indeed gone back to front – with some new songs at the start, and a middle section all leading back to this – the high point of his solo career.
'So' spawned 5 singles – who can forget 'Sledgehammer', 'Big Time' or the duet he performed with Kate Bush, 'Don't Give Up'? Amongst the lightness though, this album had some very dark themes – Unemployment in 'Don't Give Up', the almost Orwellian dictat of 'We Do What We're Told' – the words coming from those subjected to the Milgram experiments on obedience.
The boom lighting was arranged along the front of the stage to give an appearance of a cage, with vertical white bars of light, the band and masked boom operators all standing straight behind them, chanting the lines at the end.
The lighting changed from the stark black & whites during this third segment, with colour being introduced, opener 'Red Rain' being performed in a maelstrom of reds and orange. 'Big Time' was an almost drug induced psychedelic nightmare of clashing colours, reflecting the theme of becoming famous and rich and the temptations that often come hand in hand with it.
'Mercy Street', a song about the emotional issues of poet Anne Sexton, was performed almost entirely via camera to the big screens, boom lights giving out UV light overhead. Peter was on his back inside a big bulls-eye on the stage, writhing in and out of the foetal position, cameras above giving full body shots, and to the side on a pole giving close-ups. It was so unusual and strangely disturbing and intimate. It left the venue in undisturbed silence as it ended.
Most moving to me though, was 'Don't Give Up' – the female role beautifully performed by Jennie.
It was a theatrical performance, Peter standing forlornly to one side while Jennie tries to give comfort and reassurance.
Her vocal range was perfect, not a note off from Kate's wonderful rendition. Peter still has that distinctive quality in his voice that he had all those years ago, despite looking so very different these days – as he said of himself and Tony Levin, "we both had hair then."
'So'; 28 years old and sadly much of it is still relevant. A great show and one I am glad I got to witness.
Comments enabled – see comments box below. Note, all comments will be moderated.