With Thanks to Mike Shepherd.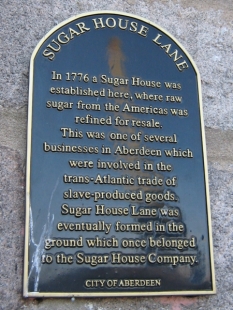 In 1743, thirteen year old Peter Williamson was kidnapped from Aberdeen harbour and shipped as a slave to the American colonies. He endured many experiences there, being captured by the Indians and held by them for three months, escaping to join the British army to fight against the French.
He eventually managed to return home to Aberdeen, where he declared that the local merchants and magistrates had been complicit in his kidnapping. They imprisoned him, only releasing Peter after he signed a declaration that his accusations were untrue.
He later sued a number of Aberdeen officials in the High Court, winning his case. It was revealed in court that as many as 600 local children had been kidnapped and sold into slavery between 1740 and 1746. He wrote an extraordinary book on his experiences, The Life and Curious Adventures of Peter Williamson, Who was Carried off from Aberdeen and Sold for a Slave.
This is how it starts:
"Know, therefore that I was born in Hirnlay, in the parish of Aboyne, and County of Aberdeen, North Britain, if not of rich, yet of reputable parents, who supported me in the best manner they could, as long as they had the happiness of me under their inspection; but fatally for me, and to their great grief, as it afterwards proved. I was sent to live with an aunt in Aberdeen.
When under the years of my pupillarity, playing on the quay, with others of my companions, being of a stout, robust constitution, I was taken notice of by two fellows belonging to a vessel in the harbour, employed (as the trade then was) by some of the worthy merchants of the town, in that villainous and execrable practice called Kidnapping; that is, stealing young children from their parents, and selling them as slaves in the plantations abroad.
Being marked out by these monsters of impiety as their prey, I was cajoled on board the ship by them, where I was no sooner got, than they conducted me between the decks to some others they had kidnapped in the same manner. At that time I had no sense of the fate that was destined for me, and spent the time in childish amusements with my fellow sufferers in the steerage, being never suffered to go upon deck whilst the vessel lay in the harbour, which was until such a time they had got in their loading, with a complement of unhappy youths for carrying on their wicked commerce.
In about a month's time the ship set sail for America. I cannot forget that when we arrived on the coast, we were destined for, a hard gale of wind sprung up from the southeast, and, to the Captain's great surprise (he not thinking he was near land) although having been eleven weeks on the passage, about twelve o'clock at night the ship struck on a sand-bank off Cape May, near the Capes of Delaware, and to the great terror and affright of the ship's company, in a short time was almost full of water.
The boat was then hoisted out, into which the captain and his fellow villains – the crew – got with some difficulty, leaving me, and my deluded companions, to perish, as they then naturally concluded inevitable death to be our fate. The ship being on a sand-bank, which did not give way to let her deeper, we lay in the same deplorable condition until morning, when, though we saw the land of Cape May, at about a mile's distance, we knew not what would be our fate.
The wind at length abated, and the captain (unwilling to lose all her cargo), about ten o'clock, sent some of his crew in a boat to the ship's side to bring us onshore, where we lay in a sort of a camp, made of the sails of the vessel, and such other things as we could get. The provisions lasted until we were taken in by a vessel to Philadelphia, lying on this island, as well as I can recollect, near three weeks. Very little of the cargo was saved undamaged, and the vessel entirely lost.
When arrived and landed at Philadelphia, the capital of Pennsylvania, the captain had soon people enough who came to buy us. He, making the most of his villainous loading, after his disaster, sold us at about $16 per head.  What became of my unhappy companions I never knew; but it was my lot to be sold to one of my countrymen, whose name was Hugh Wilson, a North Briton, for the term of seven years, who had in his youth undergone the same fate as myself, having been kidnapped from St. Johnstown, in Scotland. "
From: Peter Williamson – The Life and Curious Adventures of Peter Williamson, Who was Carried off from Aberdeen and Sold for a Slave, York, 1757. To be continued…