With thanks to Mike Shepherd.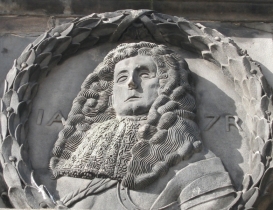 Peter Williamson was kidnapped from Aberdeen harbour in 1743 and shipped as a child slave to the American colonies. Following the death of his master, he married into a wealthy family and set up a farmstead on the frontiers of the province of Pennsylvania.
On the 2nd of October 1754 his farm was raided by Indians, set ablaze and Peter was captured.
This was never going to be the cross-culture-bonding-with-the-native-Americans epic beloved of modern Hollywood films, but something more prosaic. Peter was captured as a slave to help carry booty for the Indians from their raiding parties on frontier farms. His experiences during this time were brutal. Once the summer raiding season had ended, the Indians returned to their winter camp.
"A great snow now falling, the barbarians were a little fearful lest the white people should, by their traces, find out their skulking retreats, which obliged them to make the best of their way to their winter quarters, about two hundred miles farther from any plantations or inhabitants; where, after a long and tedious journey, being almost starved, I arrived with the infernal crew.
The place where we were to rest, in their tongue, is called Alamingo. There were found a number of wigwams full of their women and children. Dancing, shooting and shouting were their general amusements; and in all their festivals and dances they relate what successes they have had, and what damages they have sustained in their expeditions, in which I came part of the theme. The severity of the cold increasing, they stripped me of my clothes for their own use, and gave me such as they usually wore themselves, being a piece of blanket, a pair of moccasins, with a yard of coarse cloth to put round me instead of breeches.
They in general wear a white blanket, which in war time, they paint with various figures, but particularly the leaves of trees, in order to deceive their enemies in the woods. Their moccasins are made of deer skins, and the best sort have them bound round the edges with little beads and ribbons.
On their legs they wear pieces of blue cloth for their stockings, they reach higher than the knee, but not lower than their ankles. They esteem them easy to run in. Breeches they never wear, but instead thereof, two pieces of linen, one before and one behind. They are very proud, and take great delight in wearing trinkets, such as silver plates round their wrists and necks, with several strings of wampum (which is made of cotton, interwoven with pebbles, cockle-shells, etc) down to their breasts; and from their ears and noses they have rings and beads which hang dangling an inch or two.
The females are very chaste and constant to their husbands, and if any young maiden should happen to have a child before marriage, she is never esteemed afterwards. As for their food they get it chiefly by hunting and shooting, and boil or roast all the meat they can eat. Their standing dish consists of Indian corn soaked, then bruised and boiled over a gentle fire for ten or twelve hours. Their bread is likewise made of wild oats or sunflower seeds.
Scalping knife, powder and shot, are all they have to carry with them in time of war – bows and arrows are seldom used. They generally in war decline open engagements; bush fighting or skulking is their discipline; and they are brave when engaged, having great fortitude in enduring tortures or death. No people have a greater love of liberty or affection for their neighbours; but are the most implacably vindictive people upon the earth; for they revenge the death of any relation, or any great affront, whenever occasion presents, let the distance or time be so remote. To all which I may add they are inhumanly cruel.
At Alamingo I was kept for near two months until the snow was off the ground. A long time to be amongst such creatures and naked as I almost was. Whatever thoughts I might have of making my escape, to carry them into execution was impractical, being so far from any plantations or white people and the severe weather rendering my limbs in a manner quite stiff and motionless. However, I contrived to defend myself against the weather as well as I could by making a wigwam, with the bark of the trees, covering the same with earth, which made it resemble a cave, and keeping a good fire near the door.
At length the time arrived when they were preparing themselves for another expedition against the planters and white people; but before they set out they were joined by many other Indians from Fort Du Quesne, well stored with powder and ball they had received from the French.
We arrived at the Blue Hills where we encamped for three days. A council of war was held, when it was agreed to divide themselves into companies of about twenty men each; I was left behind with ten Indians. Here being left I began to meditate on my escape. "
From: Peter Williamson "The Life and Curious Adventures of Peter Williamson, Who was Carried off from Aberdeen and Sold for a Slave". York, 1757. To be continued.