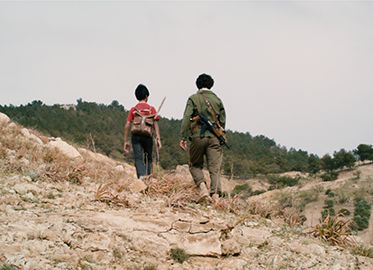 Peacock Visual Arts presents a season of Middle East/North African films and an exhibition by internationally renowned artists The Otolith Group. With thanks to Kirsty Young.
Following on from festivals in 2009 and 2011 (Cruel Weather and Breaking Point), Intelligence Report will allow audiences to delve further into the sphere of moving image work from the Middle East and North Africa.
The programme is divided into two areas: the screening of six powerful new feature/experimental films from the Middle East/North Africa (at Belmont Filmhouse); and an exhibition consisting of video installations by noted artists The Otolith Group, and a group of repeating experimental shorts by seven artists, shown at Peacock Visual Arts (Saturday 4th October – Saturday 8th November).
The exhibition in the gallery will feature an installation by The Otolith Group (Turner prize nominees in 2010). The Group is a collaborative platform that seeks to rethink the dynamics of cultural production under conditions of accelerated, unstable and precarious global conditions. The seven shorts are the recent work of seven artists from Lebanon, Egypt, Morocco and Palestine.
Intelligence Report is a programme of films that reveal the problem of conveying revolution (Crop) or treating trauma-in-process (Sleepless Nights). Intelligence Report attempts to arrive at some comprehension of what the present may mean by taking a different inflection of the past – as in Annemarie Jacir's When I Saw You (2012) set in 1967 Jordan.
In addition to the screenings, and giving context to the work, are introductions to three of the six films.
A representative from the Scottish Palestine Solidarity Campaign Aberdeen will introduce When I Saw You (Lamma shoftak) by Annemarie Jacir (2012) on Sunday 5th October at 6pm.
On Thursday 9th Oct, 6pm Sleepless Nights (Layali Bala Noom) by Eliane Raheb (2012) will be introduced by Dr. Stefanie Van de Peer, Global Cinema Fellow, University of Stirling.
And on Sunday 12th Oct at 6pm Crop, Johanna Domke and Marouan Omara (2012) will be introduced by Dr. Andrea Teti, Professor of Politics and International Relations, University of Aberdeen.
Intelligence Report is is organised by Jay Murphy, a writer and independent curator based in New York and New Orleans.
The full programme of film screenings and the exhibition is available on Peacock Visual Arts website – www.peacockvisualarts.com. A printed programme is available to collect from Peacock Visual Arts at 21 Castle Street and at various outlets in Aberdeen city centre.