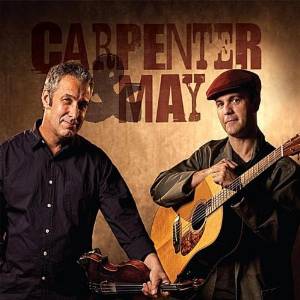 By David Innes.
Almost Blue Promotions, to the delight of main man Martin Raitt, is starting to go places.
Or at least fill them, but the one downside to this increasing popularity is that they seem to attract a small
proportion of punters there to socialise noisily rather than watch and listen to the high quality acts now prepared to travel to our city.
It's not unique to shows in Aberdeen; it's a growing problem everywhere, disrespectful to performers, to audience members who can behave appropriately and to promoters like Martin who work hard to bring great music to what has been, for years, a neglected geographical backwater.
Fortunately, Tim Carpenter and Fred May, with co-conspirators Matt Flinner (banjo and mandolin) and the mischievous Todd Phillips on bass, delivered more than enough scintillating, swinging bluegrass to delight those there for the right reasons on the final night of their week-long Would It Kill You To Buy A CD? tour of Scotland.
The band's stirring set was a sublime combination of fleet-fingered instrumentals and respectful and often unique takes on material by, among others, Merle Travis, Flatt and Scruggs, Tom Paxton, The Mississippi Sheiks and Woody Guthrie.
'When You're Smiling' has been recorded, re-packaged, kicked around and generally abused by performers and producers alike since Satchmo made it a standard in the 1920s, but in the hands of these maestros it was delivered with almost visible swing and jaw-dropping instrumental prowess.
Everybody and their bar band has covered a Lennon and McCartney song, but We Can Work It Out is rarely given a makeover, never mind such a wistful but energetic 22-string melodic assault. I'm sure that Tim's guitar solo is making George Harrison smile somewhere.
The band's great friend, fiddler Ian Patton joined them for two emotional Celtic-flavoured tunes before, charging to a finish, Neil Young's Out On The Weekend and Bill Monroe's Jerusalem Ridge were given loving and lively Carpenter and May treatment.
Two encores, vociferously demanded, somehow managed to bring together the diverse and divided-by-decades joys of Dire Straits and The Stanley Brothers, as these marvellous craftsmen's versatility and interpretive abilities dazzled the 80-strong Lampie crowd, privileged to be witnessing one of the live musical events of the year.
Links:
http://www.carpenterandmay.com/
http://youtu.be/RRaCLV3qYt4
http://youtu.be/HXhoc0_KeaM
www.almostbluepromotions.com
Comments enabled – see comments box below. Note, all comments will be moderated.