"My fit big teeth ye hiv Suarez"
"Aa the better ti bite ye wi Chiellini"
With the knockout stages of the World cup well underway, Bob Smith scribbles his mind with not a care who minds his scribblins.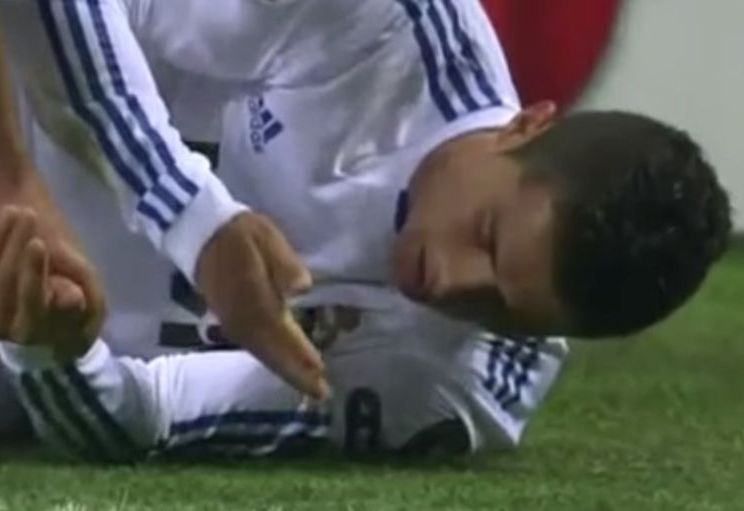 A've paraphrased the wirds fae a fairy tale a kent fin a wis a loon ti fit the gyaans on in the World Cup fin Luis Suarez maybe thocht aat haen a bite oot o Italian Gorgio Chiellini's shooder wid increase his protein an energy livils. Bit the fairy tale o aa fairy tales maan be Suarez's excuse fin he claimed he lost his balance an fell inti Chiellini an his teeth cum in contact wi the Italian's  body.
Hivin seen fit happen't ower an ower again a hiv come ti the conclusion Suarez maan think we war aa born yesterday.
Noo Suarez,the Uruguayan FA an fans fae aat kwintra aa think the ban stoppin him fae playin fer Uruguay fer nine games an a fower month ban fae domestic fitba is  ower the tap. He wis lucky he wisna banned sine die, literally a lifetime ban, as es wis his third offence fer bitin' anither player.
The last player in Britain ti be suspended sine die wis Wullie Woodburn o Rangers fa lost his timper an landit a fist on Eck Paterson o Stirling Albion. Ess happen't sixty 'ear ago an wis the first time he hid punched onybody. The ban wis owerturned bit bi the time es cam aboot Woodburn wis ower auld ti resume playin an decidit ti retire.
Noo a'll move on ti divin, anither curse o the modern game.
Foo mony players div ye see noo gyaan doon as tho' the hid bin hit bi an express train or performin the deein swan act jist cos somebody cum inti contact wi 'em. Maist time the contact is minimal, nae even aneuch ti knock a flech ower.
Es is doonricht cheatin in ma beuk, bit cos o the siller involved nooadays an the pressure pit on teams ti win matches es behaviour is afen condoned bi some coaches an managers.
Maist fair myndit fans are fair sick o es blatant cheatin.
Movin on we cum ti the aa-in wrestlin fit taks place in penalty boxes at corner kicks or free kicks. Michty me cooncillor Len Ironside wid be prood o some o the grips used ti stop an opponent getting ti the ba'. Ti me it's easily stopped -jist gie a penalty ivvery time an attackin player is manhunnl't in the box, or a free kick ti the defendin team if it's the ither wye roon.
Nae need ti sen 'em aff. Some fowk say es winna wark as the ref wid nivver be stopp't gien penalties or free kicks in the box. If aneuch penalties war gien the message wid seen git hame. Dinna bliddy wrestle in the penalty area.
O coorse there are ither types o cheatin, like takin a throwe-in ten yairds farrer forrit than it should, gyaan doon fakin injury fin yer team is unner pressure an a practice fit a think cums unner the heidin o cheatin, pittin o a substitute in the last fyow minutes ti disrupt the flow o play.
Some fowk micht nae think fit a'm aboot ti say next cums unner the banner o cheatin bit a'll leave it up ti you gweed fowks ti mak up yer ain myn.
A'm spikkin aboot cheatin fans oot o their siller bi the wye some teams play the game. If a hear ony mair fitba pundits spikkin aboot twa banks o fower a'll bliddy scream.Es formation is nae used ti win a fitba match bit jist ti either stop the ither team fae playin or ti mak sure wark ye dinna lose.
Fans are  bein cheatit oot o seein a gweed fitba match wi es tactics an its bin noticeable aat the teams employin es type o team formation in the World Cup hiv maistly bin the European teams. The maist attack myndit teams hiv bin some o the  African teams an the Sooth Americans.
Tak cheatin, divin, bitin an twa banks o fower oot o fitba an ye jist micht see mair fans cummin ti watch the eence bonnie game.
© Bob Smith 2014

Comments enabled – see comments box below. Note, all comments will be moderated.