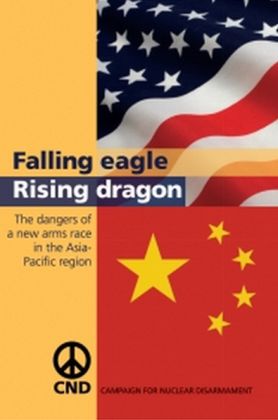 With thanks to Mike Martin.
Aberdeen & District CND are delighted to be hosting Alan Mackinnon, SCND executive member, who will be speaking on his new pamphlet: "Falling Eagle, Rising Dragon – The dangers of a new arms race in the Asia-Pacific region" at a public meeting on Monday 9th June.
The dangers of a new arms race in the Asia-Pacific region Obama's 'pivot' to Asia has shifted America's geo-strategic focus to the new realities of power across the world. Our guest speaker, Alan Mackinnon, will examine how this pivot is raising tensions in the region and could trigger a new Cold War with huge regional and global implications.
After the presentation there will be an opportunity for questions and contributions.
CND believes that to prevent any future mass destruction of human population the UK Government should:
 Scrap the Trident nuclear missile system.
 Cancel plans for the next generation nuclear weapons
 Work for international nuclear disarmament
Time and Date: 6:15pm, Monday, 9th June
Venue: Unite the Union, 42-44 King Street, AB24 2TJ
Website: http://www.banthebomb.org/
Contact: Mike on 0797-476-3082
Comments enabled – see comments box below. Note, all comments will be moderated.