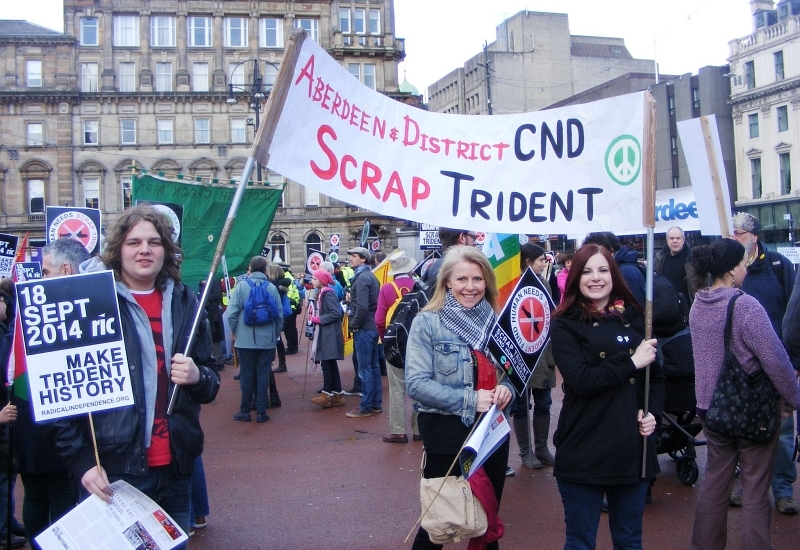 With thanks to Gavin Mowat Constituency Assistant to Christian Allard MSP
Commenting on an interview by American investigative journalist and author Eric Schlosser in which he warned that the Trident nuclear weapons system had inherited design faults and safety flaws, Christian Allard, MSP for the North East, said:
"Scotland is a peaceful, progressive country and one where nuclear weapons have no place.
"Mr Schlosser's comments highlight the safety concerns around Trident, the nuclear weapons system in Scottish waters, and add weight to calls for the unpopular weapons of mass destruction not to be renewed."
In an interview for Channel 4 Mr Schlosser said that the Trident missile system, which is the principal nuclear weapon that Great Britain has, has safety issues that were revealed in a report to Congress more than 20 years ago – I hope in Scotland they're very careful when loading and unloading the missiles.
Mr Allard, French-born member of the Scottish Parliament has joined the international group of Parliamentarians for Nuclear Non-proliferation and Disarmament (PNND), and he is also a member of Aberdeen and District Campaign for Nuclear Disarmament (CND).
The North East MSP said:
"I have always maintained that nuclear weapons and in particular Trident, are unsafe and that plans to spend £100 billion on their renewal would be folly. "
Jonathan Russell, Chair of Aberdeen and District Campaign for Nuclear Disarmament added:
"Nuclear weapons and Nuclear Power will always have the potential for accidents.
"Worryingly, on July 29th last year, there was a failure of both the primary and secondary sources of coolant for Nuclear reactors at the nuclear repair and refuelling facility at Devonport, Plymouth which could have led to a disaster on the scale of the one at Fukushima."
Mr Allard added:
"The government and people of Scotland deserve the right to decide their own defence priorities, particularly as Westminster has already spent billions to renew the UK nuclear weapons system – despite the findings of Eric Schlosser.
"A Yes vote in 2014 is a vote for a nuclear weapons free Scotland, a safe Scotland."
Comments enabled – see comments box below. Note, all comments will be moderated.