With thanks to Richard Bunting.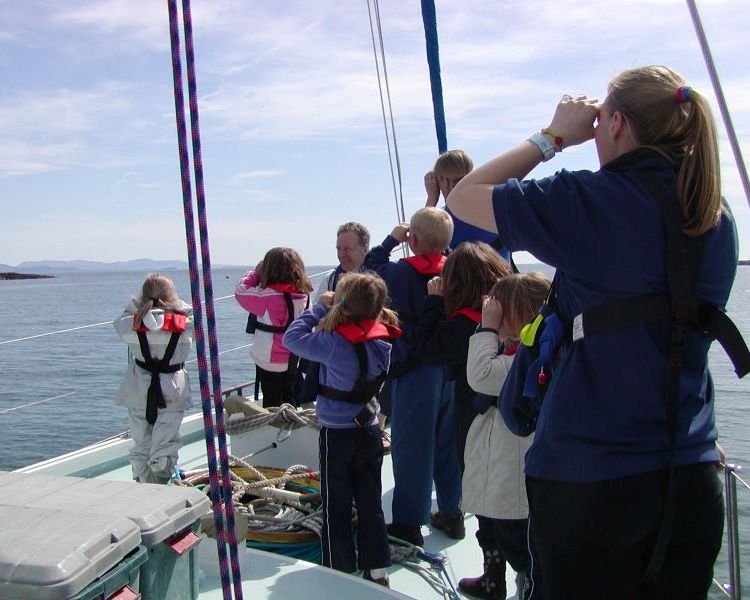 Conservation charity Hebridean Whale and Dolphin Trust (HWDT) is celebrating today's announcement that it has been awarded £120,000 through the UK Government's Coastal Communities Fund – enabling it to launch an innovative project to strengthen people's connections to the sea in 15 remote island communities across the Hebrides, including by creating sustainable eco-tourism employment opportunities.
HWDT's ambitious Sea Change project will strengthen conservation of whales, dolphins and porpoises – collectively known as cetaceans – and develop the region's appeal as a major destination for wildlife tourism.
Key to this will be engaging coastal communities in learning, training and volunteering – so that they can develop stronger links with and understanding of their marine environment, and invest in its sustainable use for the long-term benefit of local people.
"This Coastal Communities Fund award is fantastic news for our work with communities in the Hebrides. We want our Sea Change project to help local people make the most of their natural marine assets – benefitting the conservation of our world-class marine environment and bringing real economic and social benefits to the whole region," said Eva Varga, HWDT Operations Manager.
"The project will set up a legacy, with the communities themselves taking ownership of it, and so ensuring its sustainability for years to come. We hope that increased tourism numbers will also strengthen the tourist-dependent businesses in each community."
She added:
"In the communities involved, the success of our Community Sightings Network – through which people can report sightings of cetaceans, helping us to map their distribution off Scotland's west coast – and of our educational visits have shown a real enthusiasm for Scotland's remarkable and inspiring marine biodiversity."
The scheme will support local people by developing skills and creating work opportunities through an extended Community Sightings Network.
It is planned that the Sea Change project will be carried out on Mull, Coll and Tiree, Islay and Jura, Colonsay, Barra, Small Isles (Eigg, Muck, Rum, Canna), Mallaig and Arisaig, and in two locations on Skye.Each of these communities attracts tourism and has seen an increase in wildlife tourism in recent years.
The importance of white-tailed eagles to the local economy of Mull and Skye is well-documented. HWDT believes developing sustainable marine wildlife eco-tourism could have similar or greater success.
The Sea Change project will directly create two new jobs, and potentially safeguard and indirectly create many more employment opportunities in the region.
The Coastal Communities Fund was created to direct regeneration investment to seaside towns and villages
HWDT will recruit a new full-time Sightings and Strandings Officer, to train volunteers, organise school visits and support 15 community-based hubs on the islands, which will then run the project from their own community. The new employee will also liaise with boat operators, local people and tourists on reporting marine animal sightings and strandings.
HWDT plans to work collaboratively with community enterprises, trusts, wildlife groups, businesses, schools and individuals, so that the project is tailored to each of the 15 communities and to encourage as many volunteers as possible to get involved.
Engagement with local communities and education work are key parts of HWDT's pioneering work to secure the future of western Scotland's cetaceans and basking sharks, as well as the Hebrides' globally important marine environment.
A new Visitor Centre Manager at HWDT will ensure that the charity's headquarters in Tobermory becomes the project base and a community resource for learning, training and volunteering.
HWDT also carries out scientific surveys, and is currently recruiting volunteers to take part in its 2014 expeditions onboard its research yacht Silurian, working alongside marine scientists. For details call 01688 302620 or visit www.hwdt.org.
The Coastal Communities Fund was created to direct regeneration investment to seaside towns and villages to help rebalance their local economies, reduce unemployment and create new work opportunities for young people from the local area.
Announcing the Coastal Community Fund winners today, Chief Secretary to the Treasury Rt Hon Danny Alexander said:
"The Coastal Communities Fund is supporting some of the most fragile communities. It is a great way to make sure that people living around our coastline can share in the benefits of the increased returns for the Crown Estate's marine activities."
Over 50 projects across the UK have been awarded a share of £27.7 million through the Coastal Communities Fund. Details of the project winners are at www.biglotteryfund.org.uk/global-content/programmes/uk-wide/coastal-communities.