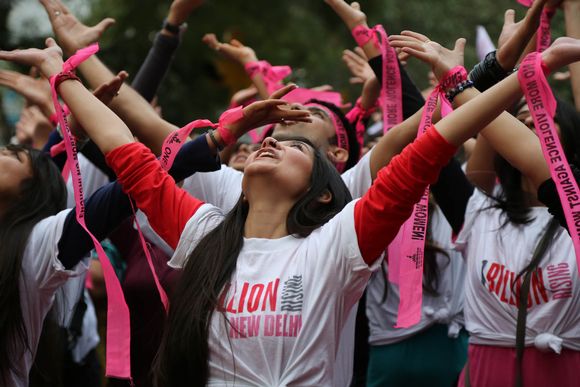 With thanks to Kathryn Russell.
One Billion Rising campaign will be marked across the UK.
On Saturday 15th February, women from Aberdeen will be joining a major global campaign to end violence against women by staging a number of activities.
Anyone who wishes to join in with the activities is invited to meet them at 12pm at Aberdeen Community Health and Care Village on Frederick Street. Those attending will then parade to Union Street, wearing red ribbons.
Following the parade, the group will gather in the Bon Accord Centre to dance the signature One Billion Rising dance, Break the Chain, and collect money for local rape crisis charity RAS so, if you are in the area, please come along to join in with the dance or just watch.
From 2pm, everyone is invited to take part in a Zumbathon at Ferryhill Community Centre, Albury Rd, Aberdeen AB11 6TN.
One Billion Rising is a global initiative established last year on the 15th anniversary of the V-Day movement, a campaign launched in 1998 by the activist and writer of The Vagina Monologues, Eve Ensler. The focus of this year's campaign will be justice and the work to be done around the UK to tackle violence against women.
Speaking about why she decided to take part in organising the event, June McGuire said:
"We need to re-educate and reframe our thinking around rape and abuse. Rising Up, speaking out, and being visible, we take rape and abuse outside the closet, and let those One Billion women and girls, know that they are not alone, they are not victims, and that we care about what has happened to them. We are also saying it is okay to speak out about it – that the shame does not belong to them."
Chair of RAS, Kathryn Russell said:
"We are delighted that the Zumba instructors organising the day's activities have chose to support RAS.
"As well as providing support to anyone who has experienced rape, sexual abuse or sexual exploitation at any point in their life, we also work with communities to develop awareness of the issues surrounding rape and One Billion Rising is an important day in highlighting the extent of violence against women internationally."
Further information about the event is available on Facebook by searching for One Billion Rising Aberdeen.  https://www.facebook.com/pages/One-Billion-Rising/273840142734115?fref=ts
Facebook event page – One Billion Rising Aberdeen 15th February 2014 – link: https://www.facebook.com/events/285120108308882/?ref=ts&fref=ts
Comments enabled – see comments box below. Note, all comments will be moderated.