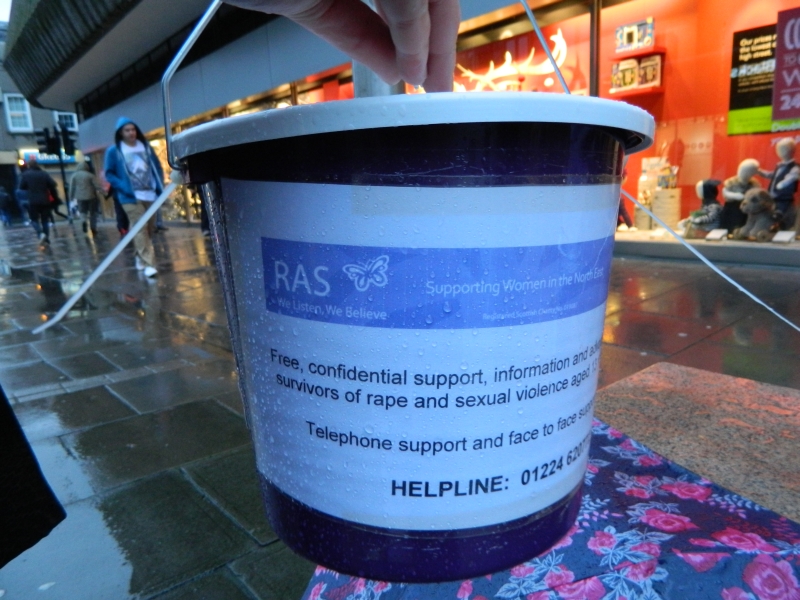 Aberdeen Women's Alliance marks International Elimination of Violence Against Women Day
On Saturday 23rd November from 12pm, Aberdeen Women's Alliance (AWA) will be marking the United Nation's International Elimination of Violence Against Women Day by collecting donations for local charity, Rape and Abuse Support (RAS) at the top of the East Mall in Union Square.
International Elimination of Violence Against Women Day is marked annually by AWA to raise awareness that women locally and around the world are subject to a number of forms of violence.
By highlighting this particular day, AWA hope to draw attention to the scale and true nature of violence against women, most of which is hidden from public view.
Chair of AWA, Sandra Macdonald says:
"Recent figures from Police Scotland show that offences of domestic violence in Aberdeen have increased by 36 per cent and that there has been a rise in reported sexual assaults. It is vital that we all continue to raise awareness of violence against women.
"We are delighted to support RAS again this year. The funds we raise will go towards helping the excellent work RAS do to educate the public and professional bodies about the nature and extent of sexual violence as well as broadening understanding of how appropriate responses can be developed to prevent it."
RAS provides support and advocacy to female survivors of sexual violence, whether recent or historical, as well as challenging public attitudes towards rape through outreach work.
AWA look forward to meeting and speaking with individuals on the day. If anyone has any questions or would like further information about the work being carried out by RAS, please email BoD@rasane.org.uk.