Local Punk stalwart Fred Wilkinson of Toxik Ephex opened for Tim aka TV Smith at the Moorings on 21 December; anyone for hundreds of miles around – literally – who truly loved punk was there. Suzanne Kelly reviews.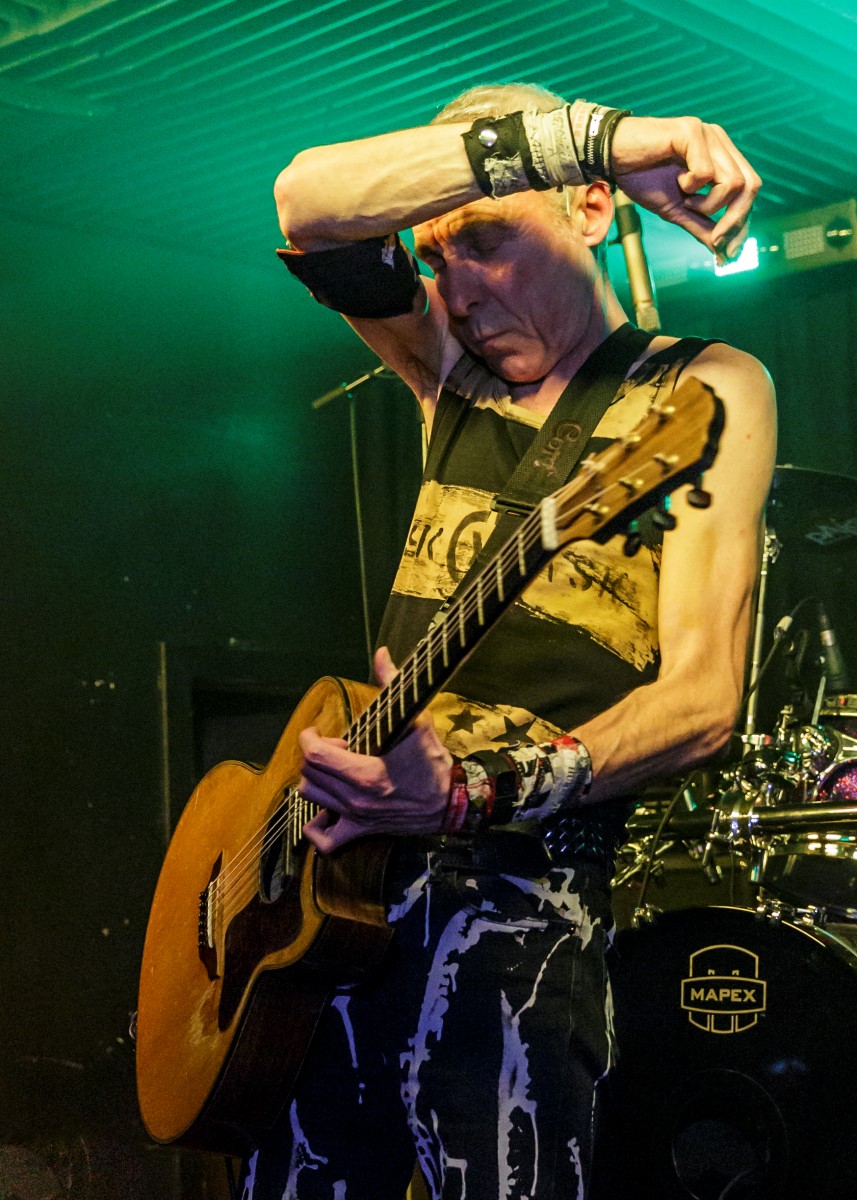 There are some people for whom The Adverts' contribution to punk starts and ends with Gary Gilmore's Eyes; they are the equivalent of the adult who never grows out of eating fish fingers and has no idea a whole world of culinary delights are out there.
Such people are either to be pitied, or frogmarched if not pogo'd to a TV Smith performance.
A few years (decades?) back I had the privilege of seeing Smith perform fairly frequently in London.
It is amazing how little he's changed physically (the hair is now short, and he remains wiry in the extreme), or sadly how little the need for his music has changed.
Lyrically, I can't think of any similar punk solo artist who is so consistently, elegantly sticking a metaphorical pin into society's ills. The melodies are haunting, elegantly simple, and no small part of the reason people remember the words and their messages so accurately.
'Lies' is easily one of the most powerful and musically engaging anti animal experimentation works anyone's ever written.
It appears  on a compilation, 'Artists for Animals' and even with contributions from Madness, Captain Sensible and Chumbawamba, it was the most memorable track on the album.  Its opening lines sum up the animal experimentation industry sharply and succinctly:-
So you say we'll live longer
With a cure for cancer, with a cure for heart attack
Science saves!, Science conquers!
And we get new toothpaste, and we get a new floor wax
You lied to me, lied to me, lied to me
I fell for it, cause I wanted it, I wanted it easy
                                             http://www.tvsmith.com/archives/tabs.php?sid=65&sort=
Before the show I have a chance to speak to Tim; he's relaxed and smiling as he's getting ready in a Moorings back room.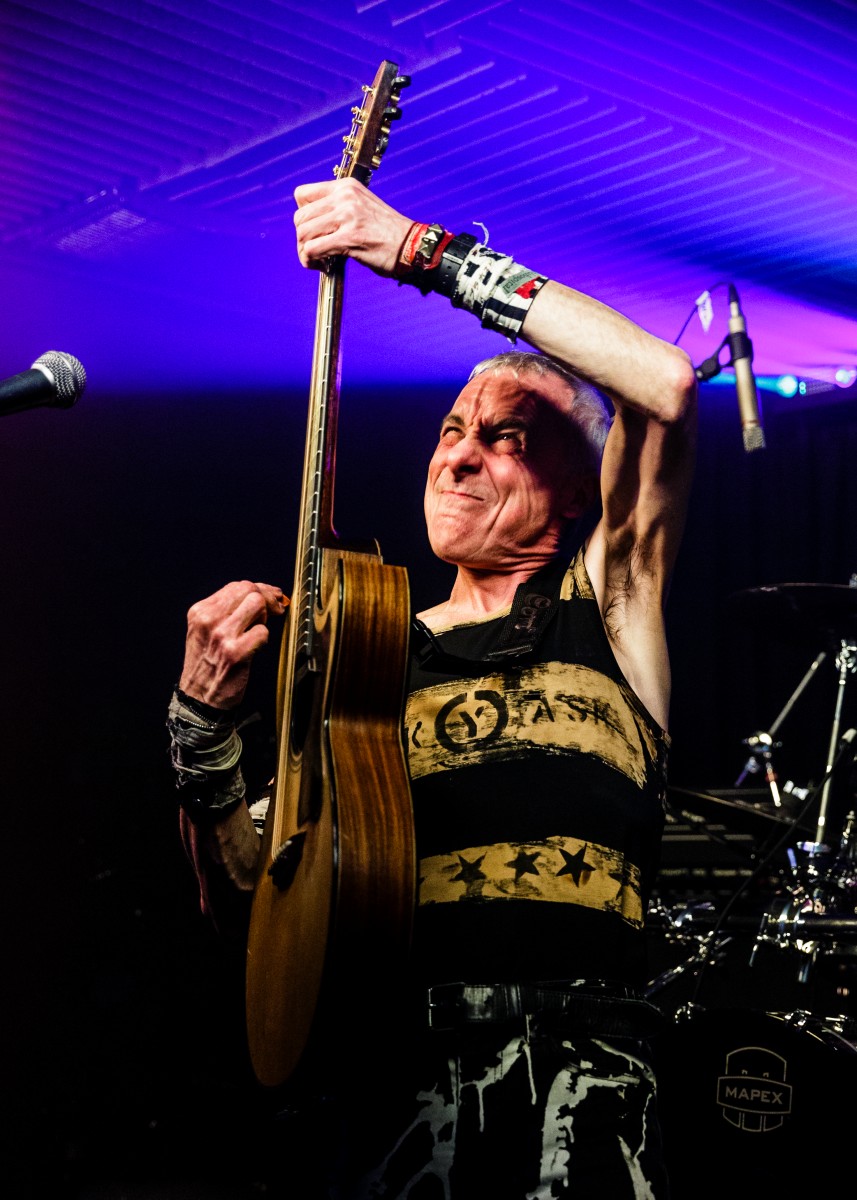 He has four books out now which are on sale tonight (Volume Five will be out this year and Aberdeen will be in it!); there are a few t-shirts left and a host of CDs – unreleased material, live shows, studio work. We briefly talk about how merchandising is a necessity for every act on the road today. Petrol, hotels and food are not getting any cheaper, and with music being openly pirated/stolen, sales of goods to the fans keep acts on the road.  He's done an incredible 122 shows in 2013; tonight will be his last before 2014.
"If I didn't love doing it, I wouldn't be doing it" he confirms.
We talk about the rigours of touring, and how it's taken its toll on many different acts (he's now frequently touring as an opening act to the UK Subs; the Vibrators mainly used to take that spot).
Touring has taken its toll on many bands; Knox for instance doesn't tour with The Vibrators at present. But Smith seems to thrive on tour.
"I don't use a set list" Smith says as I try to get an idea of what he'll be doing tonight, "I try to react to what the audience wants."  We chat for a while longer, and I thank him for his time, telling him he'll probably want some time to get ready.  He laughs and says "I'm going to have a beer."
Smith and Fred Wilkinson talk for a while at the bar; they've not met before, but have more than a few things in common – subject matter, punk longevity, writing/singing/playing. When Fred comes on, Smith listens attentively.
What can I say about Fred Wilkinson?
A fortnight ago, a Press & Journal reviewer gave his boss' wife's restaurant at the Trump golf course a score of 6 out of 6.  I'll bet the reviewer would not have dared to do otherwise.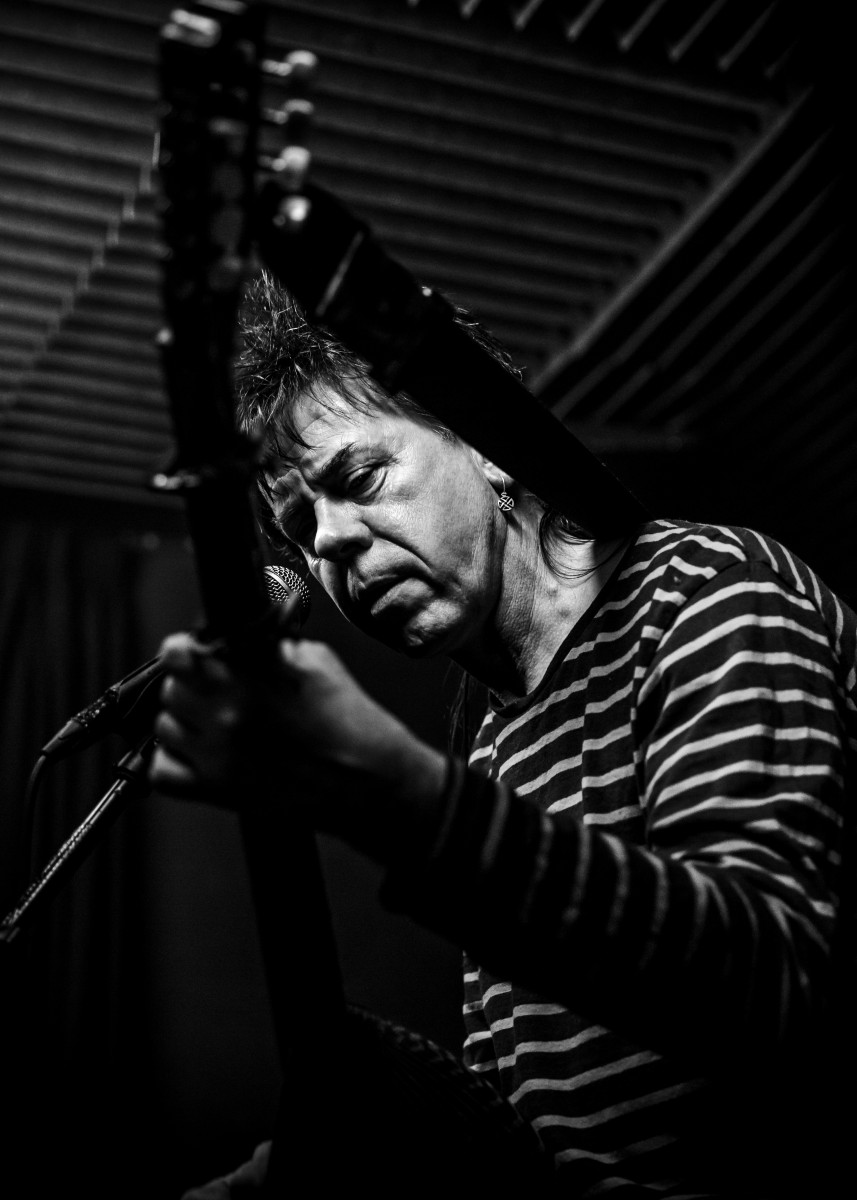 Thankfully no such pressures exist at Aberdeen Voice, where Fred is editor and a founder. That Wilkinson's performance was worth a 6 out of 6 rating on the P&J scale is due not to Fred's editorship of the Voice, but is rather due to 30+ years of writing and performing brought to bear tonight.
He sings and plays bouzouki with material covering industrial injury ("cotton dust has got my lungs"), coal mining ("I miss the noise, I miss the boys, I miss the collier's ways"). The backing band includes musicians who have been in and out of long-running local punk act, Toxik Ephex.
Tonight's set is significantly more restrained an outing than the recent Toxik Ephex Malt Mill appearance with Dod Copland (and half the audience) on vocals.
That outing was chaotic, frenetic with band members and audience members changing roles and places with some speed.
Some random guy played guitar while Dod Copland left for a cigarette. Pink feather dusters were waved in the air, a nod to the bizarre arrest of Copland this past summer.
The police lay siege to his flat for hours on the apparent eyewitness claim a man was inside with a gun.  The police eventually realised the home was empty, trashed it in a search for guns, and took Copland into custody (they deny it was an arrest) days later in a dawn raid at his girlfriend's flat.
During his hours in custody, they apparently tried to get him to say his feather duster could have been mistaken for a gun. Of course it could have.  There's no shortage of material for punk songwriters in Aberdeen.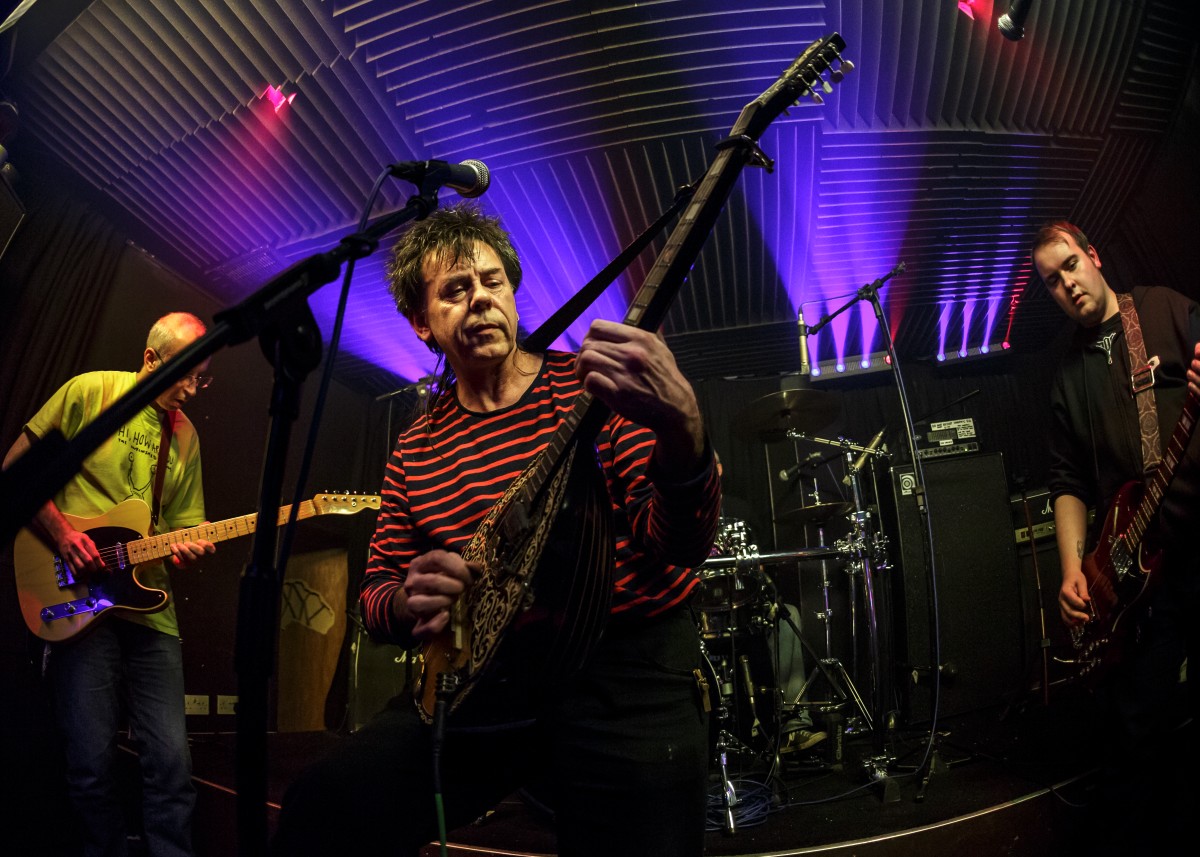 Meanwhile, back at the Moorings, Fred Wilkinson introduces and his newly brought together backing band for the last few songs, and their set goes down well.
That there is much more to Fred's music than classic punk is displayed tonight in material clearly influenced by traditional Scottish music, rock and dare I say it – country.
Smith comes on.  A couple, probably in their 30s, are singing every line; we are singing together before I know it.
We are all happy when Smith plays the first few chords of 'March of the Giants' (one of Smith's most recognised and acclaimed songs) and at least half the crowd is singing along on the chorus ("It's not art, it's not science, it's the march of the giants").
The couple have driven up from Manchester today.
"We come to see TV every time he plays in the UK" they tell me.
I soon can't help but call out for two of my favourite songs like the rest of the audience is doing, 'Lies' and 'Straight and Narrow'.  The Manchester set particularly approve of this last choice, and start shouting for it as well.
"I haven't played this for a while" Smith says.
It's a short, sad story of the difficulty if not impossibility of coming back from a criminal record, and how people can be forced into crime in certain circumstances.
I was thinking about this piece with its reference to '3 months of Sundays' as a reference to a prison sentence in light of the 'Affluenza' defence shockingly and successfully used by a rich American man recently who struck and killed someone with his car.
The defence had argued that the accused believed his family's wealth and position cushioned him from being responsible for his actions.  How true that proved.  And I'm happy that the couple, clearly younger than Smith or than me, know every line.  (Here are the lyrics, which are well worth reading )
Smith's playing sounds just as rousing, heartfelt and true as it ever has.
The voice is the same; it has anger and appeals; it is a call for people to get involved in what's going on all around us and do something positive about it.
His music and lyrics have influenced more activism than he may suspect.  This is not music to be complacent by.
I think of Donald Trump, and can't help but wish TV Smith would pen something about the goings-on at Menie; it seems a natural for Smith's talents.
'Gary Gilmore's Eyes' comes towards the end of the evening; even those who weren't as familiar with the solo material as they are to The Adverts are singing along.
For some reason a human pyramid appears at the front of the stage, and sways drunkenly for a few minutes before its inevitable collapse in a heap of legs.
"I've not had a human pyramid before" Smith says; he's amused.  The Moorings have managed to entertain the entertainer.
More drinks are had; more CDs and books are sold.  While I am no autograph hound, I do like to collect books signed by their authors; and the opportunity is seized.
He'll be back before long, and we're looking forward to it; I do think the Manchester contingent will be back, too.
This evening's been another memorable one for the Moorings; Hen, Flash and Fudge continue to come up with amazing acts.  We'll just have to see what's next, but do come see Smith when he's here next – particularly in a town like Aberdeen, his music strikes chords and hits nerves.
Comments enabled – see comments box below. Note, all comments will be moderated.