There was never a doubt Pallas' date at  the Moorings was going to be highly entertaining – the musicianship was never in question, and fans knew they would hear Pallas' contributions to the pantheon of prog rock classics. Suzanne Kelly reports.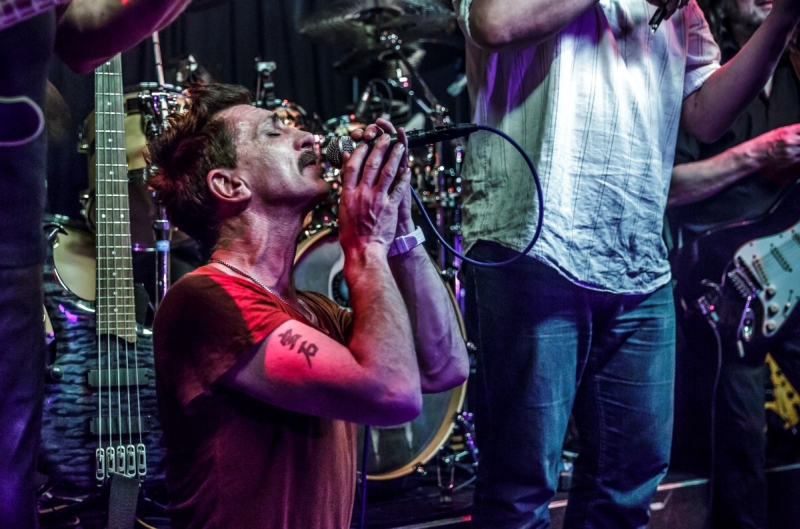 'Eyes in the Night (Arrive Alive)' towards the end of the set had whole the audience joining in. 'Atlantis' pleased the faithful no end; it took the audience on an epic journey, again with fans providing the chorus. Performing anthems like this (not that there are many anthems like this in the first place) demands  technical skill as well as improvisation ability.
Most true music fans don't want a note-for-note live performance perfectly echoing studio versions of tracks; live music should keep material fresh and riveting, and Pallas managed this superbly.
Pallas – in the briefest terms –  is a progressive rock act, formed in the1970s, which received great acclaim, particularly in the US, with works including 'Atlantis'  'Eyes in the Night' and 'The Sentinel'.
The forthcoming album, 'wearewhoweare' is being created via crowd funding* and will be out next year; they will be releasing it themselves. The current line-up is Niall Mathewson (guitar), Paul Mackie (vocals), percussionist Colin Fraser, Graeme Murray (bass), and on keyboard/synths Ronnie Brown.
But back to the audience – the Moorings tickets had all sold out, and you could have been forgiven for thinking the place would be packed with fifty-somethings  who discovered Pallas back in the 1970s at the zenith of the prog rock genre. You'd  have thought wrong; there were people of every age and background.
Perhaps this act, after 40 odd years in the business and a wee hiatus, is about to receive fresh recognition in  the 21st century. If it does, it will be down in huge part to the strength of the new material, which was played live for the first time ever at this performance.
Three new works were given a world premiere; these demonstrated that the 'prog rock' label stuck on Pallas does them a disservice. The audience loved it; members of the band displayed comic signs of great relief for the positive reception. Next was 'Ghost Dancers',  a haunting Scottish traditional folk/rock/trance hybrid, telling the story of the highland clearances.
Award-winning fiddler Paul Anderson did beautiful work; it is a pity though that during quiet moments like this that those towards the back of the bar couldn't manage to tone it done (or shut up, to be blunt) for the benefit of the people who were tightly grouped at the front of the stage.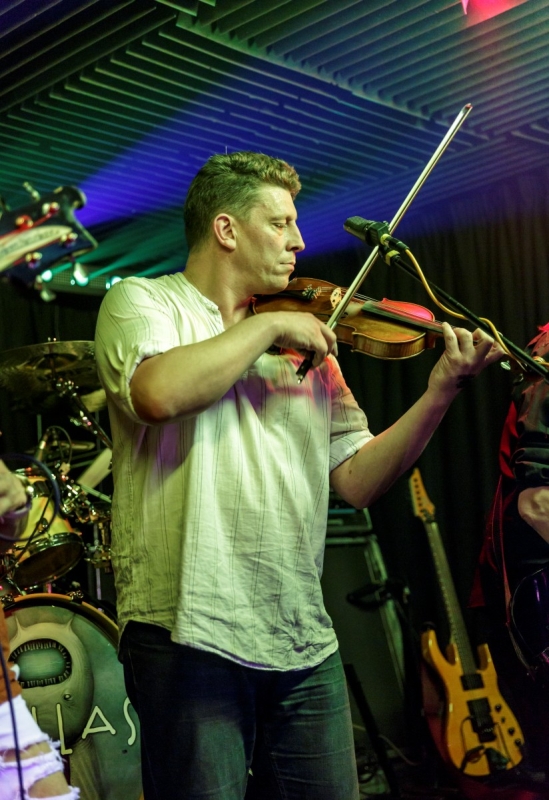 I did catch myself speaking once (two words) during a loud section of another song; I was rightly called up on this. Otherwise I was caught up in the performance totally, like the rest of those who crowded as close to the stage as they could get.
New material included (Is this) Your Life and the rockier In The Shadow of The Sun. None of these are what you would call straightforward progressive rock tracks.
There are passages that are straightforward heavy metal with exhilarating guitar solos; there are notes of folk, classical music and ambient music.
In places, Pallas are inviting comparisons to acts from Spear of Destiny to Sabbath to Massive Attack (there are moments when you can almost imagine what it would sound like with Nicolette doing a vocal).
It's not that Pallas are trying to copy anyone – God forbid. The realisation hits you that their music and the prog rock genre (which was so fashionable to look down upon for such a long time) was based on a cornerstone of musical excellence, with emphasis put on experimentation and mutation.
Whatever alchemical experiments escaped from the crucible of 1970s prog have longer-reaching tentacles than you might first think.
The 'new' frontman, Paul Mackie (he's only been there 4 years, which is new in Pallas time) has, as critics agree, gelled beautifully with the rest of the act. His wry, dry wit is in good form. Early on he asks 'Who here  remembers seeing us in the '70s?'  Then he asks 'Who here wasn't alive in the '70's?' (many hands go up).
He asks the audience if they have the album XXV; they answer that they do. (He asks if they bought it or stole it (perhaps a reference to the prevalence of piracy) – he then tells us he has a son he has to feed.
"He's skinny. I could feed him, I just don't want to."
He later tells us:
"I've just realised I'm not gig fit for my own gig.  Is there a vocal coach in the house?'" (He and Graham have been ill with 'flu; later on when I speak to them, they each seem keen to blame the other – good-naturedly – for spreading the bug).
The night before I'd been to see Toxik Ephex, arguably Scotland's best and most enduring pure punk act.  It was chaos; it was great. Their stage is overrun by the audience the whole time.
The opposite of stage diving is going on tonight. The 'flu hasn't stopped them from performing, but there are a few knock-on effects. In fact, they ask the audience to vote on who'll take a difficult vocal passage in 'Atlantis' – Graham loses, although he is the more ill of the two singers.
Mackie takes a break from doing vocals to jump off, go away, and come back 5 minutes later with a cup of tea. The guitarist similarly disappears into the audience for a bit as well.
The other moment which brought Toxik Ephex to mind tonight, comes during 'Cut and Run' when Mackie recites the lines:-
"I have reason to believe you are an enemy of the State, so, by virtue of the powers vested in me by the State, I am hereby obliged to terminate your existence."
The prog and punk genres may be poles apart, but there are similar messages coming through Pallas and Toxik.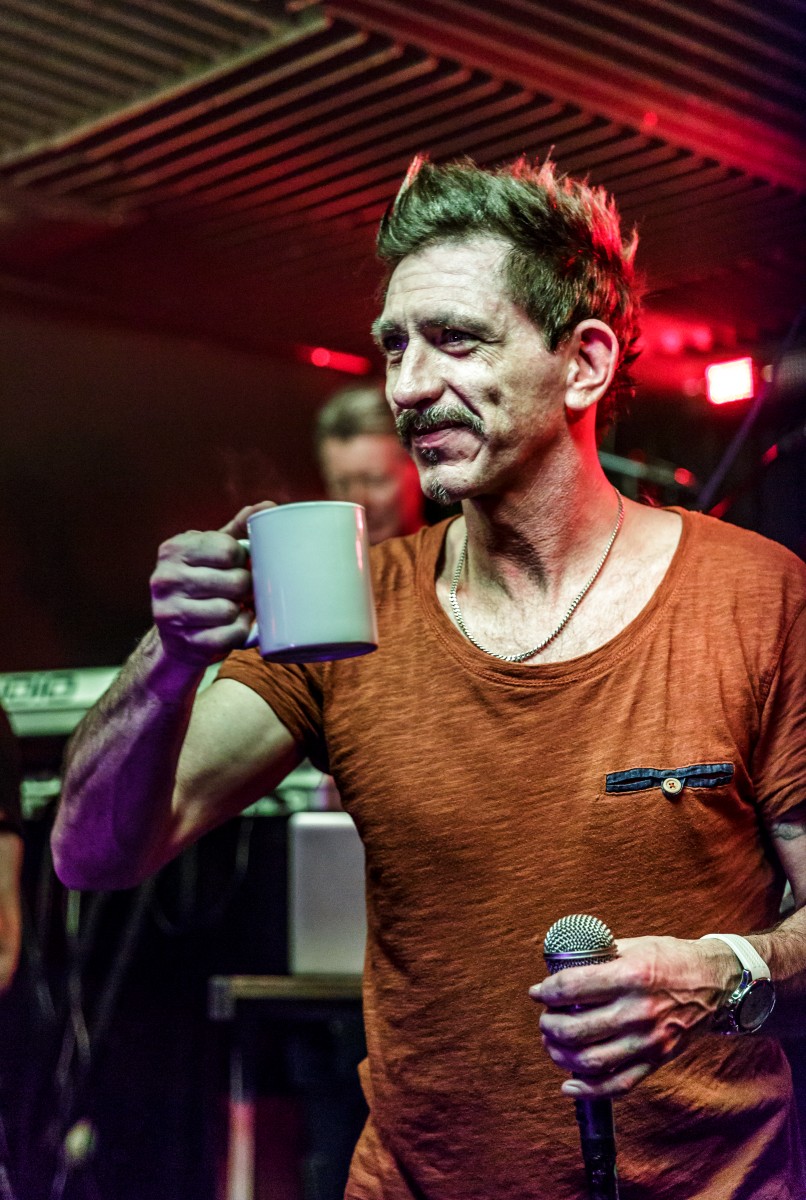 Toxik's recent material understandably reflects this same mistrust of totalitarianism; George Copland's recent troubles with the police providing seams of material to mine.
This fear of a  (the existing??) totalitarian state is a powerful theme common to both acts, as musically diametrically opposed as they are.
Pallas' works such as 'The Executioner' and 'Rat Racing' examine the problems of modern life, environmental destruction, loss of freedom and social control.
Guitar solos on pieces such as Rise and Fall won audience appreciation; but throughout it is the rhythm section that have the weight of the night on their shoulders; I wonder how many hours of rehearsals are needed to get to such a level without losing heart in favour of technical nous.
How anyone can manage to play 2 hours of keyboards for such complex, layered music is likewise a mystery. Beautiful classical passages of music came in delicate keyboard pieces, unfortunately again, most of those in the back of the bar talked/laughed/screeched over it.
Their loss; the rest of the crowd tuned the distraction out and tuned in on Brown (I'm sure no one meant any disrespect; this is the Moorings after all, and while most are there for the music, some people are just there to drink). Mackie somehow looks like Robert Downy Jr's 'Tony Stark' character; but with none of the arrogance and bags of sincerity instead.
The way he moves is natural, inviting me to compare and contrast again to the Boomtown Rats' gig and Geldof's mannered, would-be Jagger posturing artifice. No contest.
As the set draws near its end, they 'break for a commercial' and update us on their forthcoming album, twitter, Facebook presence, merchandise and new year return to Aberdeen. The merchandise on offer (which seemed to be selling at a healthy pace) features the arresting/disturbing/unmistakeable artwork.
I look at the image of the grey creature with the screen in its head, and I'm suddenly hurled back 40 years in time, remembering incidents previously long-forgotten (I'll be buying old and new CDs). They get bonus points for thanking their long-serving manager, Mike Bentley: over 30 years serving in this role definitely makes him their 'fifth Beatle.'
On a personal note, I was coming to this performance with a bit of apprehension. Clearly the material is not easy to perform, and I'd last seen them around 1979 in New York.  Would this appearance just be a hackneyed, half-hearted attempt at cashing in on nostalgia (see Bob Geldof's recent live show up the road at the Ballroom)?
Would new material be 'new' or would it just be re-workings of musical ideas and ideology from the 70s?  I'm so very pleased to say my apprehension was totally misplaced; I was singing and clapping along like the 20- and 30-something year-old people around me.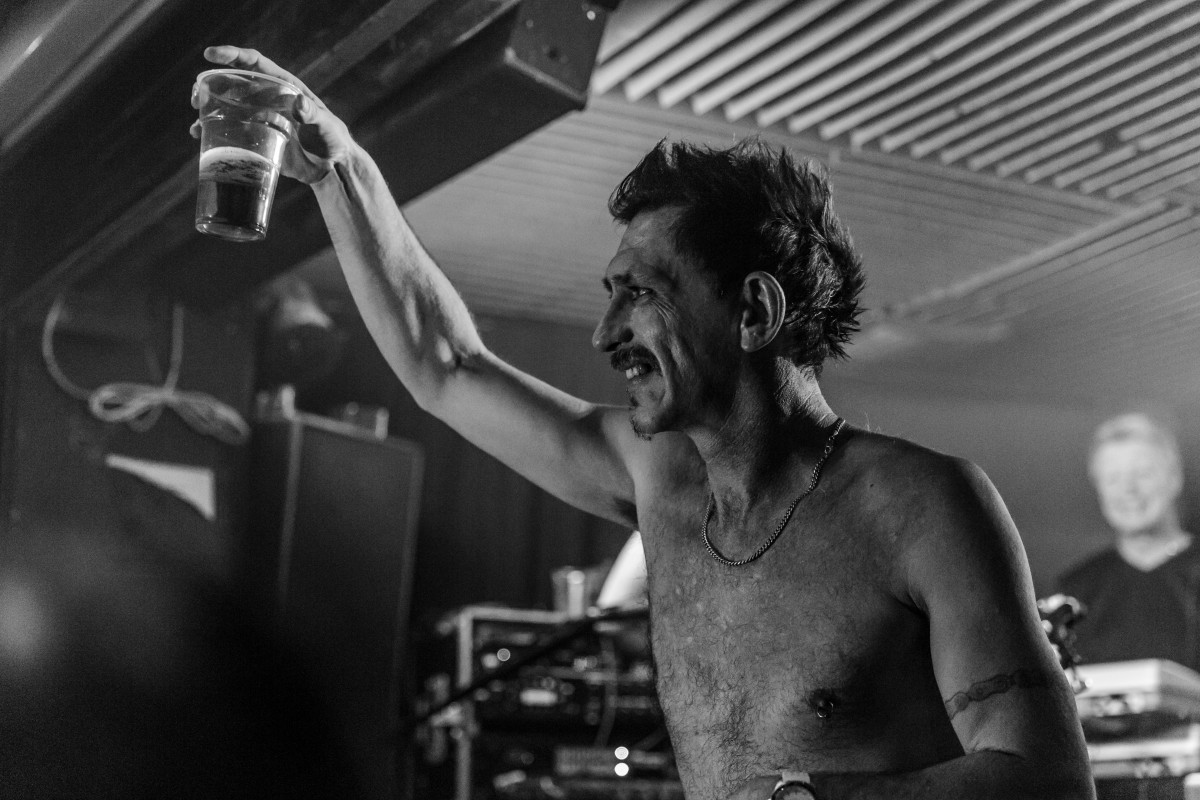 Pallas invoked vivid memories from decades ago for many of us there that night; they are making new, 2013 memories for old and new fans. They're on to something here, and I hope the rest of the world twigs.
Julie Thompson (who's taken some great shots as well as helping move mic stands around for Paul) and I catch up with some of the band after the show, although I really wanted to just let them chill and enjoy their mugs of tea /'flu remedies.
They were pleased with tonight, and rightfully very happy with the reception the new material had.
I spend a few minutes talking to Paul Mackie; it is clear that in the music and in what he will say to an audience he has to be himself and be honest; he's spent time thinking about tonight's performance and audience.
We talk about some of the recent critical acclaim from English dates; how he's meshed into the existing structure of Pallas. One thing I'm shocked to hear is criticism levelled at him from a few quarters: he has the temerity to take his shirt off when he's hot during a set.
"It isn't the done thing in prog rock." Paul tells me.
This has apparently upset some purists who seem to think there is a code against anyone in a 'prog rock' act acting in such an unseemly manner. Someone somewhere complained that this nudity 'sexualised' the music. And here I was thinking that challenging stereotypes was a tenet of experimental, ground-breaking music. Silly me.
I'd also thought most great music had at least some sexual energy or content. I'm starting to marvel at today's music industry power brokers who are creating the rules for acts so successfully that critics and fans alike are buying into them wholesale.
Rules such as girls must change costume frequently during shows, ride naked on wrecking balls, twerk and be a size 6 or smaller to be successful (vocals can always be made pitch perfect in the studio). Rock stars must take their shirts off and/or wear leather, boy bands must be adorable, girl singers must be virginal until of age, then  be overly sexualised instantly.
And Prog rock musicians must be eccentric, fully clothed at all times, and preferably English.
From what he's said it's clear he invested time thinking about what to say to tonight's crowd
As for me, I just want to hear some great music, and I wouldn't care if an artist had 2 noses and weighed 50 stone. So to those who are disappointed that their ideals are not being met, I say 'keep your shirt on', and let Mackie take his off if he wants. I guess I'd better not mention the pierced nipple.
For me at any rate, his stage persona is true to the legacy of the act while his persona is clearly unique and it's driving aspects of the performance. From what he's said it's clear he invested time thinking about what to say to tonight's crowd; how he and the band came across was of great personal importance to him. Julie and Paul then talk cameras for a bit, comparing notes and gear.
The band must be knackered – performing two hours and premiering three tracks of a night would tough on anyone, let alone those who aren't well. I will arrange to have a more in-depth talk with them soon.
They've left happy, the crowd's left happy, and it's been another brilliant night at the Moorings. The Moorings have always had a host of diverse live music- up and coming, established, international acts fill a packed programme. But they are raising the beam all the time. The acts being booked just get more and more interesting and exciting all the time.
So thanks Flash, Hen and Fudge,  keep it up. (BTW, another perfectly served pint of BrewDog Punk IPA has been the icing on the cake). When Pallas comes back to Aberdeen next year, I'll definitely be there to listen.
The new album is being funded via crowdsourcing, and there has been excellent take-up.
The list of 'perks' for funders includes everything from an exclusive Pallas track, signed CD, calendar with new artwork, up to a weekend in the studio with the band for up to 2 contributors who can each record a track of their choice with Pallas.
http://www.indiegogo.com/projects/pallas-wearewhoweare .
The campaign was launched with a free download, including the audio and video of the 'premix megamix' of extracts form four of the tracks being worked on for the album. More info can be found on the band's website www.pallasofficial.com.
Comments enabled – see comments box below. Note, all comments will be moderated.