A benefit concert has been arranged in aid of George 'Dod' Copland whose Aberdeen home was at the centre of a dramatic armed siege on June 7. With thanks to Ruaridh McAilein.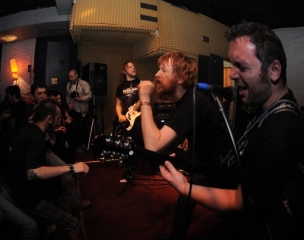 The concert featuring Oi Polloi, Billy Liar, The Bucky Skanks and T34 takes place at Audio, 14 Midland Street, Glasgow this Friday, Aug 23.
As reported in a previous Aberdeen Voice article, much of Mr Copland's property was damaged or destroyed as police forced entry to search his unoccupied house following what was later reported to be a hoax call.
Mr Copland is still seeking an apology and compensation from the police.
Ruaridh McAilein, lead singer of popular punk band Oi Polloi told Aberdeen Voice.
"Dod has clearly been the victim of a significant injustice here. It's extremely disturbing to think that something like this can happen in the first place but the fact that he has still not been compensated for either the damage to his property or to his reputation – not to mention the adverse effect that this must have had on his health – simply beggars belief.
"We've known Dod for the best part of thirty years now and can vouch for how willing he has always been to put himself out to help other people in need both through his community work and also in his personal life – and we also know how much pleasure he has brought to others over the years through his musical endeavours with Toxik Ephex – so the least we can do is to attempt in some small way to return the favour now that he finds himself in these straits after being treated in this quite frankly disgraceful way by the police.
"It's a sad indictment on the state of affairs in Aberdeen that the authorities appear to have done very little to put right this clear wrong and that it is left up to other ordinary people like ourselves to help someone in this situation.
"On the positive side, when we first suggested the idea of a benefit concert for Dod it was greeted very enthusiastically indeed by the many people in Edinburgh and Glasgow who have come to know Dod through his musical performances with Toxik Ephex.
"He has a lot of friends all over Scotland, and there will be plenty of us coming together in Glasgow on Friday night to not only raise some much needed cash to help Dod repair some of the damage to his house but also to enjoy a night of excellent music and partying of the kind that Dod himself has so often provided for us over the years.
"We are hoping to not only collect a decent sum for Dod but also to show him that he's not alone in facing what's happened and that he is held in considerable affection by a lot of people throughout the country who have come to know him through his music.
"We also hope that further publicising what exactly happened to Dod will help keep the pressure on the authorities to apologise and properly compensate him.
"We'd encourage as many people as possible to come along for a night of great live music and to support the cause of a person who has spent so much of his own time over the years helping and entertaining others."
Bands: Oi Polloi, Billy Liar, The Bucky Skanks, T34
Venue: Audio, 14 Midland Street, Glasgow
Friday Aug 23, 8pm
£6 on the door
Comments enabled – see comments box below. Note, all comments will be moderated.